Total coffee addict here so I was thrilled to write this sponsored post in conjunction with Social Moms and Seattles Best Coffee. All admirable comments and coffee doting opinions are my own.
I've been in love with coffee since I was a teenager! My hubby is too, it's always kind of been our thing. If we're having a bad day we grab some coffee, ya know? Need to have a long discussion? Had a misunderstanding? Stayed up half the night watching Netflix? We grab some coffee. Our favorite part in the movie The Family Man is when Téa Leoni reaches to Nicolas Cage and says STRONG coffee when their young children wake them early on Christmas day. So you get it, we love coffee! Enter Seattle's Best Coffee which we recently had the chance to indulge in. The best part is that Seattle's Best Coffee has a lovable taste, guaranteed. Yes, they will actually refund your money if you don't like it! Nothing to lose! But I think you will…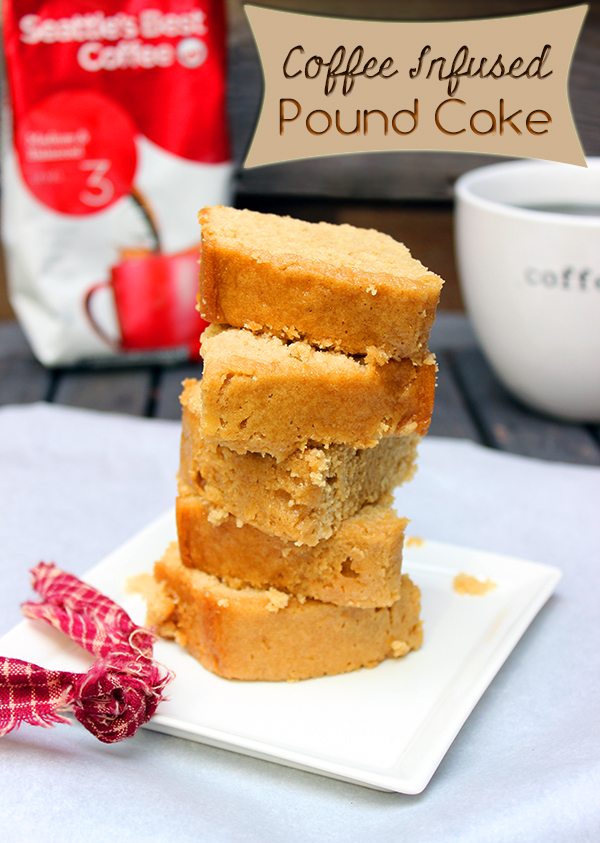 Seattle's Best Coffee at home has a blend for all tastes and preferences, they use a unique system to pick the most satisfying for you! I like to consider myself a medium and fittingly sent their "Medium & Balanced" blend. Just the scent of this coffee is tantalizing. Once I opened the package, I couldn't wait to get my first pot brewed. This was instantly a favorite, I think we have our blend on the first try.
I had this fun idea of making something using coffee since I'd recently experimented with making cupcakes and cake with soda. So, why not? I wanted to pair this delicious coffee with something that really compliments a warm freshly brewed cup. I settled on trying Coffee Infused Pound Cake simply using double brewed coffee with a store bought boxed mix. The results… a seriously moist flavorful cake that disappeared as fast as I could make it. It's so easy to make, you'll want to try it at least once. Grab that Seattle's Best Coffee and get to baking!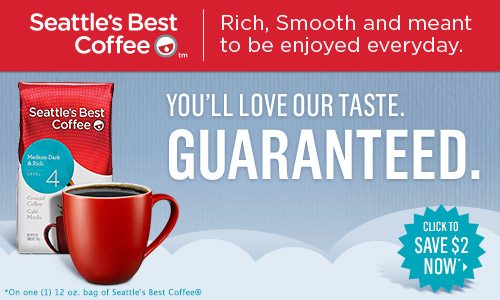 Ready to give Seattle's Best coffee a try? Find a store near you with this store locator.
SAVINGS ALERT! You'll want to grab this high value $2 off coupon before you run off to the store!
Don't forget about their money back guarantee if you don't like it! But… I am pretty sure you will!
WIN! Describe the taste of Seattle's Best Coffee using the #GreatTaste & @Seattlesbest on your Instagram and Twitter accounts for a chance to win a vintage Seattle's Best Coffee T-Shirt. Also, visit to visit the Great Taste website to join the #GreatTaste discussion and for an additional chance to win!
Are you a coffee lover? Have you ever cooked with coffee?
This blog post is part of a paid SocialMoms and Seattle's Best Coffee blogging program. The opinions and ideas expressed here are my own.