I participated in a campaign on behalf of Mom Central Consulting for Starburst. I received product samples to facilitate my review and promotional item as a thank you for participating.
I love creating fun and unique crafts and recipes especially for Halloween. It's just so fun to do! There is one candy that definitely represents this spooky holiday and that is candy corn. So, I was stoked when I found out about the new Starburst Candy Corn! Not only is it super tasty, but the colors are so pretty too. Tasty for all of us, but the colors are so classy and you know what that means... time for this mom to get busy creating! With Cherry, Orange, Strawberry and Lemon flavors and colors to work with, the possibilities are endless.
Tori Spelling has teamed up to share some amazing Starburst Candy Corn treats and decor that I've simply fallen in love with. It was tough to decide just what I would make first! I won't be selfish, I love to share...You can snag all of her fabulous ideas right on the Starburst Candy Corn Facebook Page!
Check out some of her fun ideas. Up first is this adorable "Boo Sign". Isn't that the cutest?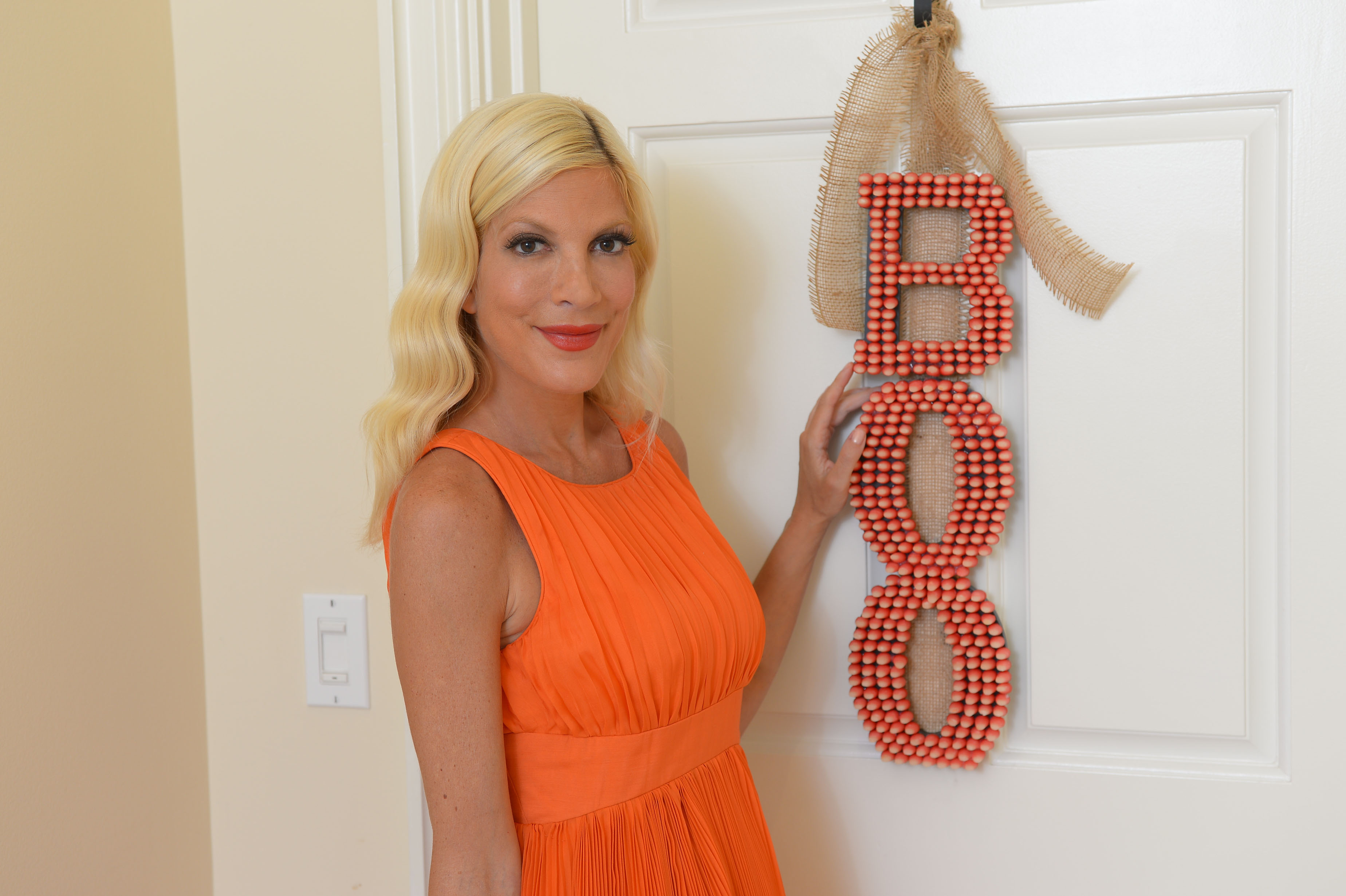 Another favorite of mine is the Mum Ball that she made, super clever and pretty all in one... big ball of color!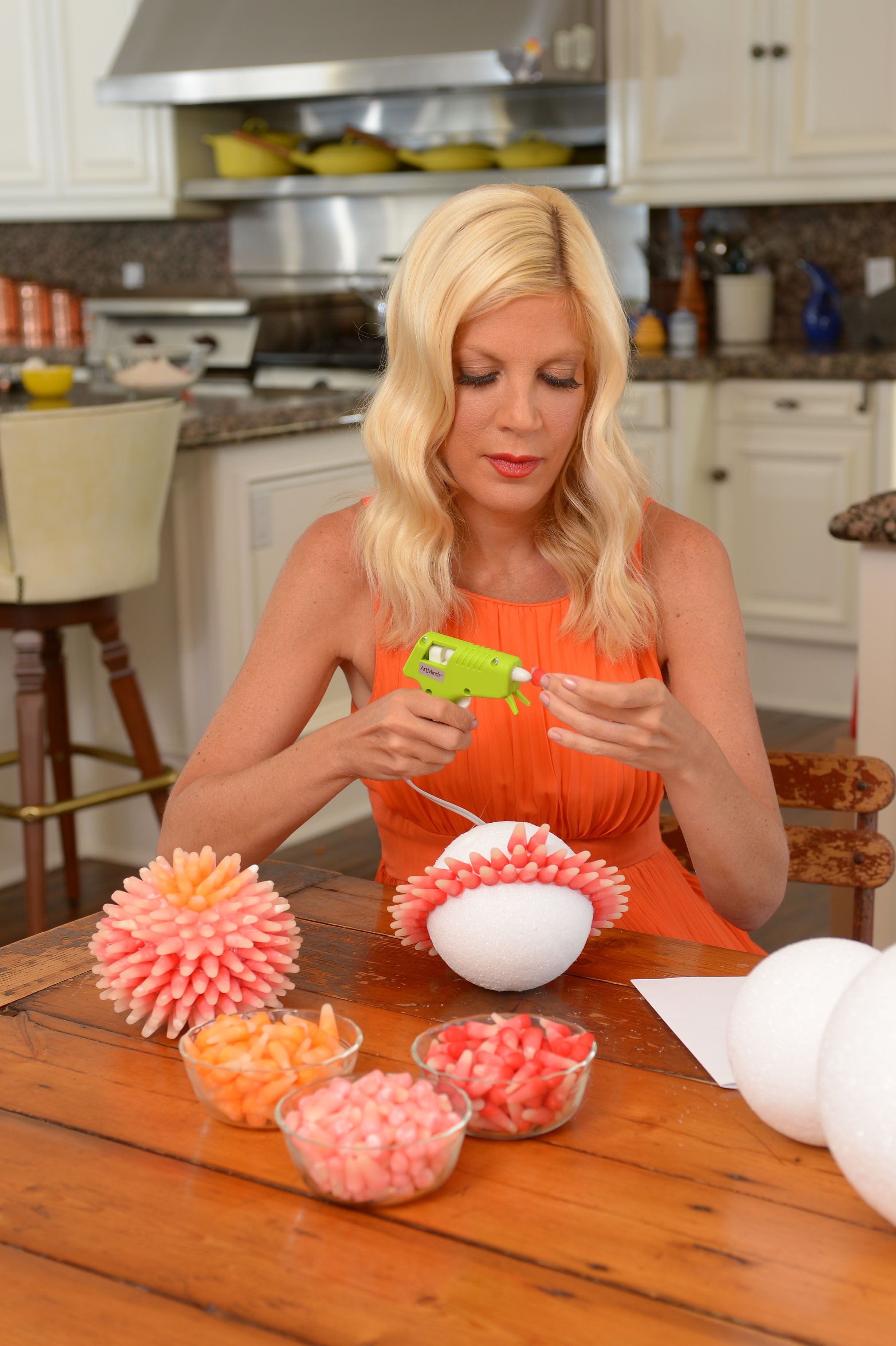 I finally settled on Tori's pretty cupcake decor. I wanted to also make a very simple cupcake recipe to go with it. My overall goal was to create something pretty, easy and festive. I think I nailed it and boy are these scrumptious! There are only 2 ingredients that make up the baked cupcakes. I used strawberry boxed cake mix and simply added cola and baked. So simple! Then, I topped with whipped vanilla frosting and of course... Starburst Candy Corn.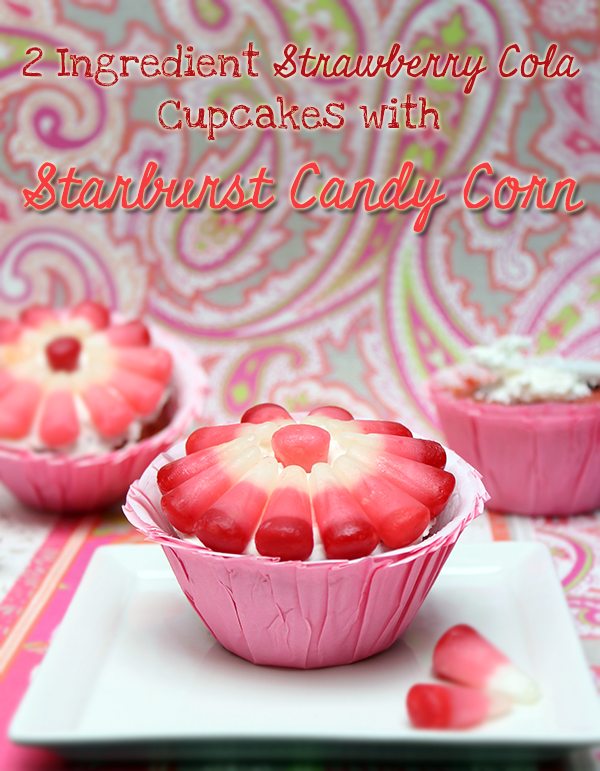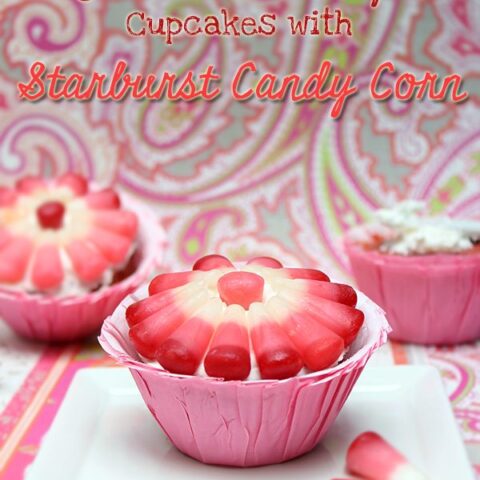 2 Ingredient Strawberry Cola Cupcakes
Ingredients
1 Box of Strawberry Cake Mix (approx 18 oz)
12 ounces of Cola
Optional: Top with frosting and Starburst Candy Corn
Instructions
Preheat oven to 400°. Mix cake mix and cola together until well blended. If you aren't using cupcake liners, you definitely will want to grease your pan. (This method can be sticky, I would recommend using liners if possible). Pour mixture evenly between 12 cupcakes between ½ and ¾ to the top of each cup.
Bake for 20-24 minutes until center comes out dry when poked through with a toothpick.
Top with your choice of frosting and Starburst Candy Corn decor!
Makes 12 cupcakes.
If you can stop yourself from eating the entire bag of Starburst Candy Corn in order to create something fun this Halloween, be sure to check out some inspiring ideas from Tori Spelling on the Starburst Candy Corn Facebook Page.
Do you like making recipes or crafts with candy?