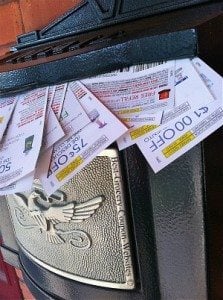 Who knew getting free grocery coupons by mail had so many extra perks?! Every time I open the mailbox I wish for it to be full of money. Wishful thinking? Not exactly!
If a mailbox full of bills is getting you down – turn it around! Get free grocery coupons by mail and fill your mailbox with money. Well, free grocery coupons – which spend just like money in the checkout line!
Four Fun Ways to Get Grocery Coupons by Mail
Sign up for Free Samples
Free samples are one of the best ways to get free grocery coupons by mail. Manufacturers hope that when you discover how great their sample is, you'll be hooked! That's why there are always free coupons with your free samples.
I recently signed up for a free Swiffer sample and was thrilled to get $25 worth of coupons for all sorts of products from the same manufacturer. Manufacturer coupons that come with free samples are usually big! And, what's better is that they usually have a very generous expiration date.
How do you get these free samples? It's easy. Frequent your favorite grocery coupon websites. The best grocery coupon websites have free samples. Join their Facebook pages and newsletter so you'll always be up-to-date on the latest samples.
Samples and the big grocery coupons that come with them go fast, so being in the loop pays off. Also, if you're a serious couponing gal, you'll want to visit a few different websites for free samples. Each site has unique offers.
Request Manufacturer Coupons
Another easy way to get free grocery coupons by mail is to request them directly from the manufacturer. Go to the websites of the product you enjoy using. If you don't find printable coupons on their website, use the contact form and request them. Simply ask if they provide free grocery coupons by mail – most do!
Many manufacturer websites also have a mailing list that you can sign up for to make getting coupons by mail even easier. So sign up and you'll be receiving your coupons in no time!
Check Your Mailbox for Wednesday Manufacturer Coupons
Manufacturers are looking for new ways to reach their consumer base. With newspaper sales down, they've gotten creative in finding ways to promote their products.
Coupon distributors such as Redplum have started mailing their newspaper inserts directly to consumers on Wednesdays.
What you think is just a pile of junk mail, may actually be a coupon insert. So look carefully through your mail on Wednesdays. If you don't get grocery coupons by mail yet, you may soon – be on the lookout!
Start a Coupon Train
A coupon train is a great way to get free grocery coupons by mail. It's like getting a big present in your mailbox!
This is a wonderful way to use all the coupons you clip. Never throw them away; they're of use to someone!
To start a coupon train, send an email to your friends or post it on your Facebook page. You'll want 4 or 5 people to participate. You can also start a coupon train at your place of worship, your mom's group, neighborhood, or with your family.
Friends sign up to jump on the coupon train! The first person to sign up takes the first position; the second person to sign takes position no. 2, and so forth.
Collect about $100 dollars (or more) worth of coupons that you don't intend to use. For example, you may include diaper coupons and your child is already out of diapers. They should be coupons that others in the group would want.
Send the coupons by mail to the person in the first position. This person removes the coupons they want and the expired coupons. She then adds coupons from her coupon organizer that she won't be using (so the amount of coupons remains at about $100).
Next she sends the coupons on to the person in the next position on the list. This person does the same thing, and mails the coupons to person no. 3.
The last person in the coupon train sends coupons back to the person who started the coupon train. Ideally, the person who started the train ends up with different coupons than the ones she mailed out!
A coupon train is tons of fun and it one of the best ways to get free grocery coupon by mail!
GUEST POST: This article was contributed by Jennifer Scheffel of www.best-grocery-coupon-websites.com, where you can find tips on frugal living, reviews of the top coupon sites and a free printable grocery list and organizer.