Can you believe that I've never made cereal bars… of any kind at all? Well, I had some leftover Dixie cups from a recent recipe. So, I thought I'd try to attempt some cereal bar pops. They didn't come out as cute as I was hoping, but they're sure as heck tasty and brought us right back to the past. This is a seriously sweet combo of sticky yummy Fluff and Trix cereal for a sugar high on a stick.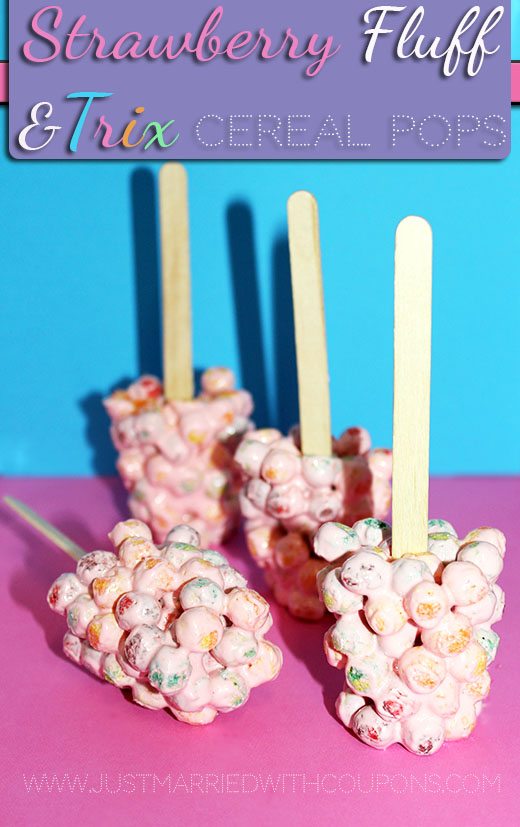 I was sold on trying Strawberry Fluff for these, it sounded yummy. I found a basic foundation for making cereal bars on their website, so I used that as the starting point. These are super easy to make, it literally took less than 5 minutes to make the mixture. Great for a surprise treat when your kiddos get home from school or for a treat to make together. Beware, your kitchen may become a big sticky-fest! 😉
Strawberry Fluff and Trix Cereal Bar Pops Recipe
Ingredients
5 Cups of Trix Cereal
1/4 Cup of Butter
1 Jar of Strawberry Fluff (7.5 oz)
Mini Bathroom Cups (3 ounce size) I used Dixie Brand
Wooden sticks or lollipop sticks
Non-stick spray
Instructions
Add Fluff and butter in a microwave safe bowl. Microwave at 30 second intervals, stirring each time until fully melted. Stir the cereal directly into the bowl until the cereal is fully coated. Coat each mini bathroom cup lightly with non-stick spray. Spoon cereal mixture into each cup, pack down firmly with your spoon. Insert wooden stick or lollipop stick into the center. Let cool for about an hour. Peel away the bathroom cups to remove pops. *Don't try to tug them out.
Makes about 14 pops.
https://cutefetti.com/2013/02/strawberry-fluff-and-trix-cereal-bars-pops-recipe.html