I received the new Dunkin' Donuts flavors in a Party Kit to facilitate my review and a promotional item as a thank you for participating. I'm participated in this campaign on behalf of Mom Central Consulting for Dunkin' Donuts. All opinions are my own.
Here in New England, iced coffee is kind of a big deal.  We drink it year round here, even when it's snowing!  Dunkin' Donuts has come out with some fabulous seasonal coffees that you can pick up at your grocery store. Hmmm Strawberry Shortcake, Triple Berry and Coconut! When I asked some of my family members to join me to try the new DD flavors, you better believe they said YES!  My cousin agreed to be my co-host for a little early Mother's Day brunch for our parents since my mother will be on vacation on the big day.  Coffee is definitely a reason we'll celebrate any day, spending time with family while doing it… EPIC. Everyone in my family is a DD fan, so the party couldn't have been any more fun!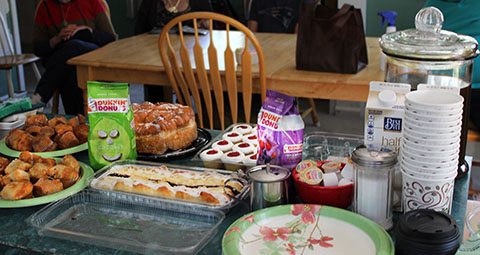 We all met up for our yummy brunch at my cousin's home, it's a great middle meeting place for our family. My hubby and son were of course there with bells and whistles as well as my parents, my cousin and her husband, my aunt and uncle and family friend Patti came too.  I supplied all the yummy brunch goodies and of course the new Dunkin Donuts coffee flavors and gift bags for each guest. I bought some sweets and treats and also make a ham and egg casserole in my slow cooker which was a big hit.  I decided to make the Strawberry Shortcake flavor in iced, that way we'd only have two flavors to brew during the brunch and of course people could also choose between hot and iced coffee.
It was such a gorgeous day, after we were done eating, we headed outside to enjoy the gorgeous weather. P.S. My aunt doesn't really have bunny ears, that is my cousin's hubby back there. I think he was experiencing caffeine overload 😉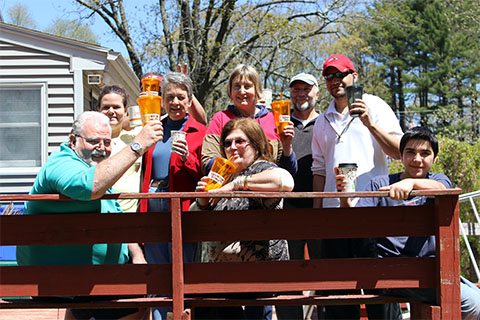 When I brewed the Strawberry Shortcake for the iced coffee the night before our brunch, my house smelled like a Dunkin' Donuts shop, it was amazing! Loved being able to brew quality flavored coffee right at home.  I couldn't resist sampling some, it smelled sooo good. It was AMAZING and I knew it was going to be a hit!
All of the flavors were well received by the guests, the flavors really capture the feeling of spring.  The Strawberry Shortcake was definitely the crowd favorite and I was definitely on board. Ever since I heard they were coming out with this flavor, I've been salivating over it.  There were a two exceptions to this. My cousin's favorite was the Coconut flavor and my aunt loved the Triple Berry coffee both made hot.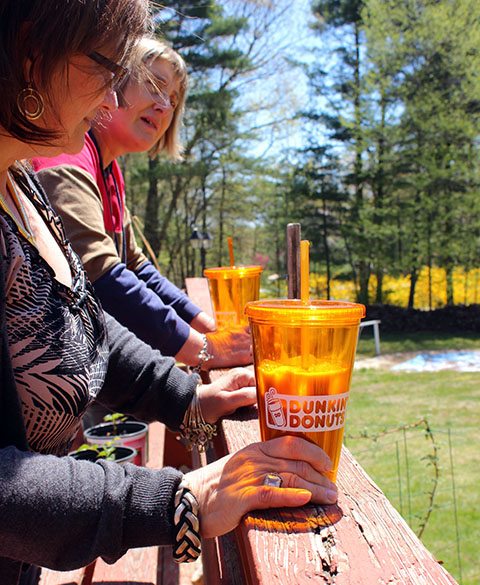 We couldn't have had a better time sampling the new seasonal flavors of Dunkin' Donuts coffee while celebrating our moms! It was a great day!
I have a really delicious recipe to share, compliments of Dunkin' Donuts! Here is their fabulous recipe to make your own Dunkin' Donuts Iced Coffee right at home. I definitely recommend trying the new flavors of ground coffee, but you can choose whatever your favorite DD blend is. Let me know how you like it! I made it with the Triple Berry flavor, it was SO good!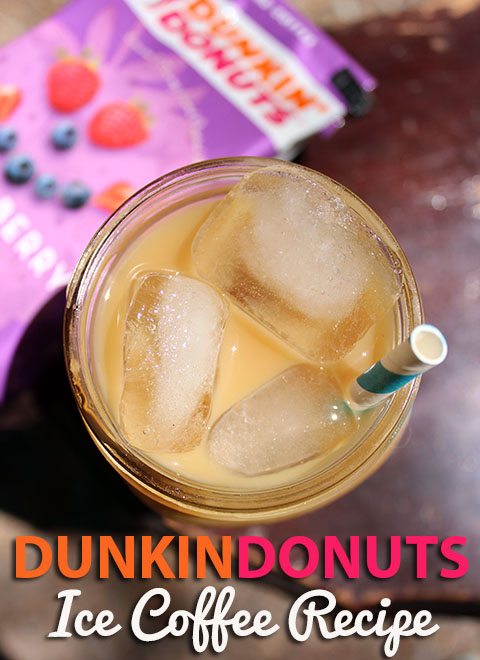 Ingredients
3/4 Cup of your Favorite ground Dunkin' Donuts Coffee
3 Cups of Cold Water, Divided
1/3 Cup of Sugar
1/2 Cup of Half-and-half
Whipped Cream (optional)
Instructions
Brew coffee in a coffee maker, use 3/4 ground coffee and 1 and 1/2 cups of the water. Then, combine hot coffee, sugar and half and half in a pitcher. Stir until sugar is dissolved. Then, blend in the remaining cold water. Pour over ice and serve. Add whipped cream if you like!
https://cutefetti.com/2013/05/celebrate-mom-with-dunkin-donuts-new-coffee-flavors.html
Want to try the new flavors? Don't delay, the flavors are seasonal and only available for a limited time! Make sure to stock up! Get more information on the Dunkin' Donuts at Home website.
What flavors sound good to you? Strawberry Shortcake, Triple Berry or Coconut? 
Do you prefer your coffee hot or iced?