Thanks to Publishers Clearing House  for sponsoring today's discussion on what it would be like to win their $1 Million plus $5,000 Every Week For Life Mega Prize.
What would you do if you won a million dollars and then some? I consider myself to be a modest person… I've never truly given thought to what I would do with a ton of money if I had it.  I am savvy enough to know that money does not bring happiness and I know that I would do my part in sharing it with those that need it more than myself. That would make me more happy than having material things.
But, what if I allow myself to dream big… just for fun? What would I want just for me? What would really make my life feel more like a dream?  What if I actually were to enter to Win $1 Million PLUS $5,000 A Week For Life and actually win?
I wouldn't run out and blow all of the money on a giant house. BUT, I would want a nice modern livable home and I would focus on the little details like…
A BIG BATHROOM JUST FOR ME!
I would love my own personal pretty girly girl bathroom with a gigundis (I may have made that word up) bathtub that nobody else was allowed to use!  Living with men/boys is certain motivation for wanting my own space! I'd even deck it out with "Hers" towels.
A SERIOUSLY AMAZING POOL!
Then of course, I just have to have a seriously amazing pool. I've always longed to have a swimming pool ever since I was a kid and if I won, it would definitely be a large priority!
What about an outdoor pool with a huge flat screen TV?
Or maybe a pool right in my bedroom? How strange and awesome would that be?
GORGEOUS AND SUSTAINABLE VEGETABLE GARDEN
I'd love to be able to be more sustainable and self reliant. I would love an amazing vegetable garden in my own yard! Of course, I would hire help because I am NOT very good at gardening… otherwise I'd probably already have one!
ORGANIC PERSONAL CHEF
Then, my last guilty pleasure would be a personal chef that prepared all healthy and organic foods from our fabulous garden. Not asking too much right?
AT HOME GYM WITH A VIEW AND PERSONAL TRAINER…of course
I'd love a full gym in my home with a view preferably! Then, of course I'd need someone to get on my butt to push me to actually do the workout!
With all that, I think I would be pretty satisfied! Now, to just get as lucky as Leroy Faulks, SR who was the first Mega Prize winner! Dave and Danielle of the PCH Prize Patrol could surprise you or myself at home with a check for One Million Dollars, you just never know!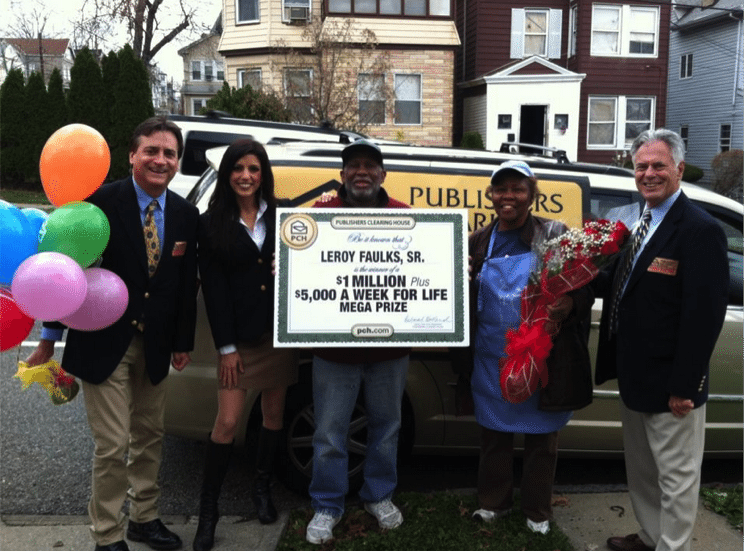 –> Want your chance to be entered to win? Make sure to enter to Win $1 Million PLUS $5,000 A Week For Life!
Now it's your turn! Tell me what you would  do if you won a million bucks and $5000 a week?