For my BFF's birthday as part of a sponsored post for Collective Bias® I shopped for the perfect Hallmark Card to send her birthday wishes with.

When it comes to birthdays, I am one of those "presentation is everything" kind of people. I go for a huge bouquet of balloons and the perfect card vs. just one small little gift. I like the celebration of it all. If given the chance, I'd rather spend time doing something awesome with the giftee vs. giving a real expensive gift. Does that all make sense? Now, although I  definitely have ways that I like to honor birthdays, I have a terrible memory for them!  Lately, I've actually been relying on Facebook to help me keep up with them! And thank goodness for that, phew! Psst. Don't tell that to my BFF!
Well, here is the deal. I need your help because I've gotten myself in to a little b-day card dilemma here.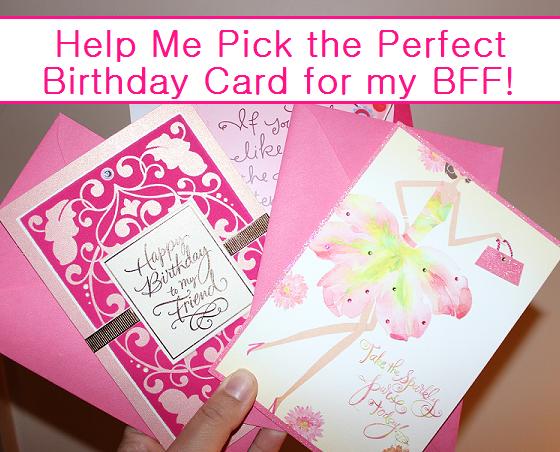 You see, I went to Walmart to find the perfect Hallmark Birthday Card for my "Bestie", but couldn't decide which one I liked the most. You can check out my shopping trip on Google+. So, I got all three! Because…I just KNEW you would be able to help me out of this jam here. So, I really need you to weigh in on this. There was a great selection of "birthday cards for her" at my local store including cards for family members and of course friends. Some were super pretty to look at others were more simple with more of a sentimental feel. I was looking for a card that had just the right amount of both. Flashy and fun while getting to the point in letting my friend know how I feel about her because… she is awesome!
I usually shop for birthday cards after I've picked the perfect gift and not the other way around. Sometimes if I am spending more on the gift, I will opt for a more simple and less expensive card. Other times, I will opt for a more elaborate and expensive card if the gift is more simple. I like a good balance. Well,  this year, she and I decided that we would celebrate our birthdays together since they are a month a part (mine is in October)! So instead of exchanging gifts this year, we are planning a little 2-in-1 girls day out! I can't wait!!! Shopping, pampering, dining out. Yay! So, this is why it's really important that I totally nail the perfect card for her since she'll be waiting for the midway point for us to celebrate.
Now, before you give me your favorite card pick, I have to tell you a little more about my best friend so you can decide which card will be best. She is a very busy and selfless mom of 6 young kiddos! She loves glittery and glamorous things but doesn't have much time to focus on these things because she is usually chasing a 2 year old around. She would do anything for anyone, but hardly has a moment to spare for herself. I want to let her know how much her friendship means to me BUT I also want to give her happy birthday wishes that are fun but pops too! KWIM?
So here we go! I narrowed my choices down to these three cards!
#1:  Very pretty pinks. The outside has gems and a velvet finish.  Inside is really sweet.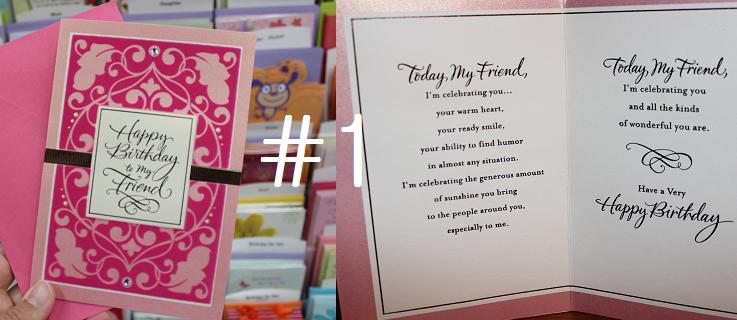 #2: The outside is glittery and glam and so is the inside. Simple, but awesome.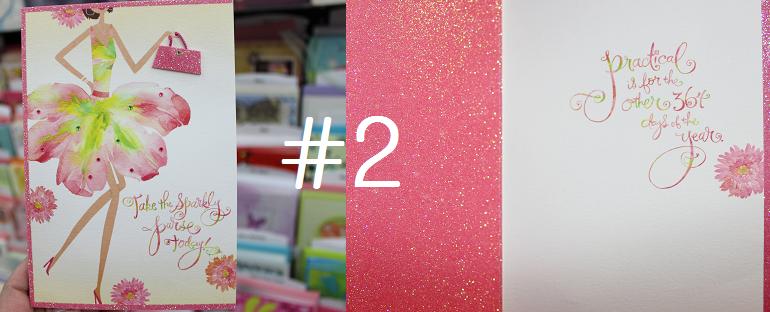 #3: This card is fun and the inside plays the song "Ladies Night". Too cute!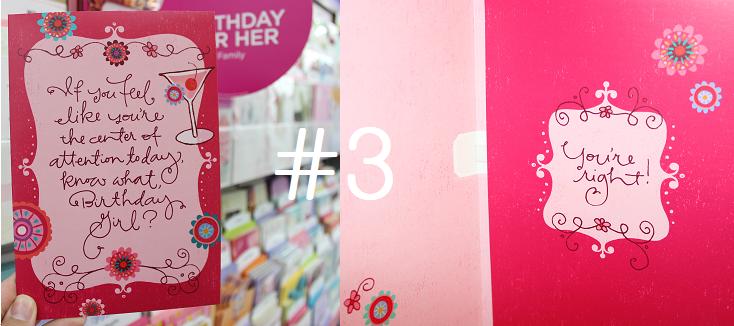 So, can you see why this decision is such a hard one?
Do you need some inspiration for an upcoming birthday? Visit Connections From Hallmark.
I REALLY need your vote here!
Which Hallmark Card should I give my BFF? #1, #2 or… #3?