Birthdays only come once a year, so it's super important to celebrate the right way! As most of you know, it was my BFF's birthday this week and I summoned your help to pick the perfect birthday card and the results are in. I wanted to give her some happy birthday wishes, so I had narrowed down my search to three awesome Hallmark birthday cards.  I loved them all, one was a little more sentimental, another was super glittery (which she loves) and the other played music. One common factor? They were all pretty and pink! Now you can see why it was such a difficult decision! These were the three that I picked to choose from: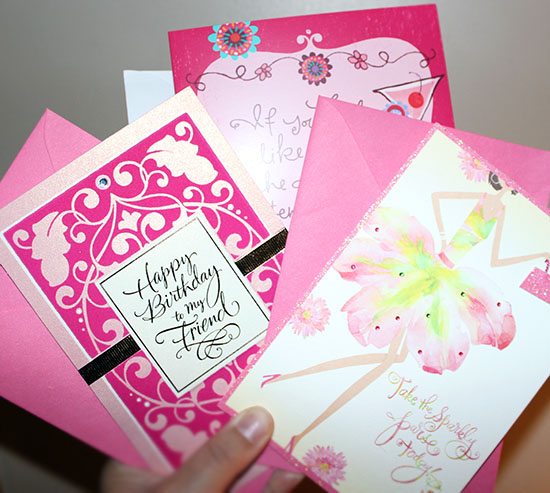 Can you see why it was so difficult to choose just one? Each card has it's own awesome feature and it was easy to think of reasons why I could choose each one.
Here is the Hallmark card that you voted into the #1 spot, it's glittery and girly.  When it comes to birthday celebrations, presentation is everything to me. These cards really fit the bill.  I told you all how special my friend is to me but more importantly how much she deserves a little treat, between raising 6 kids and being such a selfless person… this was really important to me. Ultimately my best friend loves glitter and this one really serves it up inside and out! I wanted to remind her of who she is and was beneath all of her mom duties and help she gives others.  Isn't it the cutest?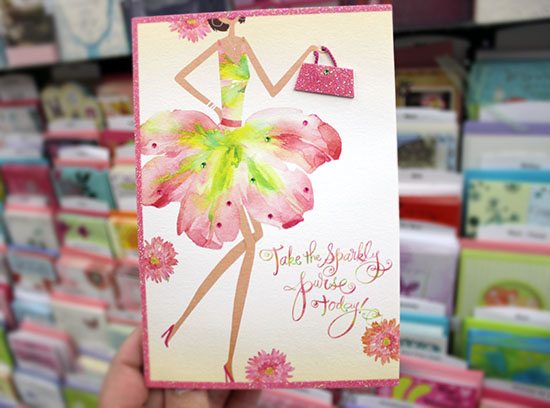 So here is how I gave the card to her. We decided to have her boys over for the weekend so she could have a little break to relax and celebrate her birthday. My birthday is in October so we're planning an all girl's day to celebrate together. When she arrived at my house to drop off the kidlets, I surprised her with the card! She definitely wasn't expecting it, so that added to the fun. She was so thrilled and the best part was that was that she totally loved the card just like I thought she would.
Thanks to all of you, ultimately she received the card that I knew she would really like best!  PRICELESS!
I had a wonderful time shopping for birthday cards at Walmart (see my shopping trip on Google+), I discovered a large selection of Connections From Hallmark cards at Walmart. The selection was absolutely huge and each card that I picked up had something special to it. From a pretty embellishment, an interesting texture, fun music and most importantly the thoughtful words that say what you want them to say to that special person.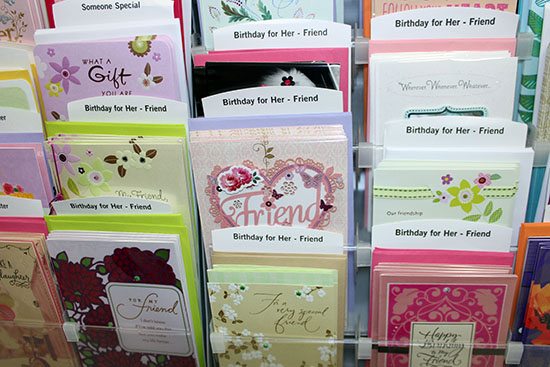 I love the way the sections are divided for easy card picking.  Whether it was for her, a special occasion or even for kids, there are signs to help guide your way. When I am in the Hallmark card section, I feel like I am whisked away for a moment. With all of their attractive signs and decorations, its the perfect space to get lost for a moment while trying to pick that special card.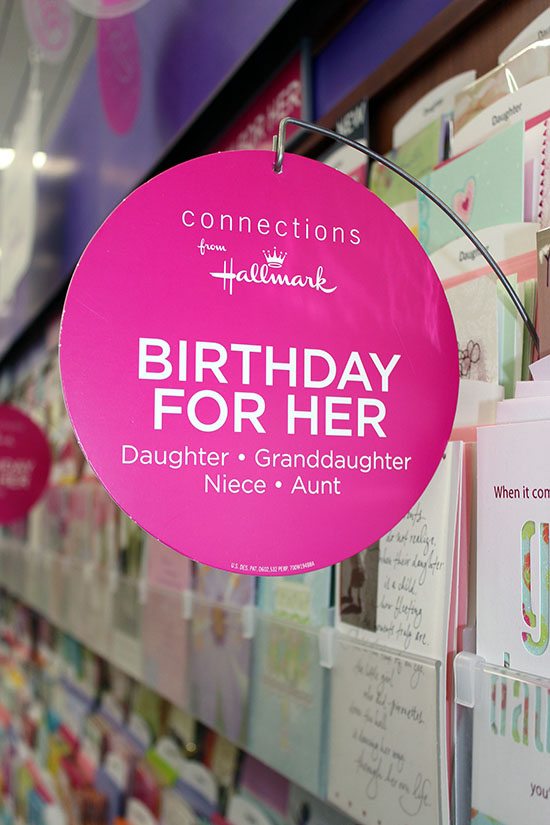 While I was shopping for that special card, I also stocked up on quite a few other cards too.  From birthday to holidays and on to those little holidays that I personally don't remember and one that I didn't remember existed. This was one of my favorite Hallmark birthday card finds. It was sweet and sassy, above all I just loved the sparkly jeweled embellishment along the side of it. So pretty!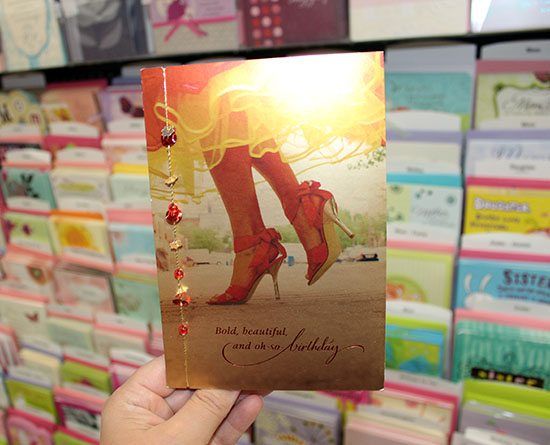 The best thing that came out of my little birthday card seeking adventure is a random Hallmark love card that I spotted and picked up for my husband. He was so surprised to get a card, just because. Yesterday he surprised ME back with a card, gift AND a cupcake… just because.  Hallmark has lit a romantic spark in our home!
It's amazing what the perfect card can do!
Do you need some inspiration for an upcoming birthday? Visit Connections From Hallmark.
What kind of birthday cards do you like to receive? Funny, sentimental, romantic, cards that play music?