This post brought to you by Arby's. All opinions are 100% mine.
Can you say this ten times fast? "Slow cooked fast food."  Well, that pretty much describes the new Smokehouse Brisket sandwich at Arby's. Yes, that's correct. The new sandwich is smoked for 13 hours because they know you can't rush goodness, but you can grab one in just a few minutes! How about that? I've always been a fan of Arby's, I remember looking forward to our special visits when I was little. I would just go crazy when my mom would let me get a Jamocha shake. Nom! Now, I'm all about their sides like the Mozzarella sticks made to perfection or Jalapeno Bites, yes please! They have always offered different things that most places don't offer. Hello delicious curly fries! Keeps me coming back for more!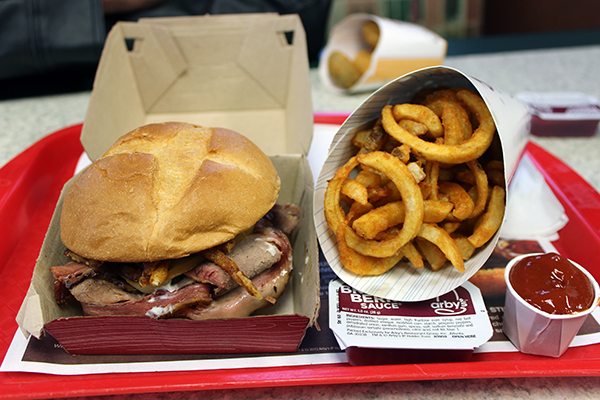 Arby's new sandwich is also a palate pleaser. I treated my son to a visit to Arby's before we went out to run some errands. We actually had to hit another Arby's because they ran of our crispy onions for the sandwich and we definitely wanted to experience the real deal. Especially after watching this video:
This sandwich is piled high with layers of the most tender and juicy meat that is smoked on hickory wood. It just falls apart and practically melts in your mouth. If that wasn't scrumptious enough, the sandwich also packs a punch with it's smoked Gouda cheese (yum) and crunchy onions. Then, they've added some BBQ Sauce and Mayo to top it all off. The flavors are really well put together on this sandwich. You have a deep rich smoked taste, a little crunch and a little bit of tang with the sauce. All of these delicious goods are served up a big bakery style bun!  Its big enough to satisfy!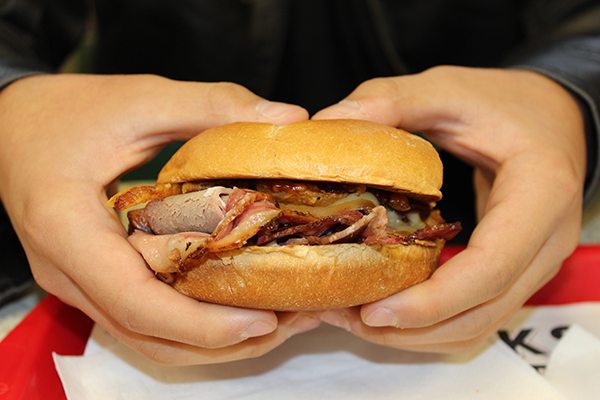 If you can handle it, get it with those curly fries I mentioned and spoil yourself with their new Salted Caramel Shake. This rich shake is laced with thick rich caramel and topped with whipped cream and the prettiest pink Hawaiian salt. See ours on Instagram. You will be a happy camper.
Need to taste this Smokehouse Brisket Sandwich ASAP? Find an Arby's location near you!
Have you been to Arby's? Why do you love it?
What would be your favorite part about the Smokehouse Brisket Sandwich?