This post is sponsored by Lunchbox, any #slimfessions or opinion within is my own.
Just the other day I was chatting with you all about digging deep to find that motivation to get in shape FOR the holiday season. So this is great timing to share #Slimfessions together on the Walmart website, because we'll both feel better openly discussing what we want. You know… to fit into said "little black dress" or maybe that "ugly sweater" for your annual family competition. Or maybe… just maybe… you want to look amazing because you want to impress your in-laws or perhaps… you want your friends and family to notice that you've worked hard and lost all of your baby weight since they saw you last? Whatever your reason, there is an added bonus for you! We can both score a $1 off coupon for Slim-Fast when will spill ours! Cool?
So let's chat #Slimfessions! What do you REALLY want for the holidays? I know there are always those diamond earrings or maybe a cool new tech gadget or that expensive handbag you've been eyeing. But what about beyond that? Do you have bigger goals that you can work towards to really get where you want to be? Is working out something you've been wanting to try or is there a pesky 10 pounds on your to-do list to lose? Well, I have a lot of goals that I want to reach, so why not try to reach them now? So, I am going first with my Slimfessions, again… since I already eluded to mine.
Slimfession Alert: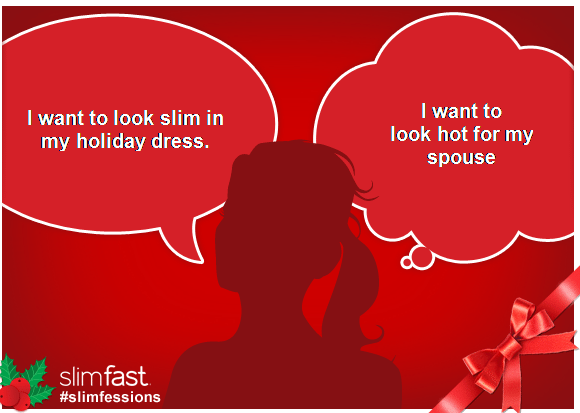 I would like to fit into a little black dress before the holidays. I'd like to wear black ankle strap stilettos to match. That means I'd be showing quite a bit more leg than usual… which means I need to make a plan here! Maybe, I just want to show everyone that I "still" have it! 😉
So, to give you a jump start on getting what you really want this season… head over to Walmart.com and share your #Slimfessions now to snag your $1 off ANY Slim Fast product! How awesome is that?
We're also giving away 2 $50 Walmart Gift Card so you can stock up on Slim Fast or maybe get yourself a really cute number to wear once you meet your goals! Whoo hoo! Good luck!
PRIZES: Two winner's will each receive a $50 Walmart Gift Card
RULES:
-Giveaway is open to US Residents, 18+
-Giveaway ends on 12/01/2013 at midnight EST
-Entries are only valid through the Giveaway Tools Form
-Comments do not count as entries