This is a sponsored post, all opinions about making an impression are my own.
There is only one chance to make a first impression. There is just no going back. Although I admit you can really shock someone with a second impression although that might not be a good thing.  How about realizing you have spinach in your teeth after you meet the man of your dreams or find out you had ink on your face after a job interview.  My favorite?  A trail of TP after coming from the rest room, yeah that is a great way to greet your future in-laws. You know what I'm talking about, it happens to the best of us!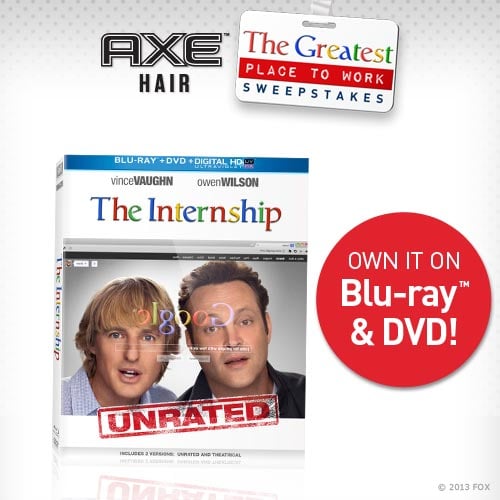 So, why all the rambling about making an impression you ask? There is some exciting happenings around the DVD/Blu Ray release of the movie The Internship, featuring two of my favorite comedic actors ever, Vince Vaughn and Owen Wilson. Axe Hair put together a funny video compilation called the "First impressions Playbook, Intern edition."   Make sure you're not drinking when you watch the videos, they're hilarious. What should you learn from these videos? That if all else fails, rely on your hair to make the first impression with Axe Hair.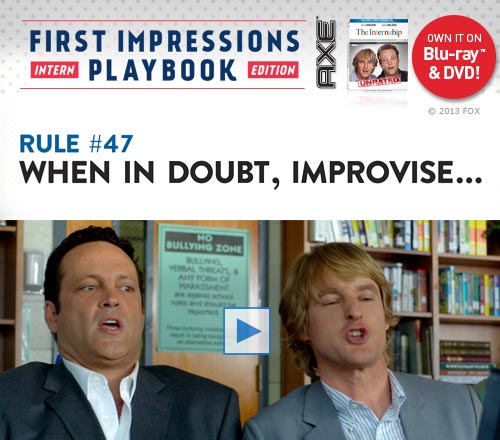 So let's get the party started with The Greatest Place To Work Sweepstakes where you can win over $5,000 in prizes. Crazy, right? Oh you thought we were just chatting about funny videos? Nope, you can actually WIN a mother ton of awesome stuff! PLUS you can also win a Walmart gift card right here.. they you can snag the new movie and some Axe Hair products. Can I get a whoo hoo?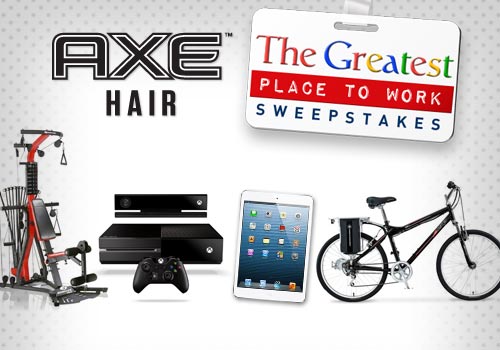 The Greatest Place to Work Sweeps:
Through Nov.23, just head to your local Walmart and visit bit.ly/axesweeps via your mobile phone, answer a couple fun and easy questions and get entered to win The Greatest Place to Work sweepstakes, inspired by the movie The Internship. You could win ALL of the following prizes:
An IT upgrade:
– Touch Screen Notebook
– Mini Tablet
– HDTV
Gym Benefits:
– Home gym
– AXE® Styling Products
A sweet cafeteria situation:
– Mini-fridge
– Coffemaker
– Blender
– Snack Supply
A smooth commute:
– Electric Bike
A better break room:
– Gaming console + 5 Games
– Recliner
– Massage Table
– Putting Green
– Media Streaming Device
3 Finalists each week will win:
$250 Walmart gift card
The Internship DVD
AXE® Styling Products
Make sure to enter the sweepstakes, watch some funny videos and shop for Axe Hair products at Walmart.com!
Now, on to that giveaway that I promised 🙂
PRIZES: One winner will  receive a $25 Walmart Gift Card
RULES:
-Giveaway is open to US Residents, 18+
-Giveaway ends on 11/29/2013 at midnight EST
-Entries are only valid through the Giveaway Tools Form
-Comments do not count as entries