Olive Oil is a staple in our home, I use it in so much of my cooking. I was excited to be asked if I could create some unique ideas to try out Carbonell Olive Oil.  This post has been compensated, but opinions are fun ideas to use Carbonell Olive Oil are my own.  As you probably know, I've been sharing some ideas on how to make preparing for the holidays easier. I wanted to keep on that theme since time is running out.  Today I have some No Bake Pine Nut Cookies to share as well as a really simple gift that the kids can help make. Even though there is limited time, you can still make homemade!
Carbonell is the world's leading Spanish olive oil brand and they have three diverse olive oil products including Extra Virgin, Extra Light and their Classic Olive Oil too.  I loved checking them out, each has it's own distinct color. I found it pretty neat to compare them. Now you might ask, why would you need more than one type of olive oil? Well, here are some tasty ideas for us both!
Carbonell Extra Virgin Olive Oil is good o use in  salads, dips, marinades and drizzling over finished dishes.
Carbonell Extra Light Olive Oil is good for high-heat cooking such as frying, sautéing, and even baking.
Carbonell Classic Olive Oil  is an all-purpose cooking oil, adding a mild flavor to soups, sauces and grilled meats and vegetables.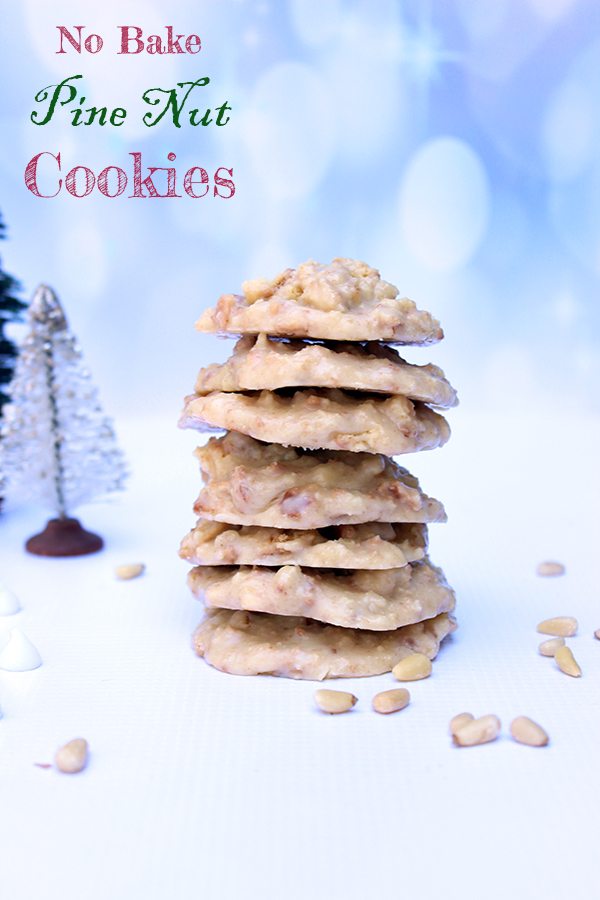 For Christmas Eve this year, my cousin is having an Italian themed party. I figured it would be the perfect  opportunity to incorporate some Carbonell Olive Oil into a sweet treat to bring. I wanted to make no bake cookies that included some traditional ingredients. I figured pine nuts would be a great addition to the cookies as well as white chocolate and my hubby's favorite cookies – Stella Doro Originals crushed as well. The result? A very simple to make festive treat. With only 5 ingredients, I say… why not?  You know some olive oil brands have a funky taste to them, but I found Carbonell to be both pleasant to the smell and taste. Sure is a keeper.
No Bake Pine Nut Drop Cookies
Ingredients
2 Cups White Chocolate Chips
10 Stella Doro Original Cookies Crushed
1 Can of Sweetened Condensed Milk (14 oz)
2 oz Pine Nuts
1/2 Cup of Carbonell Olive Oil
Instructions
Melt the white chocolate chips with the sweetened condensed milk and olive oil on stove top or in microwave. Remove from heat. Add finely crushed cookies and pine nuts. Make sure they are fully covered in chocolate mixture. Scoop and drop 1 heaping tablespoon of the mixture to form each cookie onto a wax paper or other non-stick surface. Makes about 24 cookies. Let cool for 1 hour or more. Faster if refrigerated. Enjoy!
https://cutefetti.com/2013/12/diy-gift-idea-from-the-kids-no-bake-pine-nut-drop-cookies.html
Now, I have to thank my son for this. Paying attention in his Physical Science class sure came in handy. When he saw the Carbonell Oil, he asked if he could try something. After we chatted about it, I though hey… that is a cool idea! He wanted to add water and oil to a mason jar and then use food coloring to make it even more fun. I thought, ya know what? If we add glitter it would be even more festive. I think the result was super cute and it would be a great gift that kids could make themselves.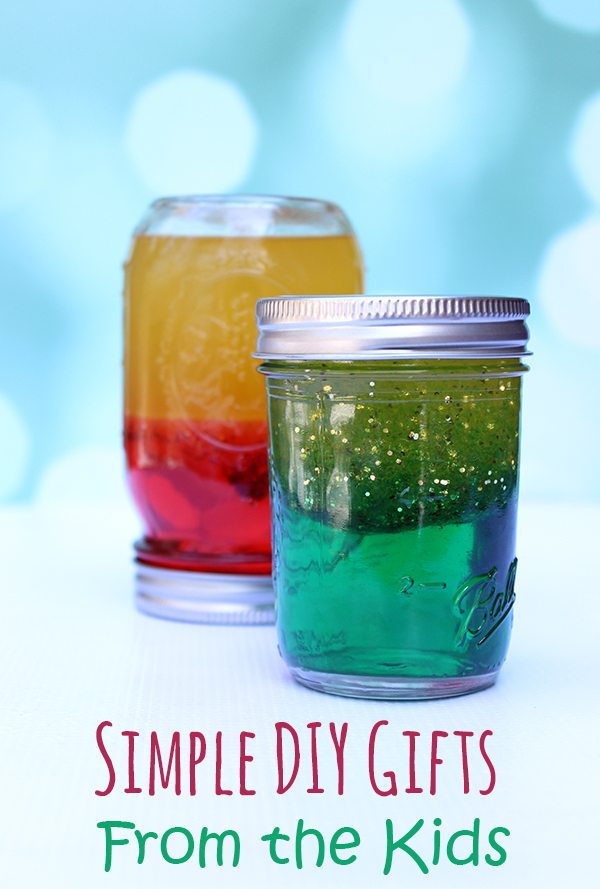 Simple DIY Gifts From The Kids
Simply add equal parts water and oil. To get festive add glitter and food coloring to the water before adding the oil. I found that the Carbonell Classic Olive Oil has a wonderful golden tone that was perfect for this. How easy is this gift? They look especially beautiful when the sun is reflecting on them. Super fun!
Dare to Carbonell
Are you ready to try Carbonell? Visit DareToCarbonell.com to find inspired recipe ideas and more info!
: Which Carbonell Olive Oil will you try first? :
Extra Virgin, Extra Light and their Classic Olive Oil?
This blog post is part of a paid SocialMoms and Carbonell blogging program. The opinions and ideas expressed here are my own. To read more posts on this topic, click here.