The holidays are a time for celebrating, relaxing and rejoicing! Unfortunately there is also a darker side that comes in the form of greed. Since, I have my share of stories to tell about theft… I wanted to share some tips about staying safe while shopping during holiday season. I am a HotSpot Shield Ambassador, this is a sponsored post. All opinions and mishaps are my own. Let's stay safe this season!
Tips for Safe Holiday Shopping
I want to share with you some unfortunate things that have personally happened to me over the years. While these situations didn't necessarily happen to me over the holidays or all at once, they are alarming.
When your identity is threatened, it feels like the world is crashing down around you. 
✔ Someone smashed my car window and stole my purse.
✔ Someone broke into my car trunk and stole my purse
✔ Someone smashed my car window and stole my radio
✔ Someone smashed my car window and stole my GPS
Here are my simple, yet sometimes overlooked tips.
Keep Your Money Safe
You'll always need money and credit cards while shopping. Keep yours in a safe and hidden place. When shopping in busy areas, if you can just stick to keeping a wallet tucked into your clothing where it's not visible. Sometimes having a large handbag that you are struggling to hold with all your shopping bags is just the thing that a thief is looking to grab.
Auto Safety
If you are shopping and you have a car, make sure to hide your shopping bounty and bags in the truck. Never leave anything visible in your automobile. This will encourage robbers to break into your car.  Also, make sure that nobody is watching you when you do put bags in your truck because that can also be dangerous.
Be Aware of Your Surroundings
No matter where you are shopping or walking in a parking garage, be vigilant.  Steer clear of dark and desolate areas. Stay in crowds! Pay attention to your surroundings, this could be one of the most important things that you do this season.
Safety in Numbers
Whenever possible, shop with a friend or two.  You'll always be less approachable when you have companions with you.
Avoid Cell Phone Distractions
This goes along with being aware of your surroundings. You'll be an easy target if you aren't paying attention. If you have a cell phone, keep it hidden. You might need it in case of an emergency, but you'll also want to have it out of a potential theft's sight.
Protect Yourself While Shopping Online
Nowadays I find myself shopping more and more online. This doesn't mean that you can't become a victim though. Make sure to make sure the online websites you are shopping from are secure.  You can do this by signing up for a free service like HotSpot Shield. Visiting websites through their technology, they will encrypt all of your data to protect you from identity theft.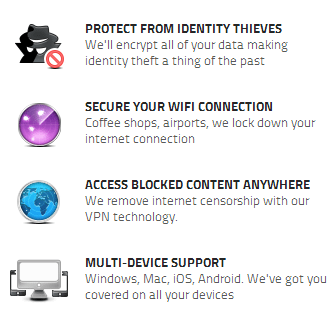 Skip knocking on wood and just take action!
Here are some alarming facts that I learned through HotSpot Shield:
3x more people suffered from cyber-crime than offline crimes in the last 12 months.
75% of those who have used Wi-Fi have experienced cyber crime.
49% of public Wi-Fi networks are unsecured and unencrypted.
Don't become a percentage!  Sign up for HotSpot Shield, it's free!
Stay in the loop and like HotSpot Shield on Facebook!
Have you ever been a victim of theft?
What actions do you take to stay safe while holiday shopping?