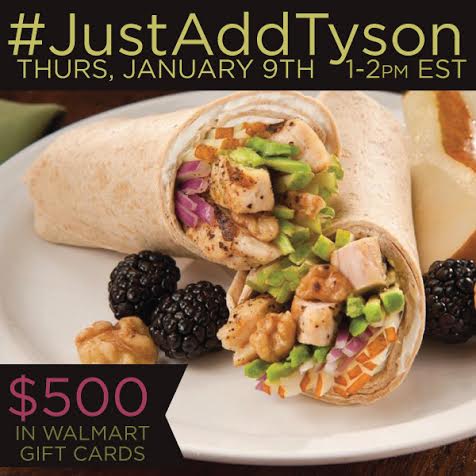 Happy New Year! Have you made any new resolutions?  After all of the holiday festivities, planning to get back on track with a smart eating plan is a popular idea. With Tyson Grilled & Ready Chicken, you can easily make a nutritious meal as a part of your new smart eating plan. It makes a great addition to any already amazing recipe! We'll be sharing recipe ideas as well as information about the in store demos that are taking place between 1/16-1/19.
Please join me at the #JustAddTyson Twitter Party where we'll chat about the easy ways you can add Tyson Grilled & Ready for an easy and fresh way to stay on track .  I'm really looking forward to chatting about fresh meal ideas and swapping ideas on how to get motivated in the new year!
Join me at the #JustAddTyson Twitter Party on SoFabChats!
DATE:  Thursday, January 9, 2014
TIME: 1 – 2 pm ET
PRIZES: $500 in Walmart Gift Cards
RSVP: #JustAddTyson Party Page
LOCATION:  SoFabChats Tweet Grid
HOST:  @dawnchats
CO HOSTS: @MsMissy62, @turningclockbac & @AleaMilham
PARTY RULES: #JustAddTyson Official Rules
TWEET TO SHARE
Let your friends know about this fun party by sending out a tweet:
#ad RSVP for #JustAddTyson Twitter Party 1/9 1pm ET. Easy Recipes! Prizes $500! Rules http://t.co/8CHb2uLWOI #cbias

— Dawn Lopez (@dawnchats) January 4, 2014
Love Twitter Parties? New to Twitter Parties and want to learn more?
Stay in the loop with the SoFabChats Twitter Party Schedule, RSVP for individual Twitter parties, find SoFabChats Twitter Party Tips and sign up for SoFabChats Twitter Party email alerts!
RSVP today and learn how you can enter to win our special Early Bird gift card prize!