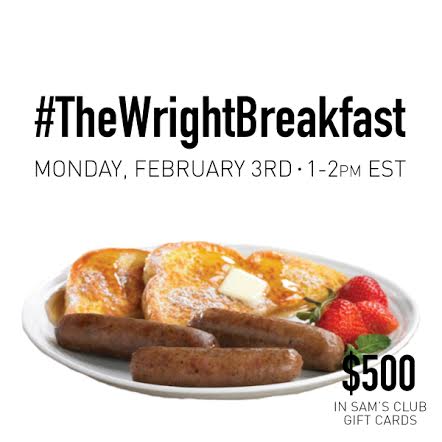 Are you always on the go? Looking for quick healthy breakfast options for the family?  Join us as we discuss easy breakfast ideas using Wright Brand Sausage Links and Patties available at Sam's Club.  Cooking up their tasty sausage for your whole family in the morning makes it easy to add protein for a great start.
Please join me at the #TheWrightBreakfast Twitter Party where we'll chat about delicious recipes using sausage for busy families on the go! I'm really looking forward to sharing ways to serve up something delicious even when I'm busy or in a rush! Hope to see you there!
Join Me For #TheWrightBreakfast Twitter Party on SoFabChats
DATE:  Monday, February 3, 2014
TIME: 1 – 2 pm ET
PRIZES: $500 in Sam's Club Gift Cards
RSVP: #TheWrightBreakfast Party Page
LOCATION:  SoFabChats Tweet Grid
HOST:  @dawnchats
CO HOSTS:  @Freebies4Mom, @ruralmoms & @aboutamom
PARTY RULES: #TheWrightBreakfast Official Rules
TWEET TO SHARE
Let your friends know about this fun party by sending out a tweet:
#ad Better start to your day? #TheWrightBreakfast Twitter Party 2/3 1pm ET. Prizes! Rules http://t.co/ZZGR1Z5xHI #cbias

— Dawn Lopez (@dawnchats) January 25, 2014
Love Twitter Parties? New to Twitter Parties and want to learn more?
Stay in the loop with the SoFabChats Twitter Party Schedule, RSVP for individual Twitter parties, find SoFabChats Twitter Party Tips and sign up for SoFabChats Twitter Party email alerts!
RSVP today and learn how you can enter to win our special Early Bird gift card prize!