It's the perfect time of the year to for sharing new seafood recipes, don't you think? It's week 4 of the tasty Sam's Club® Seafood to Savor event in store. Get ready to be "hooked" because from now through April 11th, you can head in store on each Thursday or Friday to taste these delicious samples. The beauty is that you can get the recipe and products if you like them all in one trip. Pretty sweetola! This is a sponsored post by Lunchbox, all opinions are my own.
This week you can get a real taste of this simple Stuffed Tilapia with easy to make Rosemary Mashed Potato recipe idea that I'm sharing here. Doesn't it sound heavenly? You'd think it would take hours to prepare, but think again! It's such a delicious, easy and quick dinner. It can be whipped up in about a half an hour. Yup, that is it!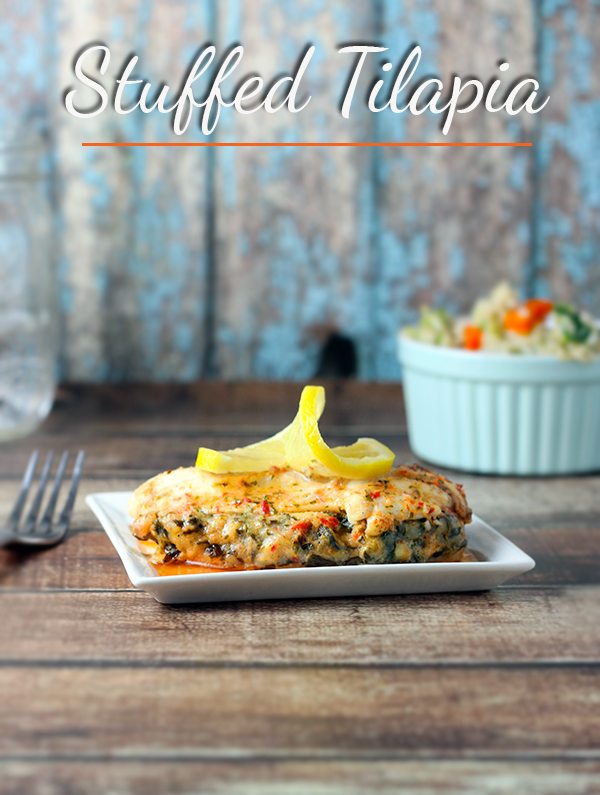 Must have products that make this meal awesome? Michael Angelo's® Stuffed Tilapia and Tone's® Rosemary Garlic-seasoned mashed potatoes!  The Michael Angelo's® tilapia fillets are stuffed with sautéed spinach, onions, garlic and butter crackers, and topped with a lemon-butter sauce.  This is absolutely phenomenal, I would recommend running, not walking to go try it for yourself! Then, serve with a side of Tone's® Rosemary Garlic mashed potatoes using their Rosemary Garlic Seasoning and instant potatoes for a quick and divine side dish.
Here is how you can make the mashed potatoes at home:  Bring 1-3/4 cups of low-sodium chicken broth and 4 Tbsp. butter to a boil and remove from heat. Stir in 1 cup whipping cream and 1 Tbsp. of Tone's® Rosemary Garlic seasoning. Mix in 2 cups of instant potatoes until you have a creamy, smooth consistency and season with salt and pepper to taste. You can do all this while you are cooking up your mouth watering stuffed tilapia!
Check out Seafood to Savor schedule and make sure to get on over to Sam's Club to take advantage of this free event! Visit the Sam's Club website to see what types of amazing easy to prepare seafood options they have!
Want more simple seafood recipes from Sam's Club? Check these out:
Let me know if you head over to the Sam's Club Seafood to Savor event and what your new favorite recipe is!
Plus, check back here every week to see a new easy and tasty seafood recipe!
What is your favorite way to eat Tilapia?