Totally never thought that I would think or talk about armpits so much. Generally I simply slap on deodorant and call it a day, come to find out they are more than just hidden arm caves or serious inconveniences. They are skin too that needs to be nourished! This is a sponsored post by Lunchbox, all pit-pinions (opinions) are my own.
I recently learned just how much moisture our armpits lose after shaving. it's pretty shocking info. If that wasn't a big news flash, learning that when we shave our pits, we're actually removing skin. 36% to be exact. Definitely never would have come to that conclusion, since as I mentioned… I don't normally think about my pits much. Am I alone here?
Dove Advanced Care is helping us put our best pit forward with their new NutriumMoisture deodorant. You see, after shaving and essentially removing skin and essential moisture, armpits need some nourishment. Who am I to deny them?  I just love the different formulas they have! I buckled down and purchased the deodorant in "Skin Renew" since honestly, my pits seem darker to me than usual and this formula is said to help restore skin to it's natural tone. It smells fantastic and goes on so smoothly, it simply feels wonderful. I'm looking forward to seeing the long term results. Other options in this line include Nourishing Beauty and Cool Essentials. Each product has it's own unique benefits!
Now, you totally need to watch these open letters to the armpit on the Walmart website, it's funny and packed with interesting goodness!
While you are there, make sure to print  a $2 coupon to save on your  Dove® Advanced Care Deodorant with NutriumMoisture™ purchase at Walmart!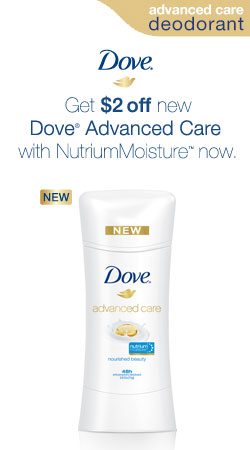 Make sure to check out Dove® Advanced Care Deodorant with NutriumMoisture™ on your next trip to Walmart for the best value!
If you wrote an open letter to your armpits, what would YOU say?