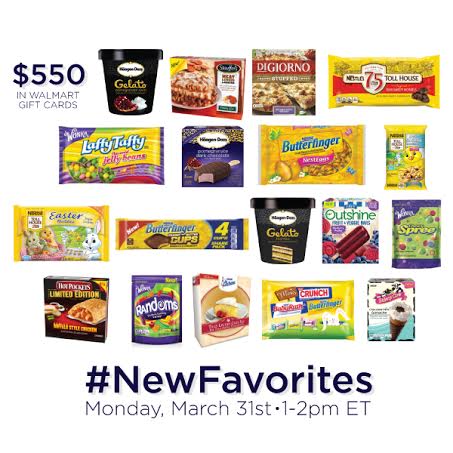 With the Winter season fading into Spring, it's time to start thinking about picnics, barbecues, family dinners and gatherings with friends and family! What better way to celebrate time together than by exploring all of the new tasty offerings from our favorite brands at the #NewFavorites Twitter Party? There are so many new and exciting products hitting Walmart shelves this Spring that you will be sure to find a few new favorites! From DIGIORNO® Stuffed Crust Buffalo Chicken that's perfect for date nights at home with the spouse, STOUFFER'S® Family Size Meat Lover's Lasagna and New York Brand® Texas Toast with Real Garlic for easy weeknight family meals, Nestle has all of your bases covered! And have you seen the new goodies in the ice cream aisle? EDY'S® and DREYER'S OUTSHINE® have new Fruit & Veggie Bars and HÄAGEN-DAZS® Gelato has introduced new flavors like Caramelized Banana Chip,  Tiramisu, Pomegranate Swirl and Pistachio!
Of course, with Easter coming up, you won't want to miss all of the new candies that are perfect for filling those Easter baskets! WONKA® has fun new candies like the Randoms Stand Up Bag, WONKA® Chewy SPREE®, and of course, WONKA® LAFFY TAFFY® Jelly Beans!
We're always looking for new goodies to try to make life easier and sweeter! I love keeping DIGIORNO® Stuffed Crust Pizza and STOUFFER'S® Family Size lasagnas in my freezer for simple dinner fixings. The new varieties sound out of this world! I can't wait to chat about them with you and all about the new treat options that sound oh-so-delicious! I really need to get my hands on that new HÄAGEN-DAZS® Tiramisu Gelato before the party! Sounds heavenly!  So, will I see you at the party?
Join me at the #NewFavorites Twitter Party on SoFabChats!
DATE: March 31st, 2014
TIME: 1-2 PM EST
PRIZES: 5 – $100 Walmart gift cards
EARLY BIRD: 1 – $50 Walmart gift card
RSVP: #NewFavorites Party Page
LOCATION:  SoFabChats Tweet Grid
HOST: @TheRebelChick
CO HOSTS: @dawnchats, @Freebies4Mom and @MommyTalkShow
PARTY RULES: #NewFavorites Official Rules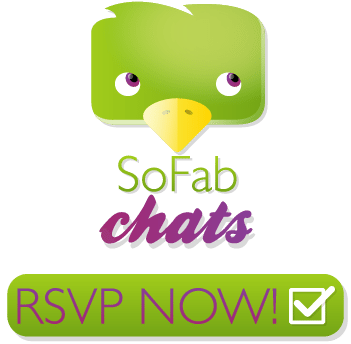 TWEET TO SHARE
RSVP for #NewFavorites Twitter Party 3/31 1pm ET. Easy Meal Ideas! Prizes $550! Rules http://t.co/4cBwe7gqvJ #shop #cbias

— Dawn Lopez (@dawnchats) March 24, 2014
Love Twitter Parties? New to Twitter Parties and want to learn more?
Stay in the loop with the SoFabChats Twitter Party Schedule, RSVP for individual Twitter parties, find SoFabChats Twitter Party Tips and sign up for SoFabChats Twitter Party email alerts!
RSVP today and learn how you can enter to win our special Early Bird gift card prize!