You know I love creating fun recipes, don't you? You can imagine my excitement when I was invited to take the $15 Family Dollar recipe challenge! This is a sponsored post and a Family Dollar Gift Card has been provided for me to take the challenge.
That's right, 10 bloggers (including me) have created their own recipes from ingredients purchased at Family Dollar. The kicker is that they had to be $15 or less! Game on!  Now, you know with all of the affordable ingredients you can get there, you can create some seriously awesome dishes and desserts. This is going to be one tasty challenge!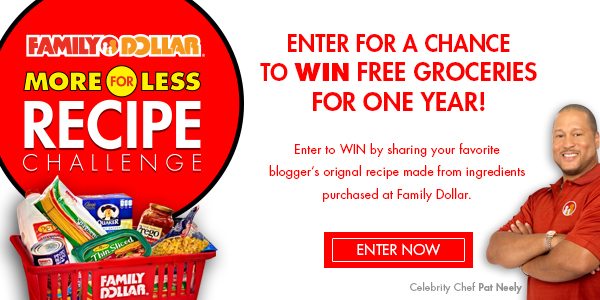 The fun will begin on March 30th and that is where you come in!
When you vote for your favorite recipe, you will be entered to win a year's worth of FREE groceries from Family Dollar!
Seriously, how stinkin' awesome would that be??


So, don't miss a thing! Follow the fun with me on Twitter with the hashtag #FamilyDollarMore4Less
The voting begins on March 30th, so stay tuned. I'll definitely be sharing more then 😉
Let's have a guessing game, shall we?
Knowing me… what kind of recipe did I create for this challenge?  
Savory or Sweet? Go!!!