Are you a basketball fan? My hubby just started showing our son how to play as a matter of fact. On that note, I have a sweet chance to win to share with you b-ball fans today. This is a sponsored post by Lunchbox, all sweeps-pinions (opinions) are my own! I am thrilled to share with you a chance to WIN tickets to the 2015 NCAA® Final Four® just for registering at StepUpYourPreGame.com! Oh and there is much more, keep reading!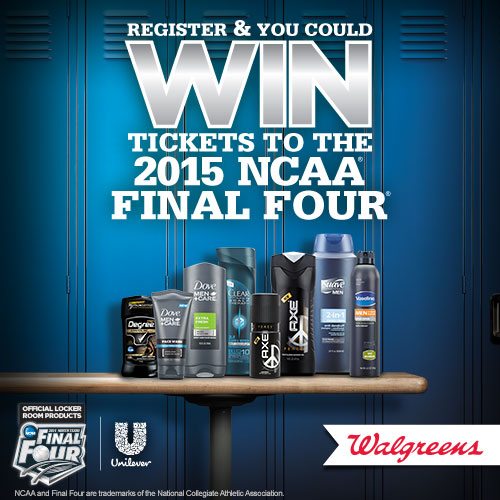 Here is the scoop: From 3/18–4/7 purchase your FAVORITE participating personal care Unilever products at Walgreens and you could win a trip to the 2015 NCAA® Final Four®!  Plus, you can also earn a $5 Walgreens Gift Card! Who doesn't love shopping there?
Check out these participating brands:
* AXE
* Degree Men
* Suave
* Clear
* Vaseline
* Dove Men+Care
Here are step by step instructions to get you going! 
STEP 1: Signup and receive 10 points 
STEP 2: Redeem your 10 points for 1 Sweeps entry*

STEP 3: Buy $15 of participating products to total 150 points
STEP 4: Redeem 150 points for a $5 Walgreens gift card

Voila, that is it! Pretty sweet, right?
Note that there is a maximum of 2 sweeps entries or 20 points can be redeemed per person.

—> Register NOW for your chance to win!
Good luck! Let me know if you win!
Who is the biggest basketball fan you know?
How excited would they be to win Tickets to 2015 NCAA® Final Four®?