Now that I have started getting my own walking workouts in I have decided that we need to do more with the whole family and work on getting active together. Trying to do more with the entire family can be rather difficult with all the different ages and busy schedules but with a little creative thinking it can be done! This is a sponsored post, all opinions are my own.
 10 Ideas to "Do More" with the Whole Family
Learn a new activity together. I'm sure there is something out there that you as a family have not done together yet. Zip lining seems to be a popular new activity that can make getting active fun!! If zip lining is not your thing then maybe a cool water sport like water skiing or tubing is more up your alley.
Plan a hike at least once a week. Hiking can be a great way to do more with your family and even babies can tag along for this activity. It doesn't matter if it's an easy walk on a country road or a great big trail in the middle of a wooded forest. The idea is to just get moving! Change it up every week and keep it interesting by going to different places to do your hiking. Remember to bring plenty of water and food to keep you and your family going.
Washing the car is a great way to spend time with the family. It can be hard work and great exercise if you do it right so fill up those buckets and let's get to scrubbing!! Make a game of it by racing around the car and trying to keep from getting wet. Make it even more challenging by screaming out "Switch sides!" every 3 or 4 minutes. Once it has been yelled out everyone has 60 seconds to switch sides of the car they are washing with another family member.
Register your whole family for a walk/run in your community or better yet enter yourselves in the next 5K. Say what?… you heard me right! Most of the time you have the option to walk or run in a 5K and can you imagine how good your family will feel heading across that finish line! Most walk/runs are held to raise money for a charity so not only will you be getting active but you will be helping out a great charity.
Sign up for a local class as a family. It is important for everyone to know that you don't have to be good at something to try it. The point is to try new things and if you like them than keep doing them. There are plenty of family friendly yoga classes, horseback riding lessons tae kwon do….. the list goes on and on.
Cleaning the yard is something that needs done and can be a great way to get active and do more with the whole family. This can be especially fun in the fall when the leaves begin to fall. Spend the day together raking leaves and when you get done it's time dive right in and get a little crazy!
Host a talent show in your home and invite all your family over for a fabulous night of fun. Having a fun topic like "get moving" would be a fun way to get up and moving around. Everyone can pick a "talent" like jumping rope, dancing, or juggling. Anything goes as long as your "talent" involves moving your body around.
 Biking can be a lot of fun when you head out on an adventure together. Make a scavenger hunt list and bike around town searching and finding the items. Some good ideas to have on your list are pine cones, wild flowers, acorns and even different types of leaves.
Head out to the local park or splash pad for a fun filled day of playing! Exerciser doesn't have to be boring! Crawl through some tunnels with your children and watch their faces light up because mom and dad are joining in!! There is plenty of fun to be had at your local parks and as long as you are not sitting then you are moving and that is the most important part about staying active!
10. Plan an afternoon sports game with your friends and family. While you are spending time bonding and having a good time you will be getting active while playing the game, getting some much needed exercise that you won't even notice you are getting! Basketball, baseball and soccer are perfect for large crowds and the rules can be adjusted to fit any age child. I can't think of a better memory than of being the one guarding the soccer goal while your child kicks in the winning goal!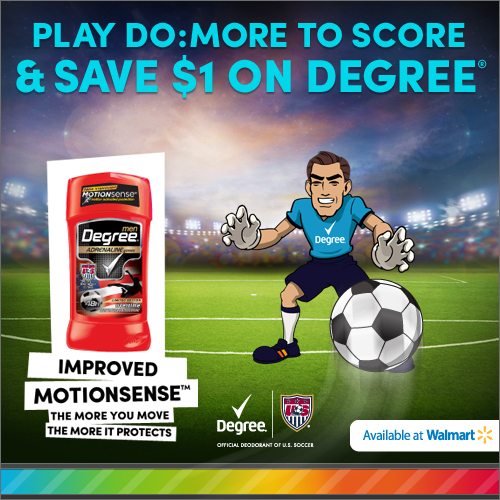 You can also get those fingers moving by playing the quick
DO:MORE TO SCORE game
, then you'll be able to 
print a coupon for $1 off Degree Men's MOTIONSENSE Deodorant!
WIN IT!
PRIZES: (5) Winners will each receive:
• Two (2) sticks of Degree Men Deodorant (ARV $10)
• One (1) $10 Wal-Mart Gift Card (ARV $10)
Open to U.S. Residents, 18+. Giveaway ends at 11:59 p.m. PT on Monday, August 4, 2014.
Degree Men World Cup – Homemaking Hacks

Degree with MOTIONSENSE
™ Technology responds directly to your body movement, releasing extra protection when you move, to last longer. So when you're out there playing with the whole family, you won't have to worry if your deodorant can keep up!
Do you have any great ideas on getting active and trying to do more with the whole family?