I wanted to take a little break from the norm and talk about something a little more serious today. Family medical emergencies happen quickly and without any notice. If you are not prepared for it you can panic and find it difficult to take care of the situation. Taking steps in advance so that you are ready when something like this happens is a must. This is a sponsored post, all opinions are my own. I'm not a medical professional or qualified to give medical advise, I'm just sharing my own ideas. 
Today, I want to chat about being prepared and the Johnson & Johnson's Guide to Healthy Living which shares everything we need to know about healthy recovery after surgery and healing at home.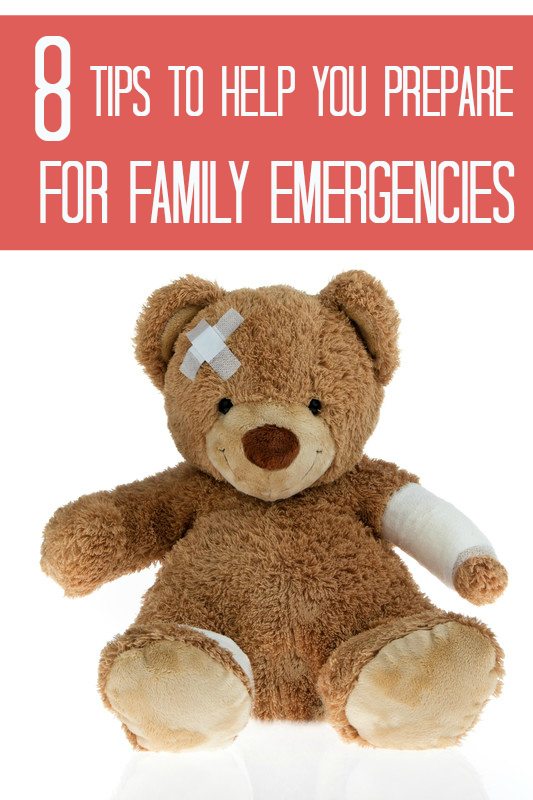 1. It's always best to keep a list of important medical information on you at all times. You should include any medical conditions, medication that you are taking, and the name and number of your primary Doctor on your list. I usually make a master sheet of this information and then make copies for my purse and one to keep at home (kept on the refrigerator so that it can be found by emergency medical personnel).
2. Choking is something that happens in families all the time and if you call 911 for help they will walk you through the steps to try to save a life. Having the phone to my ear while someone talks me through how to save my child or loved one is not something I want to do. Taking a CPR class is an easy way to be prepared for an emergency situation. Check with you local American Red Cross for available classes in your area.  My uncle was choking on food and luckily my father was able to jump to action and save his life. It's not a moment that we'll ever forget.
3. Having a first aid kit is a must especially with small children around. It's always best to have one at home and in the car for family emergencies. They are pretty simple to put together and they don't need to be fancy. Get yourself a small plastic box or even an old make-up bag will work. Below are some items you will want to keep in you kit.
Bandages
Gauze Pads
Rolled Tape
Neosporin® or Polysporin® Ointment
Burn Cream
Cotton Swabs and Cotton Balls
Instant Ice Pack
Burn Cream
Hand Sanitizer
Gloves
Tweezers
Small First Aid Guide
These are just ideas of what you may want to keep in your kit. You may find other things over time that you want to add to it but this should be enough to get you started.
4. Understanding wound care  and how to treat a wound is very important. A wound is an injury to your skin normally caused by a cut or impact that usually causes an opening in the skin. Wounds are a prime spot for infection and must be taken care of each and every time even if it's just a little scrape. Watch Video: Using The Right Products.
When a cut occurs the first thing you will want to do is asses the cut and try to stop the bleeding. If it is a deep cut that may require stitches apply pressure immediately and head to the doctor or your local emergency room for help. If it is just a small scrape or cut wash the effected area immediately and apply pressure to get the bleeding to stop. Apply Neosporin® to help ward off infection and cover with a clean dry bandage. Always make sure you are wearing gloves when you are dealing with a wound or use hand sanitizer if no gloves are available.

5. Knowing the signs and symptoms of a medical condition can help you keep your barrings in a stressful situation. A person having an allergic reaction (Anaphylaxis) to something may experience a rash, hives or difficulty breathing. If someone is experiencing difficulty in breathing calling 911 quickly can be a life or death situation. Often times when a person experiences this they may have an epi-pen that you can get for them so they can administer it themselves. Just remember to always call 911 first and then assist.
6. Understand seizures and how to assist has changed over the years. As always call 911 to get the emergency medical system in route first. In the past placing something in the person's mouth to keep them from choking was standard procedure. This is no longer the case. If you stick something in their mouth they are probably going to bite it and break it causing a horrible choking risk. Move furniture away from the victim to ensure that they are not going to injure themselves. Seizures usually only last a few minutes and will stop all by itself.  If the seizure stops before medical attention arrives roll the person on his or her side to let any mouth secretions drain out. They may be unconscious or confused for a while so do not be alarmed.

7. Take action quickly if you think that someone may be experiencing a hear attack. Heart attack victims often times will experience sever chest pain but symptoms can include discomfort in the arms, back, neck, jaw or stomach. Men often will be the ones that experience extreme chest pain whereas woman may show other signs like shortness of breath and even nausea and vomiting. If you think someone is showing signs of a hear attach quickly call 911 for help. Time is very important in these situations.
8. Burns happen often and it is important to understand what to do immediately after it happens. For a burn caused by heat (such as the curling iron or stove top) need to be cooled immediately with cold water. Do not use ice as this could actually cause more damage. You can loosely cover them with a sterile bandage. For wounds over a large area, or on the face or hands you should seek medical attention immediately. For electrical burns that don't show any signs outside of the body you will want to call for help as quickly as possible.
I hope that these 8 tips can better help you prepare for family emergencies.  Make sure to check out all of the resources and watch the videos to learn about wound care at Walmart.com.  Johnson & Johnson shares their comprehensive guide to provides the product information and tools you need to clean, treat and protect your wound throughout the healing process.
Enter to win a $50 Walmart Gift Card to help you stock up on First Aid products from Johnson & Johnson!
Have you had any family emergencies in your home? Did you find that you were prepared to handle them? What would you do differently?