October is filled with so many amazing things, but one that really stands out is Breast Cancer Awareness. It's always important to be concerned about our health, but I love that this has become a serious movement. Never fail, every year people get revved up and get to work. And, since I'm a woman, this really hits home. Thanks to Skechers for sponsoring today's discussion. They've encouraged me to think of simple ways we can help fight for the cause this month and beyond.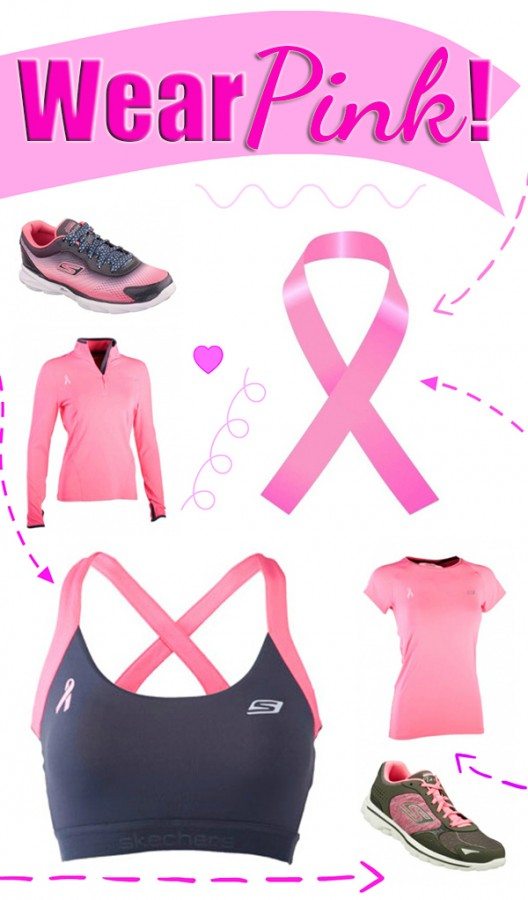 1. Do something for YOU. Keeping yourself as healthy as can be is simply the most important thing you could ever do. Without you, there is nothing else. So, let's take some time to celebrate and take positive actions. Schedule a Mammogram, get more sleep, eat some veggies, get out there and take a walk or run. When friends and family ask, let them know why you're making changes! You'll in turn be encouraging them too.
2. Take part in a walk/run for the cause.  Rally up some friends and find a local walk that benefits breast cancer. You'll be doing something great for yourself, your community and far beyond. Check out the American Cancer Society's website to check for events they might be holding in your area.
3. Donate.  Find a local organization fighting to end breast cancer. You can help by making a monetary donation or see if they are looking for volunteers. You may be able to donate time, used items or baked goods for fundraisers and more. You can also look into volunteering items and time at a cancer treatment center or local hospital.  Time is sometimes even more valuable than money, so don't feel limited by a budget. You can get involved in so many other ways small and large.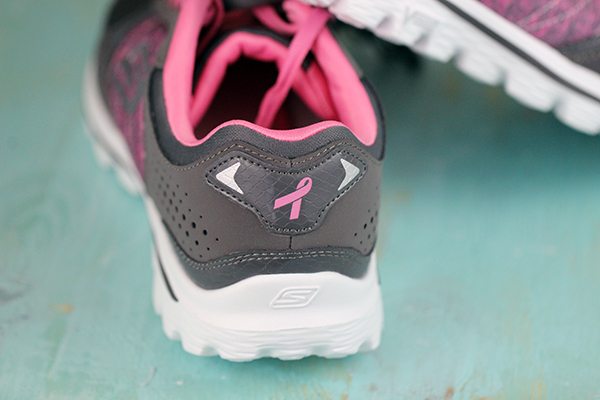 4. Wear Pink. Get your ribbon out and wear it proudly. People everywhere recognize the cute pink ribbon, it's a great way to show your support and let others know. Skechers Performance Division Awareness footwear line features a pretty pink breast cancer awareness ribbon.  They're working to support the American Cancer Society with donations and this collection of pink ribbon branded apparel and footwear. I just received the Skecher's Go Walk 2 Flash sneakers and they are adorable. I love that they encourage me to walk more for my own health all while showing my support.
5. Buy products that donate a portion of proceeds or support the fight to end breast cancer.  There are so many "pink branded" goodies from limited edition hair and beauty products to Skechers Performance Division . I even spotted some children's products that are supporting this great cause. I'm loving all the special "limited edition" products you can get while supporting at the same time. It's a win/win.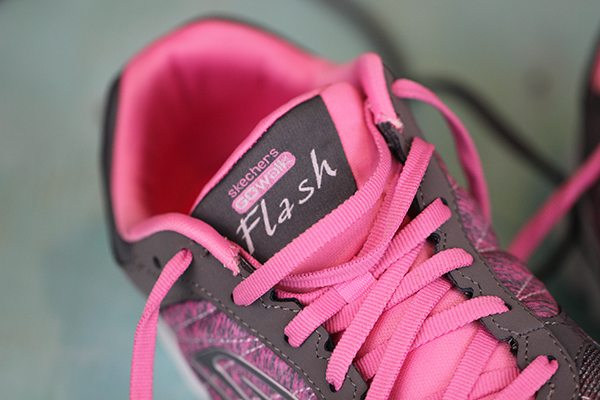 By purchasing these limited-edition Skechers in store, you can take part in several great ways to support and raise awareness.

When you make your purchase at a Skechers Retail store, you can opt to round up your purchase to the nearest whole dollar to benefit American Cancer Society for the entire month of October.

When you donate $5 or more at the register, you will score a 20% off discount for your next visit. Now that is a great reason to walk run to your local store.

Get a free breast cancer awareness gift when you purchase a pair of limited-edition Awareness shoes. The gift is either a breast canvas awareness canvas tote back or a pink water bottle.
I have to admit that Skechers has always been one of my favorite go-to brands for footwear. I've been sporting their sneaks and flip flops for years. But, my appreciation and love has been renewed just knowing all of the things they've been doing in conjunction with the American Cancer Society to help put an END to breast cancer!  For many years, I participated in an annual walk to raise funds with them myself. It's been a few years since I've been involved, this is a great reminder that I need to get back in action and do something big to support all the women out there! Join me?
As a special treat to you, I'm also giving away a $25 Amazon Gift Card!
-Giveaway is open to US Residents, 18+
-Giveaway ends on 11/6/2014 at midnight EST
-Entries are only valid through the Giveaway Tools Form
-Comments do not count as entries
Tell me, which Skechers would you be most proud to wear to help raise awareness?