It's a season of love, you can see it everywhere! But, it's also a hectic and chaotic time as we try to get everything done. It's easy to overlook simple things that we can do to make someone smile or help out a worthy cause. We still have plenty of time to take small actions this holiday season to make someone else's day a little brighter. Whether small or large, we have the choice sprinkle love and kindness around. Let's pay it forward this season, while we still have time! This is a sponsored post as part of my Kmart KClub Ambassador program, all opinions are my own.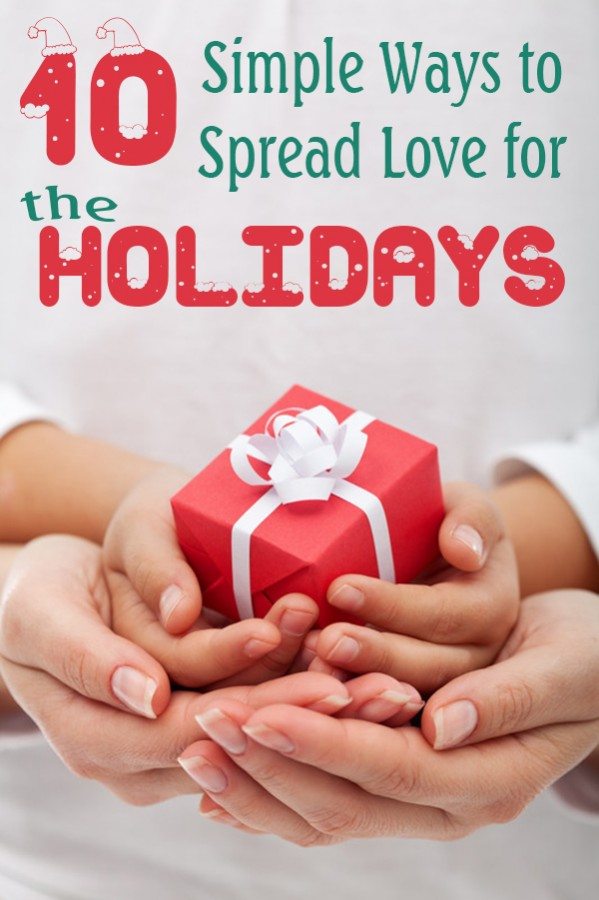 I truly feel blessed this year. My husband and I have worked extremely hard and we finally are in a good place financially. We've paid of a large amount of debt and we're finally, after all these years, ready to move forward.  I've always been a mindful person, use plenty of manners like mom taught me on a daily basis. I help people when I see they need some, smile at strangers, hold a door when someone's hands are full and I'm sure to say thank you… sometimes twice. But, I'm beaming this year. I want to spread the good fortune and positive attitude.
The beauty of doing something for someone else, no matter how small, is that it's good for YOU too.  It's like taking a virtual vitamin packed with goodness. That rewarding feeling is a glimmer of hope, food for the soul, the promise that if we're always generous, kind and thoughtful that the world could in fact be a better place. At least, I like to think so! It's what keeps me moving forward.
10 Simple Ways To Spread Love for the Holidays
No matter how busy you are this season, hopefully we can all take a few minutes to do something small to spread love. Join me!

1.  Help a Stranger. Hold a door, help pack up groceries or just simple smile as you pass by.
2. Give Compliments.  At camp, so many years ago, I learned about the importance of giving them. They challenged us to give three compliments out a day. Now, I'm spreading the word. Your turn to give three a day!
3. Gift Someone.  Give a thoughtful gift to someone who would least expect it.
4. Share Love in Your Neighborhood. Strike up a conversation with someone new, give them a hand with holiday decorations or drop off a little surprise holiday gift. Spreading kindness with those who live around you can only be a good thing for the future.

5. Start a Pay It Forward Movement.  I love the idea of these free printable smile cards from KindSpring. The goal is to do something nice for someone and leave them a "pay it forward" card so that they can also share the love. Awesome!
6.  Ask for donations instead of gifts. If you have a gift exchange during the holidays, ask for donations in your name. I've heard so many awesome stories like this. The kids can get involved too! It's an awesome chance to teach them how to be selfless.
7. Pick Up the Tab – Even if you only have a few extra dollars to spare, this kind of random act of kindness can be amazing! Pick up someones tab while out holiday shopping or just out grabbing a coffee. I try to do this throughout the year, it's such a beautiful thing to do.
[Tweet "Small Actions. Get Inspired w/ simple ways to spread love this holiday. #KClub #MoreChristmas"]
8. Donate.  Donate goods, toys, money, etc. It's an easy time of the year to do because almost everywhere you look there are collections being held.
9. Volunteer your time. Call around to local food banks and non profit organizations to see if they could use an extra hand or two. If your low on cash, this is also a wonderful way to pay it forward. Time is sometimes even more valuable than money, so don't feel limited by a budget. You can get involved in so many other ways small and large.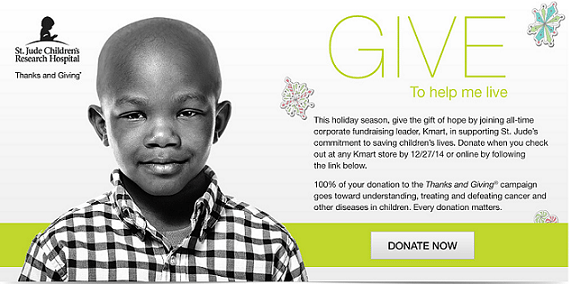 10. Shop for a Cause– We're all scurrying to buy gifts this season. There are many chances to pay it forward at the registers this year. Kmart toy shoppers have THREE ways to give back to the St. Jude Thanks and Giving® campaign this holiday season! Kmart, the all-time leading St. Jude Children's Research Hospital® fundraising partner, has already raised more than $10 million for St. Jude this holiday season alone. That is jaw-dropping and just simply incredible. We might take for granted that our families are healthy, but not everyone is as lucky.
* Buy Fab 15 Holiday Toys. Between December 7th and December 13th, Kmart will donate $1 to St. Jude for every Fab 15 toy purchased, up to a maximum donation of $25,000!   You probably already have one of these top toys on your shopping list, why not shop at Kmart? Some of the seasons hottest toys like Zoomer Dino by Spin Master™ and Disney Frozen Snow Glow Elsa Doll are on the list. ↘ Get the Full Fab 15 Toy List Here.
Kmart's Fab 15 holiday toy list features the ultimate toys that kids want for the holidays, from big toys that make great, unexpected gifts to nostalgia toys that remind parents of their own childhood.
*At the register: Shop Your Way members and Kmart shoppers can donate when they check out in all Kmart stores or Kmart.com.  Kmart is rewarding members who give back  through Dec. 27th with a coupon for five percent back in points on their next qualifying in-store or online merchandise purchase. See coupon for details.
*On the tree: Kmart's exclusive 2014 collectible St. Jude bear ornament is available in-stores and online at Kmart.com. The ornament comes in two versions – a boy and a girl bear, and Kmart will donate $1 to St. Jude for each ornament purchased now through Dec. 24th, with a minimum donation of $50,000!
Hope these ideas help inspire someone out there! How will you spread love this holiday season? Please share in the comments!