Easy dinner recipes? Can't get enough. It's the perfect time of year to scope out delicious dinner ideas that are easy to make. This is a sponsored post about I Can't Believe It's Not Butter, available at Walmart. All opinions are my own.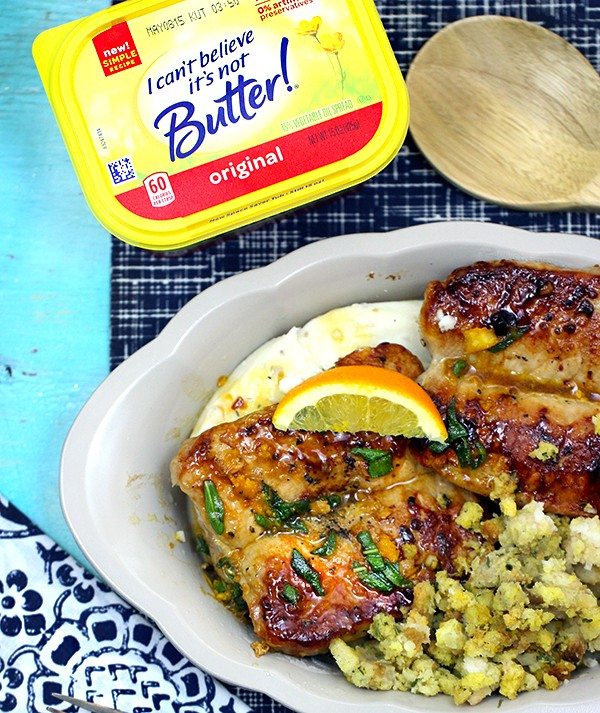 When I was asked to check out Orange Sage Pork Chop recipe that seemed really simple to make, I was in! Big time.  I'm not one to go for recipes with tons of ingredients. You know me, I'm all about no fuss. This totally fit the bill. Plus, I haven't used sage much, so I was really curious as to how this combination would turn out.  It's soft to the touch, intriguing really. (Yes, I took a few moments to play with my food). It's one of those herbs that I often have trouble identifying in a line up by taste. Sage is an interesting herb, have you ever used it?
This 20 minute recipe is definitely a keeper. I often forget that you can have a delicious meal on the table in such a short amount of time. The dish comes together nicely with I Can't Believe It's Not Butter. The chops cooked up perfectly in my non stick pan, no drying up or burning for me. Total win. Best of all, this complex recipe made simple can all be made in ONE PAN. Score!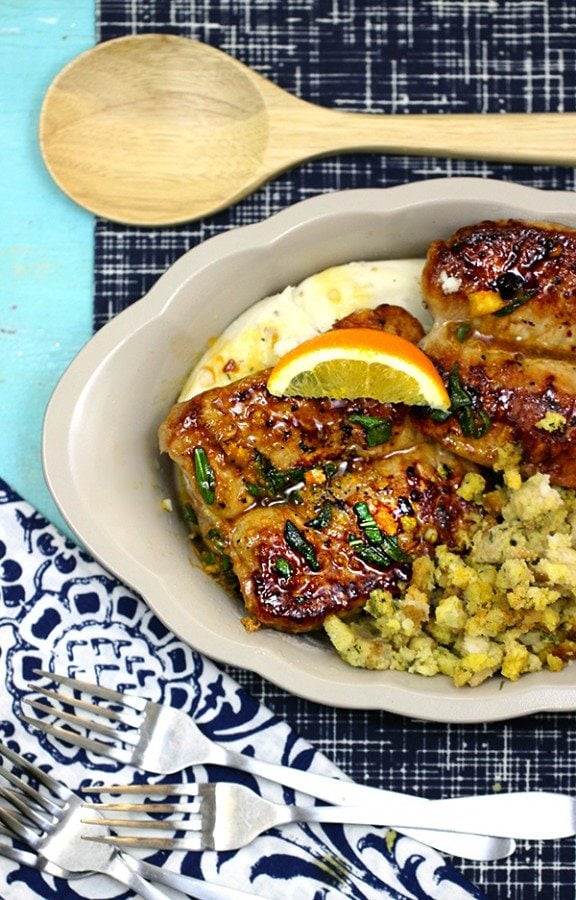 Orange Sage Pork Chops Recipe
4 Servings, 10 Minutes Prep, 15 Mins Cook Time. Print the Original Recipe.
Ingredients
4 boneless center cut pork chops, 1/2-inch thick (about 1 1/4 lbs.)
1/4 tsp. salt
1/4 tsp. cracked black pepper
2 Tbsp. I Can't Believe It's Not Butter!® Spread, divided
1 large orange
1 Tbsp. chopped fresh sage leaves
Directions
Season chops with salt and cracked black pepper. Melt 1 tablespoon I Can't Believe It's Not Butter!® Spread in large nonstick skillet over medium-high heat and cook chops, turning once, until done, about 8 minutes. Meanwhile, grate 1 teaspoon peel and squeeze 1/4 cup juice from orange. Remove chops to serving platter and keep warm.
Melt remaining 1 tablespoon Spread in same skillet over medium-high heat. Add orange juice and bring to a boil, scraping brown bits from bottom of pan. Boil 1 minute or until mixture reduces slightly. Remove from heat and stir in sage and orange peel. Drizzle over chops.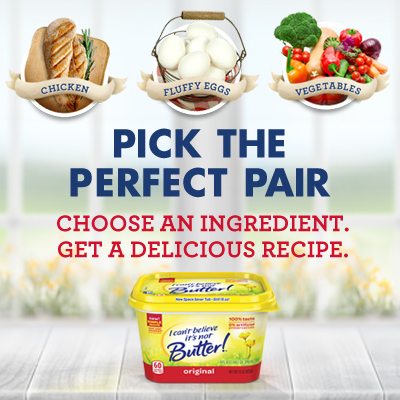 Being able to head to my local Walmart to pick up all the ingredients in one place is really appealing. My time is really limited between work, errands and free time. Especially this time of the year, ya know? I'm excited to have found another recipe that's easy to plan and make all in one. Yay to that! Have you heard about the ICBINB's new SIMPLE RECIPE? It's now made NO artificial preservatives. And, to be honest, I really love being able to easily grab a tablespoon of it without all the fuss of chiseling cold butter. That's just another perk.
Visit Walmart to pick up I Can't Believe It's Not Butter and all the other ingredients you'll need for a quick and easy dinner!
Have you ever cooked with sage?