Are you ready for a fun and EASY holiday hack? How about turning a delicious Marie Callender's Pie into a festive treat in minutes? That's right, you can buy one of their pies in the freezer section, thaw in the fridge, decorate and serve up something totally fabulous for the holidays! I am participating in a Vibrant Influencer network campaign for Marie Callender's. I am receiving a fee for posting; however, the opinions expressed in this post are my own. I am in no way affiliated with Marie Callender's and do not earn a commission or percent of sales.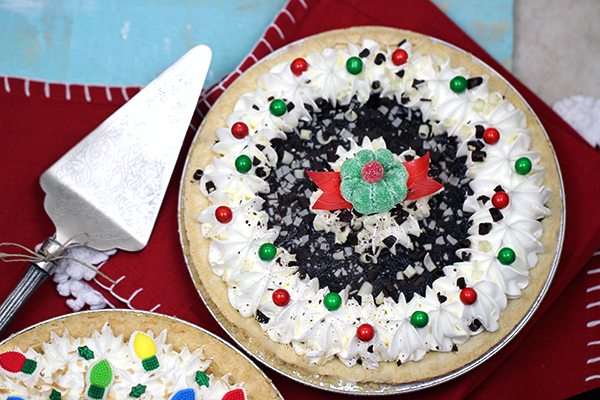 I love dessert, more than ever, really. But, I had never tried one of Marie Callender's Pies. Not sure how they slipped out from under my radar, but they did.  Pulling a pie that tastes homemade out from the freezer? I wasn't sure how it all worked, but it's actually easy as "pie". Yep, I just went there. *wink*  You can set your pie to thaw in the refrigerator. So, in other words… you can have pie anytime you want. Yeah! Yay for the magic of freezers!  Yay for PIE anytime!
I wanted to make my pies extra festive for the holidays, so I went to check out what my pie options were. At first I thought Mint Chocolate Chip would be perfect! Which it would, but I couldn't get my hands on one. Next up, mouth watering flavors like "Coconut Cream Pie" and "I Love Chocolate Cream Pie".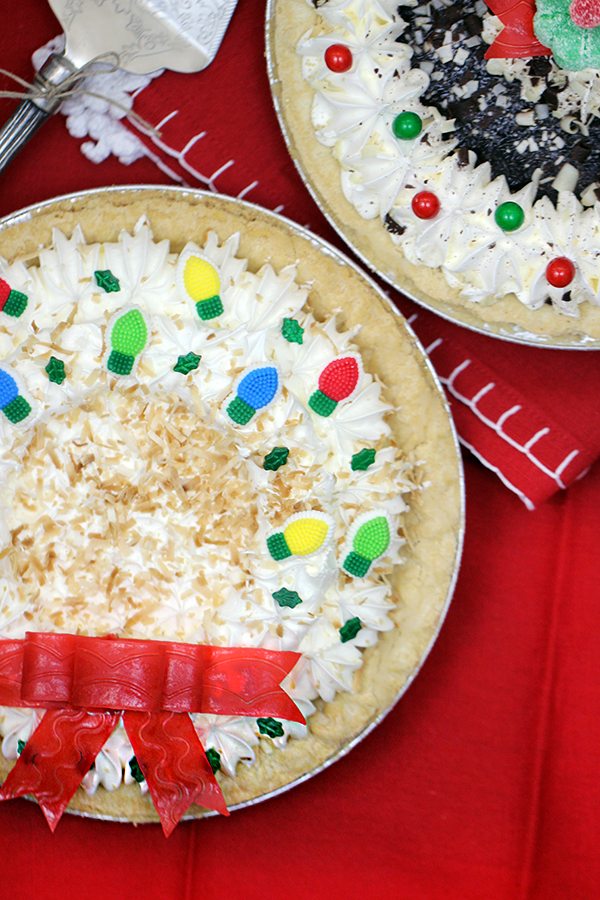 And, we can't forget the Marie Callender's "Chocolate Satin Pie", which mind you IS NOT pictured here even thought I bought it.  Yeah, temptation got the best of the hubs and I. We cut into it before I had a chance to add the holiday candies to it.  A couple days later and that pie was history. I am really impressed with how delicious it was.
Soooo, I had to go back to the store. Sure did. That's when I spotted the "I Love Chocolate Cream Pie" and thought we really needed to try that one too.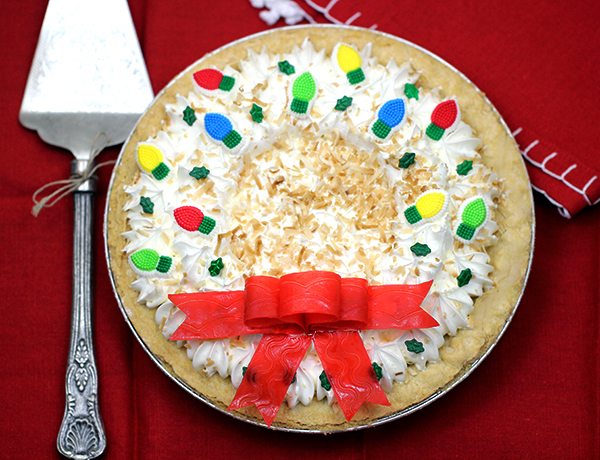 Want to hack your holiday and make things easy for you? That's without sacrificing the taste of homemade either!
Turn a Pie into an Edible Holiday Wreath
Head to the store and stock up on Marie Callender Pies. Choose festive edible decor, here are the goodies I picked up:
* Fruit Leather – for making bows. I used scissors and pinched my bow together to make it stay put.
* Gum Drops & Fruit Slices in green and red  for mini wreaths and decor
* Sixlets red and green candy for "ornaments"
* Festive sprinkles
* Icing Decorations. I found the adorable holiday lights at Walmart (along with my yummy pies!)
Secrets worth savoring: Voila! Now you can come up with your own fun creation. Nobody has to know about your pie shortcut! Do yourself  a favor this holiday season and save yourself some time!
Want to stay in the loop? Become a fan of  Marie Callender's Facebook Page.
 Tell me, which Marie Callender's Pie would you try first?