A little true story for you. I won an iPad a few years ago.  At the time, I was completely uninterested in learning how to use it. A whole year has passed before I finally decided to see what it was all about. Today, it's one of my most used tech items. From listening to music, setting it as an alarm, using it for a calendar and of course playing games, it's pretty amazing.  Recently, I had a chance to check out something truly cool and inspiring made just for kids on the iPad. I'm excited to be able to share all about it today. This is a sponsored post about OSMO, all opinions are my own.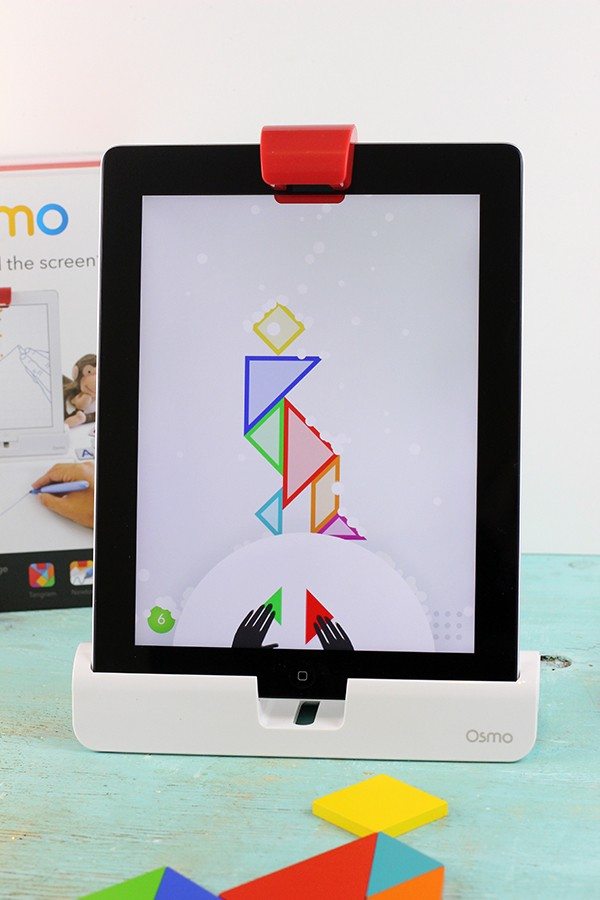 I'd like to proudly introduce you to Osmo for an incomparable experience for kids ages 6 and over. To be honest, I'm pretty content playing their interactive games myself for a little fun.  Let me tell you what it's all about. Osmo is what's considered a "gaming accessory" for the iPad.  There are three main games to play which all correspond with free app downloads in the App Store.  The games are called Tangram, Words and Newton.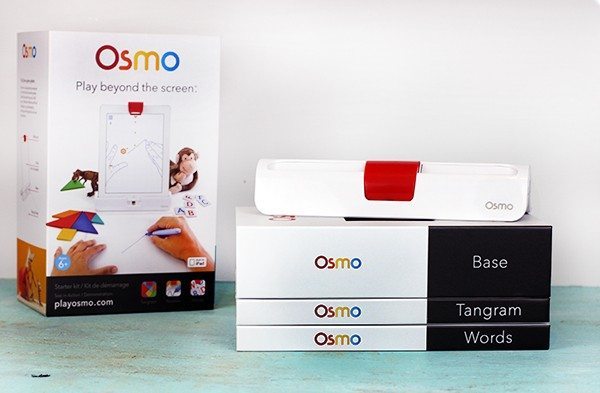 Osmo comes with a base to place your iPad in and a reflector. The reflector snaps over your iPad camera to create an interactive experience that might just blow your mind. There are two additional boxes with gaming accessories that you'll need for playing the games Tangram and Words.
Let's take a look at how each game works:
Tangram – Arrange tangible puzzle pieces into matching on‑screen shapes.
Your Osmo comes with wooden shapes that are made for this game. The reflector is what enables the iPad to recognize when you place the pieces in the correct order.  The game gives you a shape to re-create. From animal shapes to people. It's seriously neat!  This game can be played alone or with friends. There are levels with increased difficulty to allow for hours of creative and challenging play.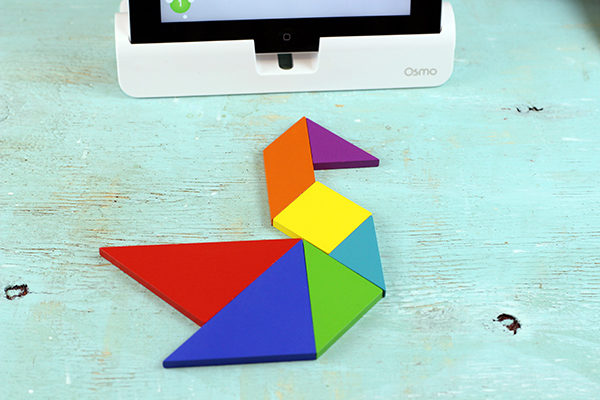 Words –  Guess and spell out the on‑screen hidden word by tossing down real‑life letters.
Your Osmo comes with two sets of color coded word tiles to play. You can play alone or with a friend. There are multiple options to play. With one player, kids can opt to fill in the blank letter.  I like that there is an image to go along with each word to help guide them to the correct answer.  When playing with two, the winner is the person who spells the word correctly first. Osmo can detect who won by the color of word tiles.
Newton –  Guide falling on‑screen balls into targeted zones by drawing on paper.
When I first learned about Osmo, this was the most eye catching feature. This game is really cool and sure to impress as well as provide endless fun and challenges for kids.  Get this… you draw on paper in front of your Osmo connected iPad and your drawings show up ON your iPad screen in real-time. How awesome is that? Keep drawing to get the balls to hit the pop up targeted zones for some addicting play.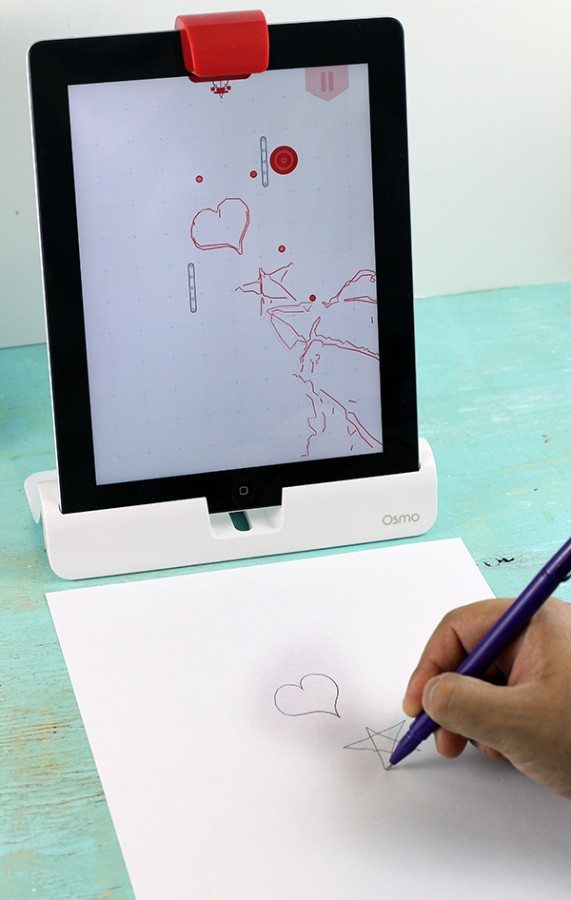 Osmo will provide hours of fun through engaging and interactive learning.  I've certainly found a go-to gift for the kiddos in my life! I'm confident that gifting this fun kit will make me the best "Auntie Dawn" ever. *wink*
Osmo is available for $79.99 with free shipping through PlayOsmo.com.
Which Osmo game would you want to try first? Tangram, Words or Newton?