Are you ready for a sweet chance to win?  To celebrate Valentine's Day, share your love for all things red velvet for a chance to win a sweet prize!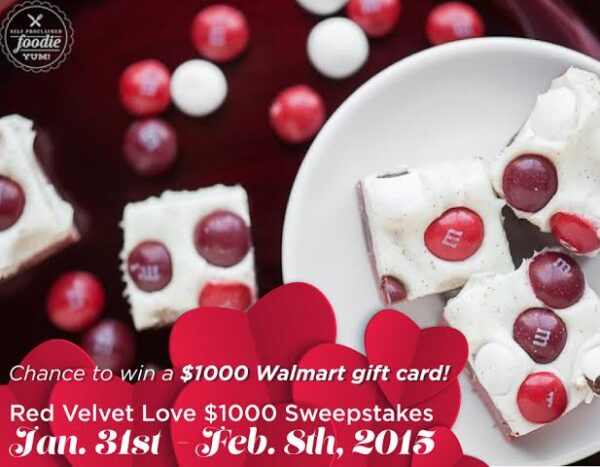 Photo Credit: LoveBakesGood
How will you treat your Valentine? Showing your care with delicious, home-baked treats is always a hit, more so when you add special ingredients like M&M's® Red Velvet. Discover inspiration for your Valentine baking through easy and creative recipes available on the Red Velvet Love Recipe Board on Pinterest.
Speaking of treats, how would a $1000 Shopping Spree sweeten your Valentine plans? Enter the Red Velvet Love Sweepstakes for your chance to win a $1000 Walmart gift card!
HOW TO ENTER
Visit Red Velvet Love $1000 Sweepstakes Entry Form below.
Provide name and email address so we can contact you if you win!
Find inspirational Pins from Red Velvet Love Recipe Board on the entry form.
Create a single Pin.  You may select one of the Inspiration Pins provided.
See complete Official Rules below.
Hurry – your chance to enter to win ends on February 8 at 11:59pm EST!
Best of luck!
Have you tried M&M's®Red Velvet yet?