Did you know that it was "cold" season? We're right in the middle of it and it continues all the way through April. The struggles of getting kids to take medicine when they need it is endless. I can remember the trouble I gave my own mom. (Sorry mom!). She tried all different kinds of tricks, tirelessly.  Now, I was definitely a challenge, but let me tell you…. my son is horrible, horrible about it. I can't say I blame him for loathing the taste of most medicines, they generally are pretty icky. He has sure given me a taste of what my own mother went through, cold after cold. This is a product-provided, sponsored conversation that contains affiliate links. However, all opinions, text and experiences are my own.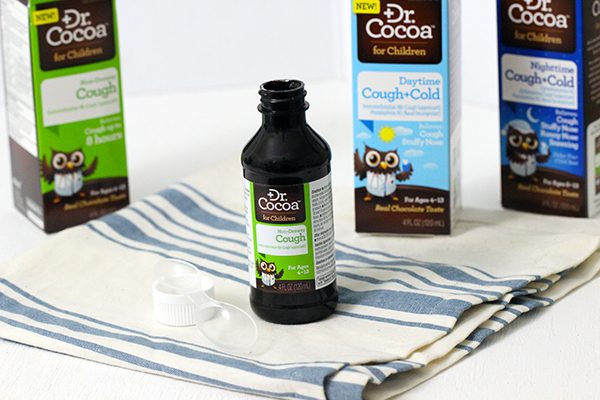 I just learned that school age kids get approximately 8-12 colds per year!  That's a whole lot of potential struggle for parents trying to nurture their kids and give them the proper dosage of meds when needed.  Actually, in a recent survey, up to 40% of parents of school aged children report that giving kids cold medicines isn't always easy. That actually made me shiver for a moment just thinking about it all. But, there is a revolutionary new solution that can really reduce the stress for parents AND for kids suffering from colds.  We finally have Dr. Cocoa™  for Children to help.  There is officially a line of cold and cough products made with a bit of REAL CHOCOLATE. Yes, that's right!
It's the first-ever chocolate flavored cough and cold medicine line for children!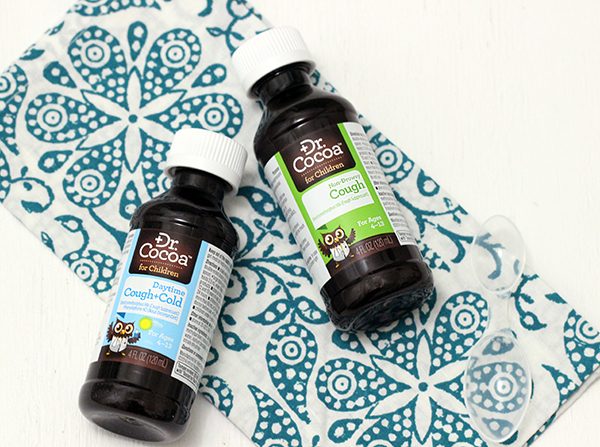 The new Dr. Cocoa for Children products have 10% real cocoa for great chocolate taste to make giving medicine to kids easier.  Since, I've yet to meet a kid (or adult) that didn't like the taste of chocolate, this should really help parents in homes all over.   It smells like chocolate, tastes like chocolate (I had to do a mini taste test to see) and actually has real cocoa in it. Just imagining more peaceful moments when kids are feeling sick, has me smiling.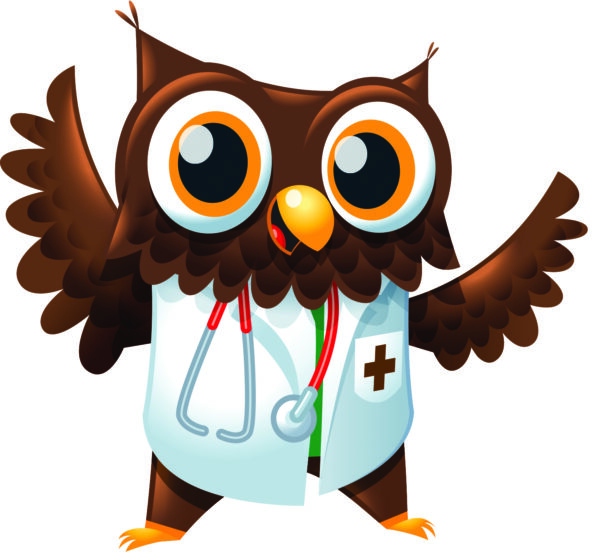 Dr. Cocoa™ for Children was made for school aged children. Make sure to read the directions on each product to see which age they are appropriate for and for proper dosing information. You may also speak to your child's pediatrician before dosing.
These great new products comes in three patented formulas.  Here's a little more info about them:
Learn More About Dr. Cocoa™ for Children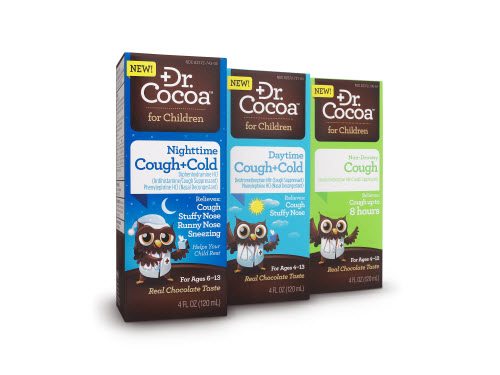 Dr. Cocoa™ Long-Acting Cough Relief: relieves coughs for up to eight hours without causing drowsiness in children ages 4-13.
Dr. Cocoa™ Daytime Cough + Cold Relief: relieves stuffy nose and cough for children ages 4-13. Its non-drowsy formula makes it ideal for daytime use.
Dr. Cocoa™ Nighttime Cough + Cold Relief: Made especially for children ages 6-13 to relieve coughs, along w/ stuffy nose, runny nose & sneezing at night.
Does Dr. Cocoa for Children sound like something you would like to check out? Make sure to print this $4 off coupon!
Visit www.drcocoa.com for a $4 coupon and follow the brand on Facebook and Pinterest for more product info, sick day activities, and fun giveaways! Lastly, make sure to them a visit on YouTube too!
This is a product-provided, sponsored conversation that contains affiliate links. However, all opinions, text and experiences are my own