Sponsored content. This post is for my participation in the Intel Program. 
I live a high tech lifestyle, and I love it. Lot's of people talk about unplugging, and I totally get it. When people become obsessed with their devices that can be a problem. However, the high tech lifestyle is one I find hard to put aside for a number of reasons.
High Tech – I'm a Fan
Don't get me wrong. We do have rules in our house for technology use. There are no phones at the dinner table – not even mine or my husband's. We also have time we set aside for family time. After that, though, it's game on! The house is pretty much all tech all the time. I've totally embraced it. I can get in touch with my family with just a few strokes of a keyboard, and frankly, if it weren't for my high tech lifestyle, I wouldn't be where I am today( ya know, this blog). So here's why I love my high tech lifestyle.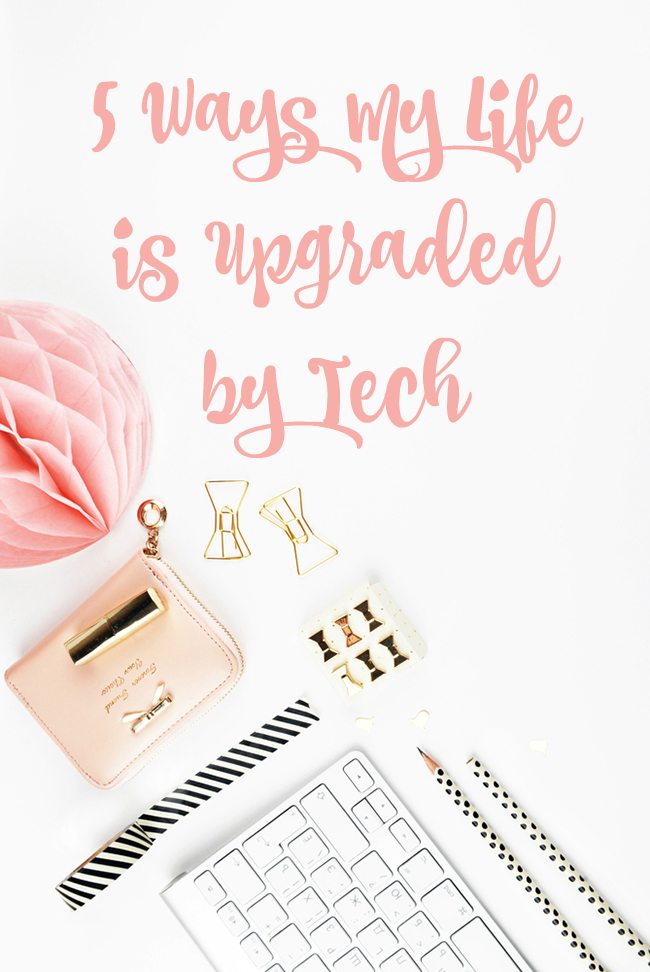 I Stay Connected
Remember the days when calling friends or family involved a land line and crossed fingers that they were home? I certainly do, and I don't miss them. When I came home five minutes late from a date, my mom hit me with the "YOU COULD HAVE BEEN DEAD IN A DITCH!!!" speech. With our family's high tech lifestyle, my son just calls me, and I don't have to go helicopter mom on him.
I Can Watch Movies on My Phone
If the ability to watch movies on your phone doesn't make you want to embrace high tech living, nothing will. I can't tell you how many times I've been stuck on layover with nothing to do. Let me tell you, a three hour wait goes much faster when you have a smartphone and Netflix!
My Life is Less Bulky
I mean that literally. My life is literally less bulky. When I'm at family gatherings, my phone & laptop is how I stay connected and take pictures and videos. And I can do it all without having to bring along an extra camera or camcorder.
Daily Life is Less Terrifying
Stay with me here. I'm not afraid every minute of every day. However, when I, my husband, or my son are out and about. I don't have to deal with the fear that comes with not being able to known where my family is at all times. With my high tech lifestyle, I can call my peeps anytime anywhere. And heck, they even have apps that let everyone in the family know where everyone else is at all times.
I Can Blog Like a Boss
The high tech lifestyle lets me blog like a boss no matter where I am. I have an awesome 2-in-1, and I can't imagine life without it. Although I don't always choose to blog when I should – reference Netflix at the airport – I have the ability to. Seriously, though. I usually do actual work. If I'm not writing for my blog or responding to a never ending supply of fresh emails you'll catch me Tweeting or Instagraming every little thing. =)
Upgrade Your Life to High Tech with Walmart and Intel
If you want to jump into the high tech lifestyle, Walmart has value. They have some uber high tech just waiting for you snag, so you can upgrade your life. They have hard core high tech, and it's all powered by the latest Intel processors.
Walmart has incredible laptops and 2-in-1s available to help you upgrade to the high tech lifestyle with Intel, but this Dell Inspiron Black 15.6 Laptop is quite the looker. Speaking of, let's take a look at the specs on this bad boy.
Intel Core processor
4GB memory
500GB hard drive
Touchscreen capable
720p webcam
3 in 1 memory card reader
Bluetooth 4.0
1 USB 3.0 port
2 USB 2.0 ports
1 HDMI port
4 cell battery for up to 6 1/2 hours battery life
Sweet right? Would you like to win one??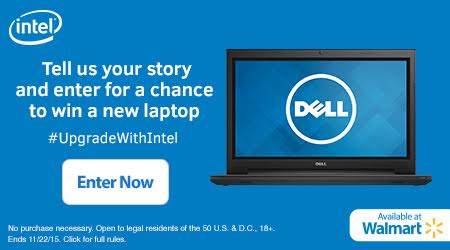 Win It!
One of the best ways to upgrade to the high tech lifestyle with Intel is to win this boss of a laptop I just told you about.
To enter for your chance to win the Dell Inspiron Black 15.6 laptop, simply head over here to enter. Select the contest tab and in 400 characters or less share how a Dell Inspiron 15.6 laptop would make your life more amazing. I know, I know… it will be hard to keep it down to just 400 words but I have faith in you 😉 Make sure to check out terms and conditions on the site.
So enter to win a hard core laptop from Dell and Walmart, and upgrade you to the high tech lifestyle with Intel. Good luck, friends!
How is YOUR life upgraded by tech?