The words modern luxury might cause you to imagine a fancy car, a posh living room, or a large master bedroom.. with walk in closets of course. Why don't we ever think of the kitchen? I know, I know. It's a kitchen, but go with me on this. How often are you in the kitchen? Chances are, if you're like me… it's a lot. How satisfied are you with the look of your kitchen and the appliances in it? Chances are, NOT a lot. Modern luxury doesn't have to be limited to every room of the house EXCEPT the kitchen. We deserve a kitchen that functions and looks amazing. This post is sponsored by The Whirlpool Corporation in conjunction with Blog Meets Brand and I have been compensated for my participation. All opinions are my own.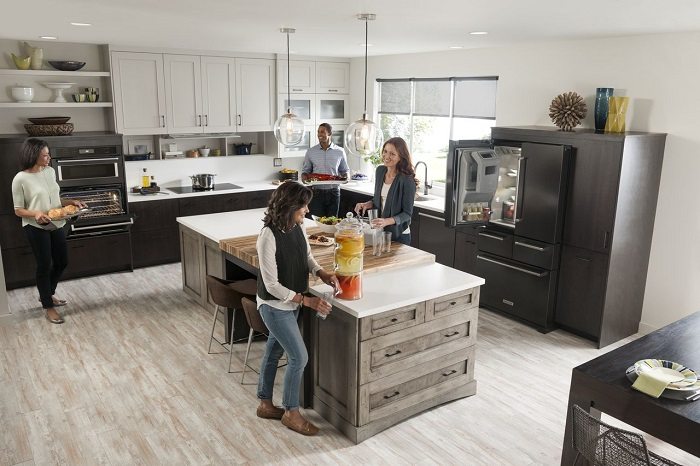 Modern Luxury is Totally Doable in the Kitchen
I don't know about you, but I want my kitchen to be on point, even though I have a love/hate relationship with cooking. Wait. That's actually WHY I want my kitchen fully outstanding. Whether you love to cook or hate it, you need a kitchen that looks good and makes everything you do easier. If you hate to cook, you'll get in and out faster. If you love to cook, you'll revel in the joy of amazing appliances. And in either case, a dishwasher is always welcome! 😉 The question is, how to do we get it. Easy peasy!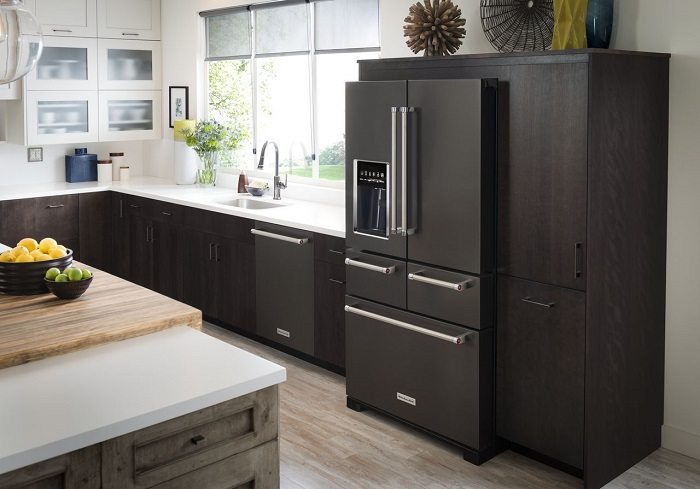 Did you know that all it takes to change the entire feel of your kitchen is a little paint and some new appliances? For real. If you're like most people, you don't have gobs of money just hanging around waiting for you to throw at every project you want to undertake. So start with the kitchen. It's where a lot of stuff happens! All you need to do to get a little modern luxury in your kitchen is paint or repaint the cabinets and replaces those old appliance with ones the look better, perform better, and are more energy efficient than your old school stove from 1999.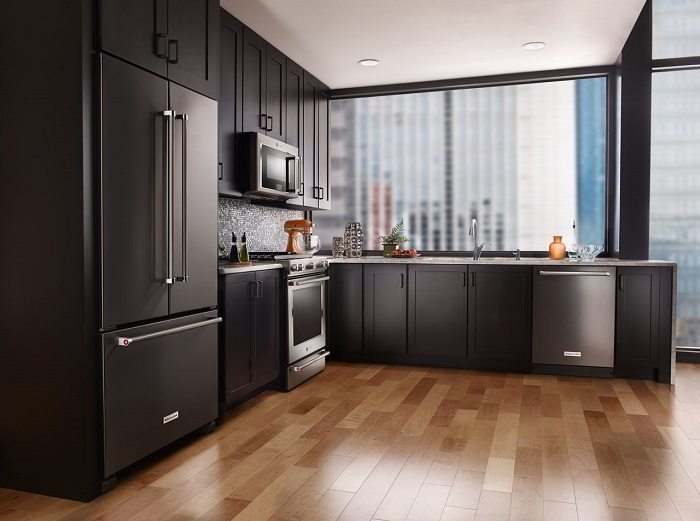 Modern Luxury with Whirlpool Appliances
Repainting cabinets is a no-brainer, but what about appliances? Actually, that's a no brainer, too. Just go for the brand that remodeling professionals choose most – Whirlpool. It may surprise you to know that Whirlpool is actually a lot more than JUST Whirlpool. They actually manufacture several different brands of appliances, so you can balance modern luxury with your pocketbook.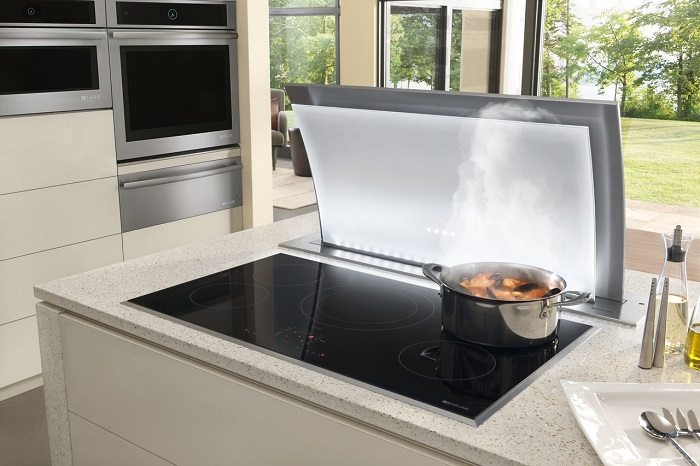 Jenn-Air
Modern luxury at its finest. Jenn-Air is Whirlpool's super premium luxury brand. It's the Rolls Royce of home appliances, if you will. Jenn-Air is all about cutting edge design and technology with sleek looks. Think every kitchen you've ever seen on your favorite cooking show.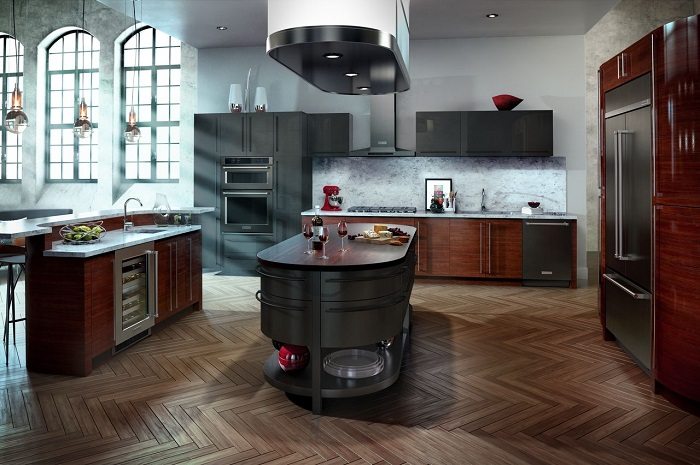 KitchenAid
KitchenAid is the choice for modern luxury for the modern chef. This line is tailor made for people who love cooking and love being in the kitchen. KitchenAid appliances are performance focused, and are already in practically every home. Stand mixer, anyone?
Maytag
EVERYBODY knows this one, too. Maytag is heavy on the reliability aspect of modern luxury. These appliances are practically tanks. They may not be as flashy as some of the other brands out there, but they will beat the pants off of them in terms of performance and reliability. Fun fact, Maytag washers have the BIGGEST capacity.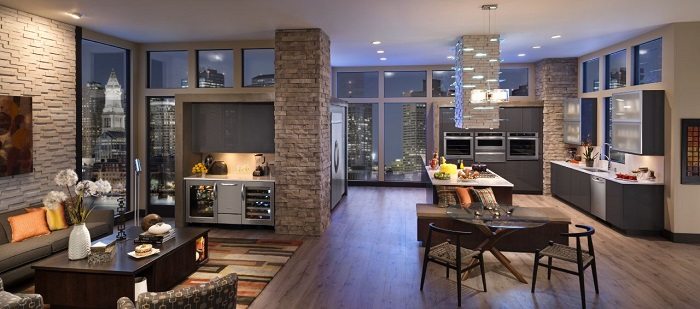 Whirlpool
Obvs. They've been around for over 100 years, and their appliances are equally awesome in the kitchen as well as the laundry room.
Amana
I actually didn't know that Amana was a Whirlpool brand until recently Amana is all about modern luxury in the form of a wallet-friendly price and a style that is more laid back than "posh". Their appliances are a perfect combination of affordability, function, and a touch a sleek form.
Modern Luxury Incorporates Style
One of the really cool things about all of the Whirlpool appliances is that they used consumer feedback and trends to help them bring us the best of the best in modern luxury from their economy lines all the way up to their uber-swank line. They took the idea of the open kitchen and designed their appliances around that with an "and" philosophy rather than an "or".
Their appliances run quietly, and are designed to compliment the kitchen rather than just be plopped in there. They even offer new color and finish options like the KitchenAid black stainless finish to help their appliances seamlessly fit into any decor. It offers just the right balance of stainless steel and traditional black to help it blend into practically any kitchen.
Modern Luxury in the Kitchen Achieved!
These days, kitchens are starting to feel more like living areas and less like work areas, and I love that. The kitchen is the hub of so many homes, it should be comfortable and inviting instead of boring and cold. That's why I think it's so fun to incorporate some modern luxury into one of the most used rooms in the house, and Whirlpool helps us do that.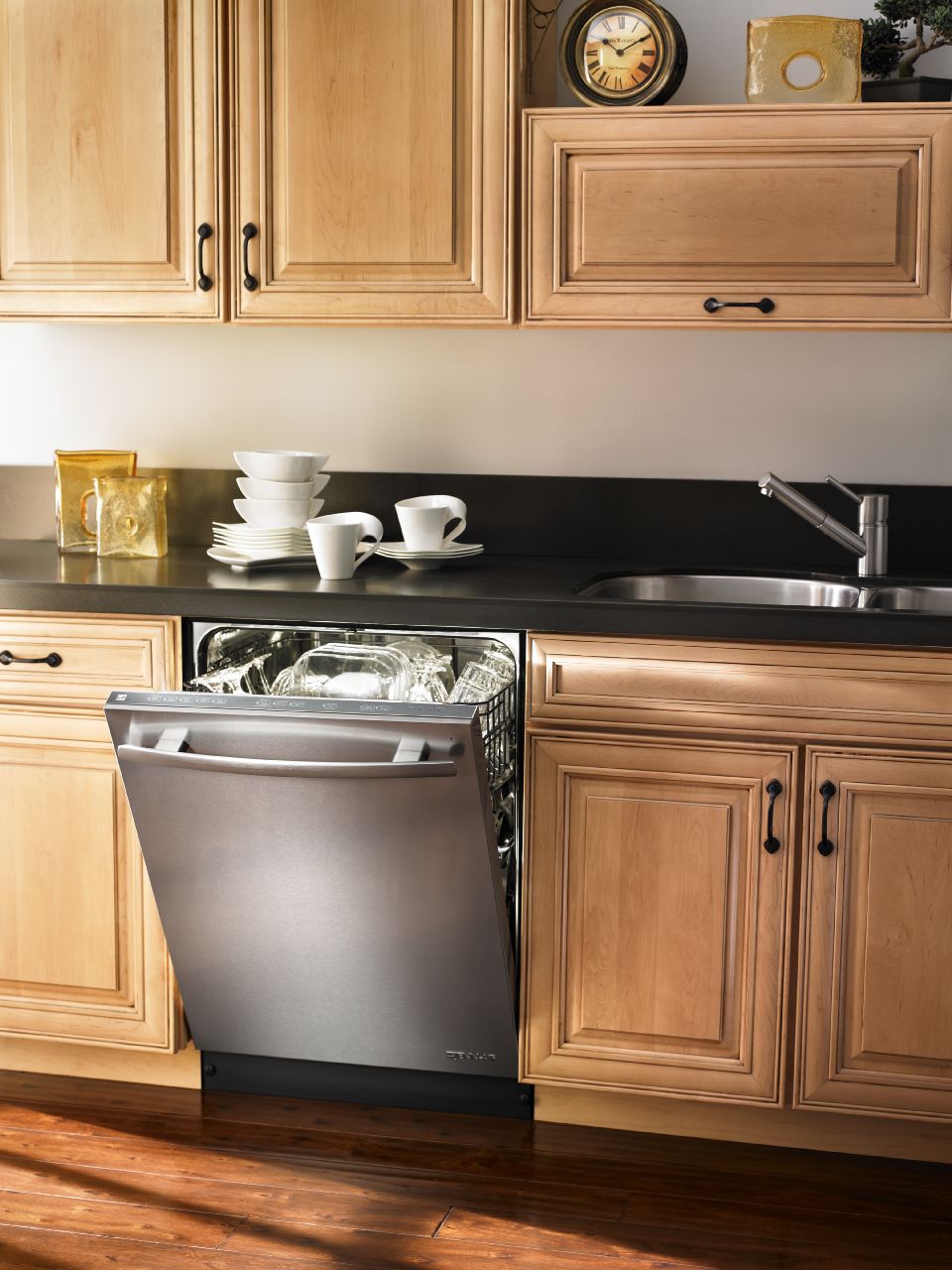 With appliances that range from super affordably to super spifftacular, it's easy to find what's right for you. The best part is that ALL of them are high quality, durable, and more quiet than ever before. In fact, the Jenn-Air TriFecta dishwasher only runs at 40dBA. Pssst. That's SUPER quiet for a washer.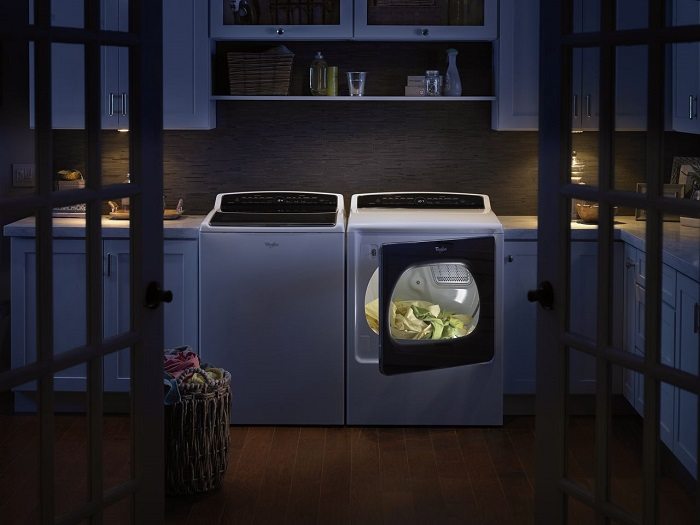 If you're looking to add some modern luxury to your kitchen, give Whirlpool a whirl (I had to). Actually, you're probably already looking at them and didn't even know it. I think they make just about every big name appliance I know!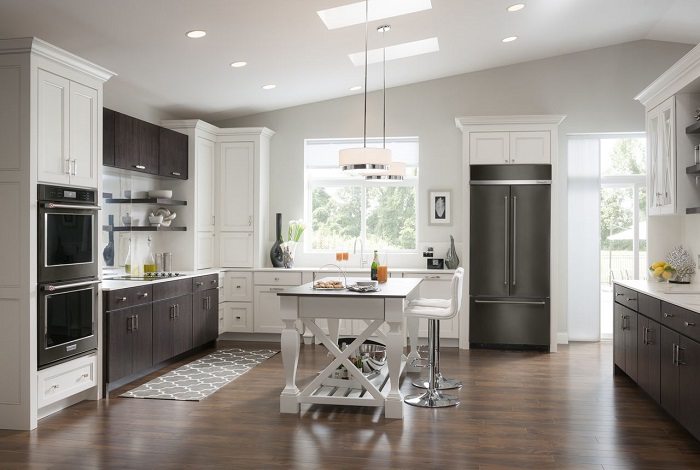 Make your home more modern when you choose Whirlpool appliances. 
Stay in the loop by following along with them on Twitter and LinkedIn.
If you could replace one appliance in your home to make it more modern, what would it be?