Fall is a great time to fire up the grill. With the perfect marinade and tasty mocktails, you can make grilling even better. You're invited to join us to chat about tasty grilling ideas at the #FallGrillingFavorites Twitter Party on 11/1. As an added bonus, we'll be giving away some AMAZING prizes to help you get your grill on this season. Sponsored post by Mirum. All opinions are my own. Here are recipes with ingredients available at King Sooper. Here are coupons you can use at Ralphs or your local Kroger store.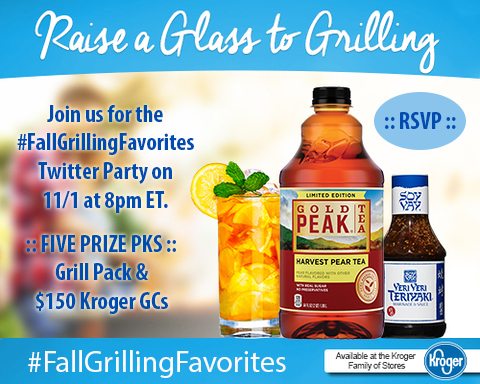 Marinating is one of the best ways to get flavor packed chicken for grilling. We'll be chatting about ways to upgrade your grilling game using Soy Vay® Veri Veri Teriyaki® which is available at Kroger. It's made with delish ingredients that you can smell and see.
Compliment your delicious meal with the perfect beverage. Iced tea is the perfect place to start. Whip up the perfect mocktail easily with the help of Gold Peak Iced Tea. Get tasty ideas at the party!
RSVP For the #FallGrillingFavorites TWITTER PARTY
DATE: Tuesday, November 1st, 2016
TIME: 8-9 pm EST
HASHTAG: #FallGrillingFavorites
PRIZES: (FIVE WINNERS) $150 Kroger Gift Cards & grill pack.
HOST: @DawnChats
CO-HOSTS: @[email protected] @PinkNinjaBlogg @suburbiau @TheSimpleParent & @lmc502
READ THE OFFICIAL RULES
1. SHARE THIS TWEET:
Fire up the grill! RSVP for the #FallGrillingFavorites #TwitterParty TONIGHT at 8pm ET! PRIZES! 🎁 #ad Go: https://t.co/y4VwYNuyFp pic.twitter.com/U8WEc0zmjp

— Dawn Lopez (@dawnchats) November 1, 2016
2. RSVP THROUGH THIS FORM BELOW:
Will you be joining the party?