This is the season to cherish moments with your family.  The memories that you make now are the ones you'll cherish forever. Being able to create your own special moments through delicious food that makes conversation last longer at the table is a blessing. This Ranch Dip Bread Wreath is sure to inspire great holiday chatter. This is a sponsored post as a part of my Cool Food Panel participation with the National Frozen and Refrigerated Foods Association (NFRA), all opinions are my own.

To make a bread wreath, I wanted to use a simplified shortcut by using rolls from the freezer to bake. This was the first time trying out Bridgford Parkerhouse Style Rolls and they were perfect for exactly what I was trying to achieve. A home baked flavor but with less work. The holidays are busy enough as it is, so thoughtful shortcuts really help. They are pull-apart rolls that come as dough that you thaw and let rise before baking.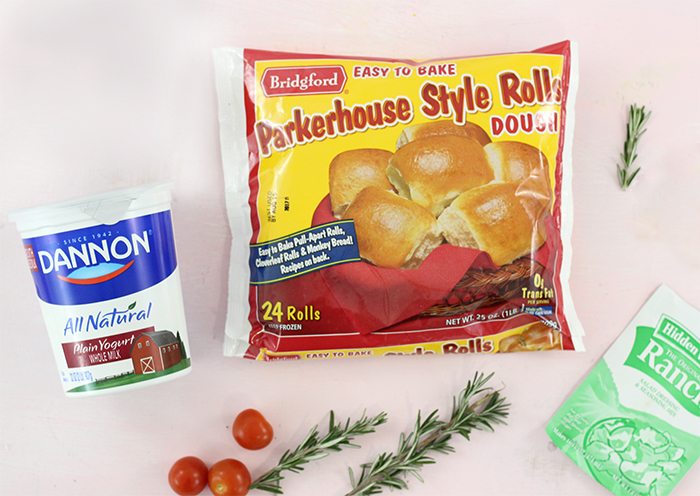 It was fun to watch the dough rise, it had been ages since I've done that. Reminded me of the patience my mom had when making dough when I was a kid. There's something so satisfying about it.
Ranch Dip Bread Wreath 
To get started making this Bread Wreath, I used a 10″ cake pan. You can use any size you have on hand, but the bread will bake up a bit so keep that in mind when choosing yours.
Here's what you need to make one too:
Bridgford Parkerhouse Style Rolls – about 14 rolls for a 10″ pan. Thawed and let to rise according to package directions. (Takes about 3-5 Hours)
Melted Butter, Margarine or Non-Stick Cooking Spray to brush or spray over the rolls before baking.
Choice of Seasonings/Dried Herbs– Garlic Salt is a must to start.
Halved Cherry Tomatoes – I used 7-8 Cherry Tomatoes, halved.
Fresh Herbs such as Rosemary to Decorate the Wreath Once it's done baking.
For the Ranch Dip:
Here is what you need:
2 Cups of DANNON All Natural Plain Yogurt
1 Packet of Dry Ranch Dressing Mix (1 oz)
Once the dough is ready to use, line the rolls up around the edges of your entire cake pan. Brush with the melted butter, margarine or non-stick cooking spray to brush or spray over the rolls before baking. Sprinkle on your garlic salt and any other desired herbs and seasonings.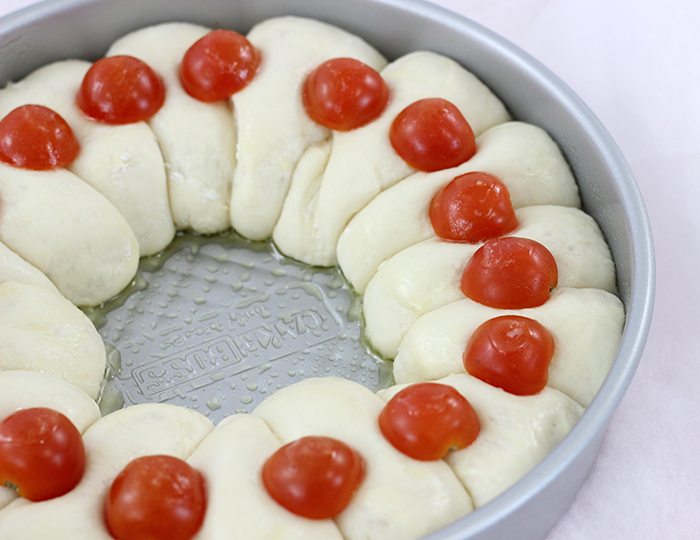 Bake at 375 ° for 14-17 minutes or until a light golden brown. It's a little longer than package directions because we need to make sure the inside gets cooked because we're squishing the rolls together a bit.
While the bread is baking, it's a great time to whip together a simple and delicious ranch dip. Simply mix the DANNON All Natural Plain Yogurt with the Packet of Dry Ranch Dressing Mix. Stir until combined and it's ready to serve. Keep refrigerated until it's ready to use.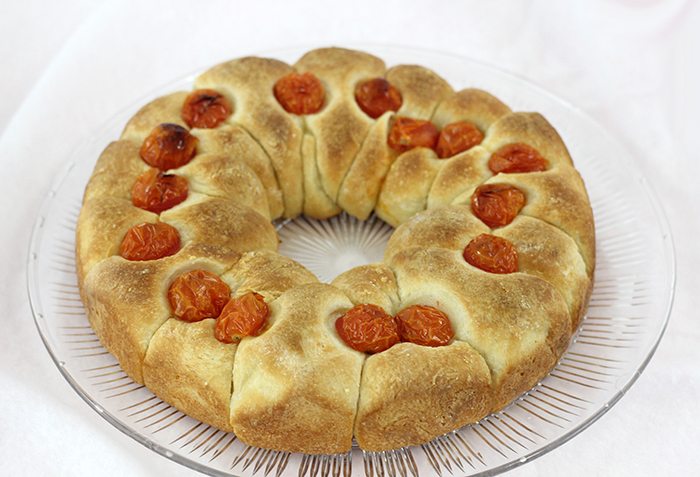 Once your bread wreath has cooled a bit, add your pretty fresh herb embellishments. Rosemary was my pick because it's naturally so festive looking. You can decorate your own bread wreath so many ways, just promise to have fun with it!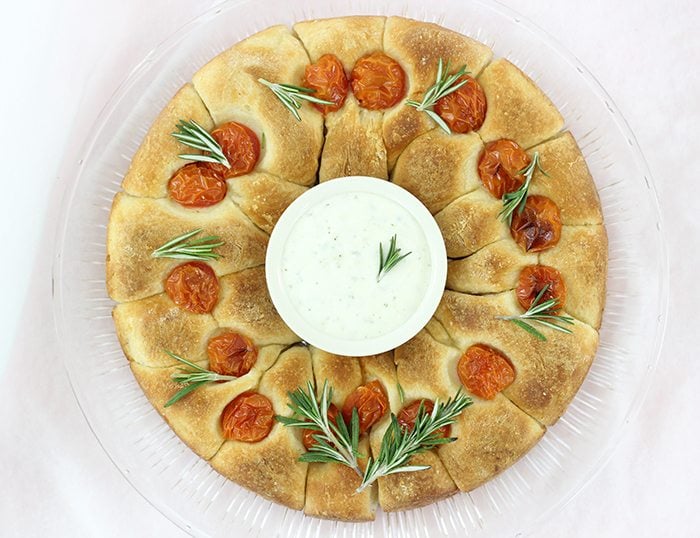 Once your bread wreath is decorated, grab that ranch dip and get ready to dig in. It's fun tearing pieces of this delicious bread away from the wreath and eating along with dip. It's the perfect tasty bite that will keep you wanting more.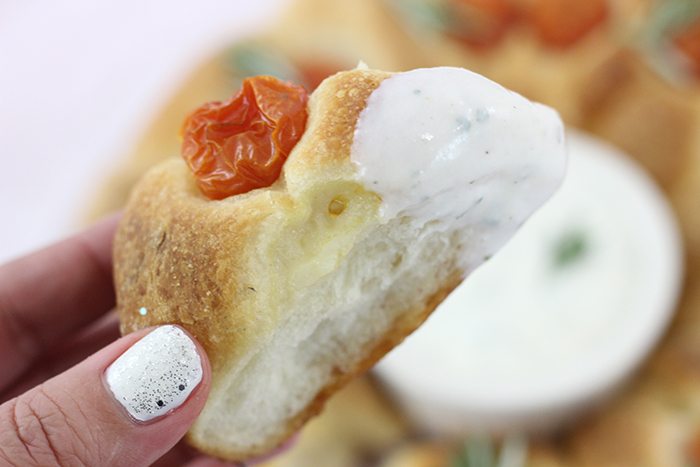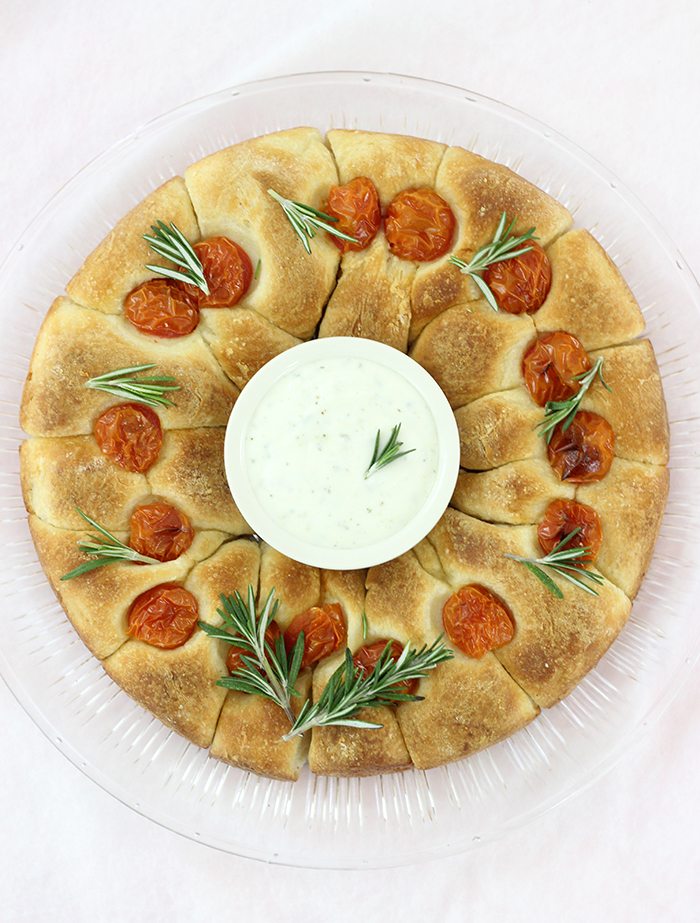 Get creative and bring home something tasty this holiday season with Bridgford Parkerhouse Style Rolls and DANNON All Natural products. 'Tis the season!
Find more tasty ideas on the Easy Home Meals website or Easy Home Meals on Facebook, Twitter and Pinterest.
What would you add to this yummy bread wreath? Have you ever made dip with yogurt?