Are you ready to stuff em' to the max? I have to admit that the opening of stockings are my absolute favorite part of Christmas morning. I am the type that likes to wrap every single little thing in there to make it last even longer. Double tape anyone? Just in case you have holiday brain freeze, I am going to share my go-to list of Stocking Stuffers men want to help your prep a little easier this year. Let the stuffing begin! This is a sponsored post with Mirum Shopper about Slim Jim, all opinions are my own.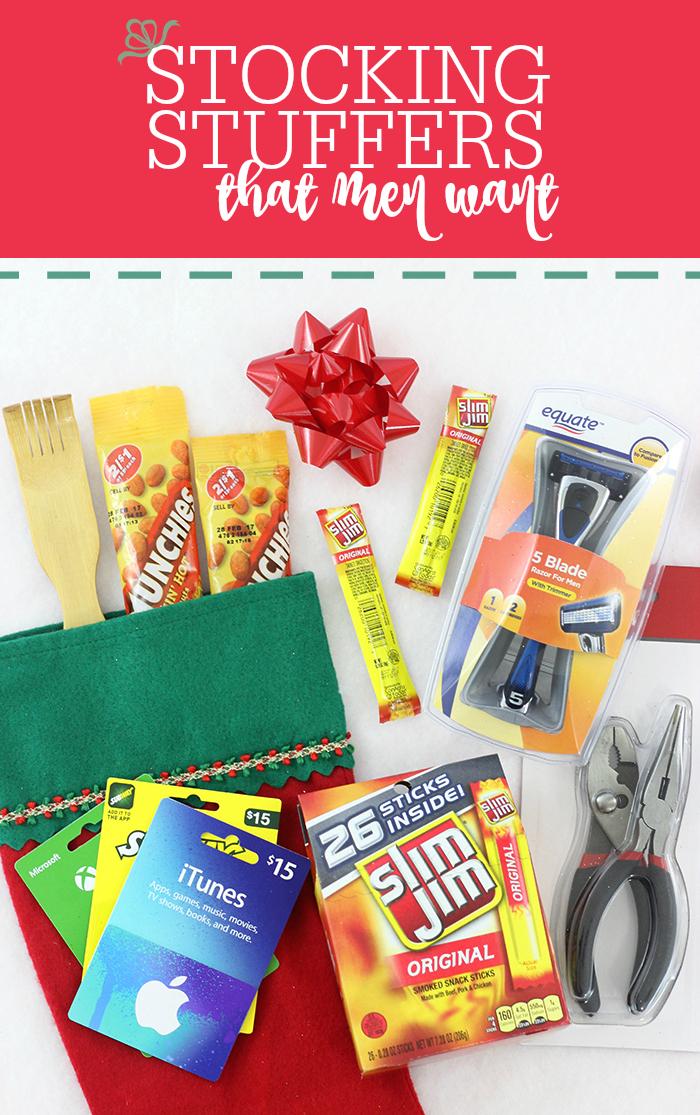 The countdown is Christmas is officially on and I think we can do a lot better than stuffing our men's stockings with coal. These easy ways to stuff their stockings will help you win Christmas and be the gift rock star you were meant to be. Cue the music here.
Stocking Stuffers That Men Want
With these guy approved ideas, the rest will be easy. There will be only one question to ask yourself. Will you be wrapping each little stocking stuffer or not?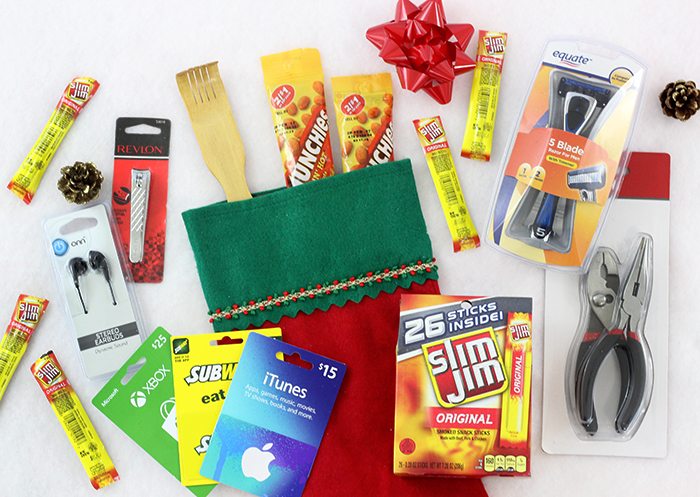 Ear Buds:  My family of men/boys go through these like they're going out of style. I have no  doubt that I'll be gifting pairs every single birthday and Christmas for years to come.
Nail Clippers: Just like ear buds, these are a hot commodity around these parts. Get one that can hang on a key ring for bonus points.
Perfect Manly Snacks. Not sure about you, but I would be sad if they're weren't any munchies and treats in my stocking.  Fill up your guy stockings with extra hearty and meaty snacks like Slim Jim. Total classic throwback stuffer. Shop Walmart to find stocking-friendly packs that have 26 Slim Jim snacks inside.  For more fun manly snack ideas, it's a tradition for me to gift spicy nuts in stockings. The spicier the better. Feeling a adding something funky?  My dad happens to also love a good old jar of green olives in his stocking.
Back Scratcher.  Every man (and human) should have one of these. It's a must when it comes to useful stocking stuffers. If for some crazy reason they don't like it, make sure to snatch it back. These things rule. Oh and I got one for a $1 at my local Walmart. Score.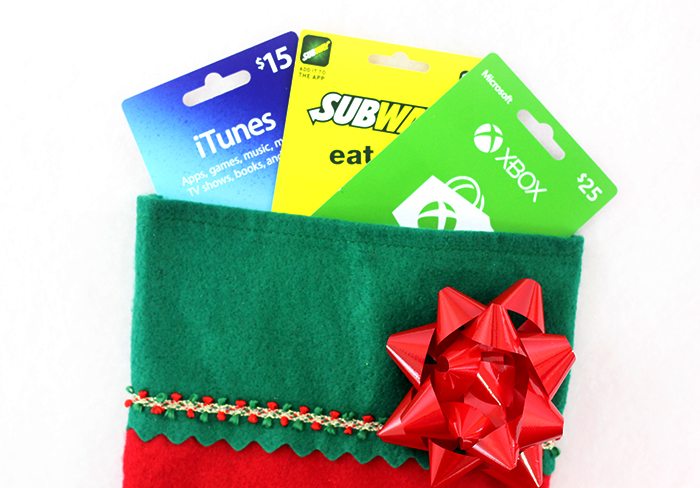 Gift Cards:  Can you really go wrong with gift cards? There's not one person on my shopping list that would not adore one of these genius grip-sized gifts. My favorites for men are XBox, iTunes and Food Gift Cards. You really can't go wrong.
Razors & Grooming Goods:  Razors are another one of those must-add no-brainers. Guys use them, guys want them… stuff stockings with them. Other yearly grooming products that I add range from hair gel to body spray. This is my secret weapon to awesome. We have to buy them anyway, why not add them to the stocking.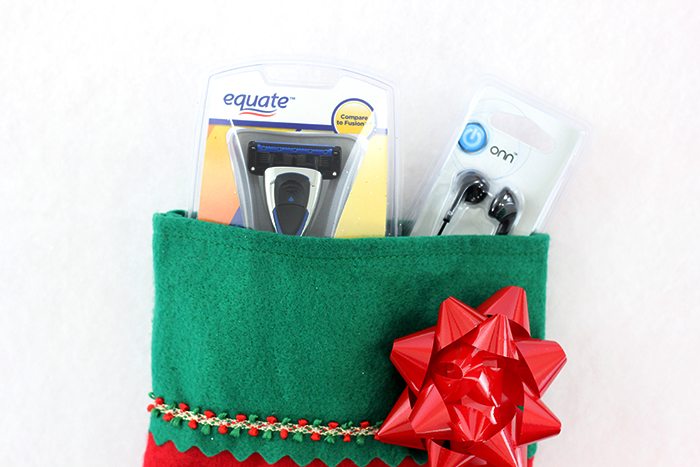 Small Tools: Some of the best tools totally fit in a stocking. Think wrenches, hammers and even small electric tools.
Movie Tickets: Have a movie lover on your stocking gift list? Movie tickets are perfect and will not go to waste.
Phone Cases & Chargers: These are the perfect small and useful gifts that will fit right into a stocking.
Socks and Such: Got holes? I don't know a guy in this world that can't use a fresh pack of socks. The Christmas stocking is the perfect opportunity to get them re-stocked up on all the basics.
Hobby Magazines: Magazines are a win for stockings because you can roll them up and fit into a stocking.
That's a wrap, I hope these ideas help you stuff those guy stockings with pride.
Snappy Stockings Sweepstakes
Now, you can show off your manly stocking stuffing skills and enter to win a $100 Walmart Gift Card! Hurry, the sweepstakes ends on 12/19 at 11:59 p.m. There will be 10 lucky winners!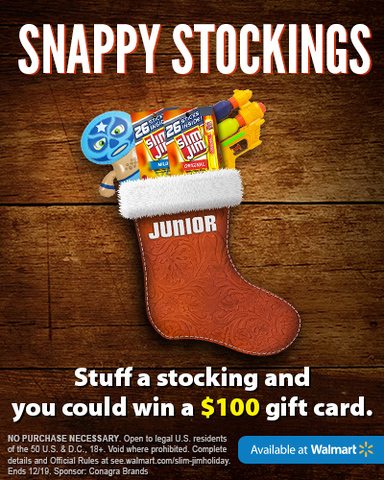 Make sure to head to Walmart to stuff those real stockings and pick up a 26 pack of Slim Jim or two.
What are you going to be adding your men's stockings?