This is sponsored post about Frigo® Cheese Heads® String Cheese, all opinions are my own.
This one is for everyone who likes a good bite sized snack that's great for a night in with friends and family. Whether watching the big game, favorite award show or indulging in a Netflix binge, you'll appreciate these fun Balsamic Bruschetta Bites made awesome with the help of Frigo® Cheese Heads® String Cheese. From the perfect crunch to the creamy bit of cheese, these will easily disappear before half time.

My husband is always asking for those little toasts with chopped tomatoes on them. Yeah, he totally means Bruschetta. Ha! It's one of his favorite appetizers that I fail to make often enough. With all the football games we'll be watching over the next month, having go-to munchies that hit the spot and delight is a must. So, I thought it would be fun to make a bite sized version of one of my hubby's favs that would be perfect for enjoying while watching the big game.  That's what I call epic multi-tasking.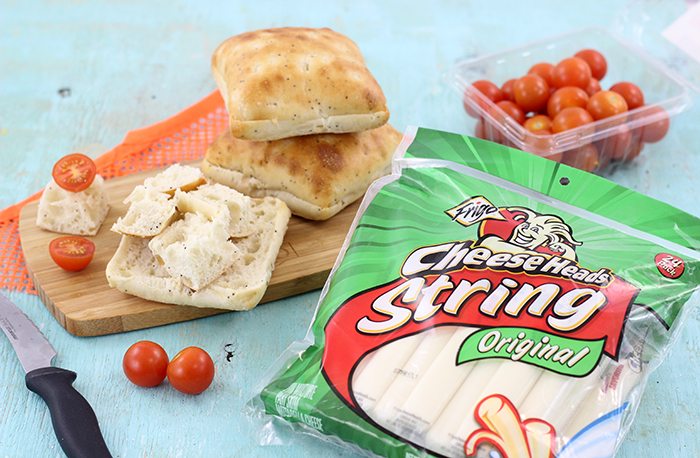 Balsamic Bruschetta Bites
To make these small enough to for easy grabbing, I cut ciabatta bread into little squares. Then, I sliced cherry tomatoes in half and sliced individual Frigo® String Cheese into small bits.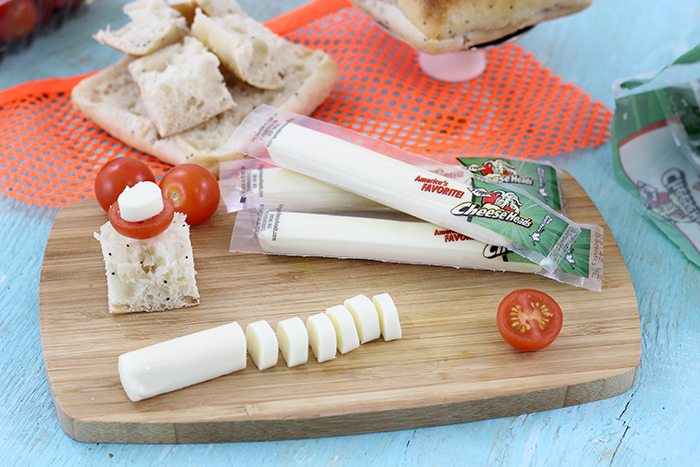 Then, spread a little pesto on top of the ciabatta bites and toast them in the oven.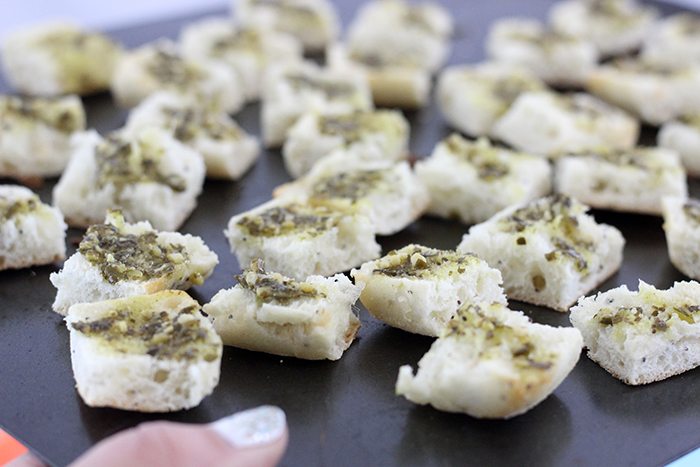 To assemble, place a cherry tomato halve on top of the bread and sprinkle lightly with a little garlic salt. Then top off with cheese. Hold it all together perfectly with a toothpick. To make these Balsamic Bruschetta Bites complete, drizzle a little Balsamic Vinegar over them. All these flavors together are like a party for your mouth. Each flavor and ingredient compliments the next.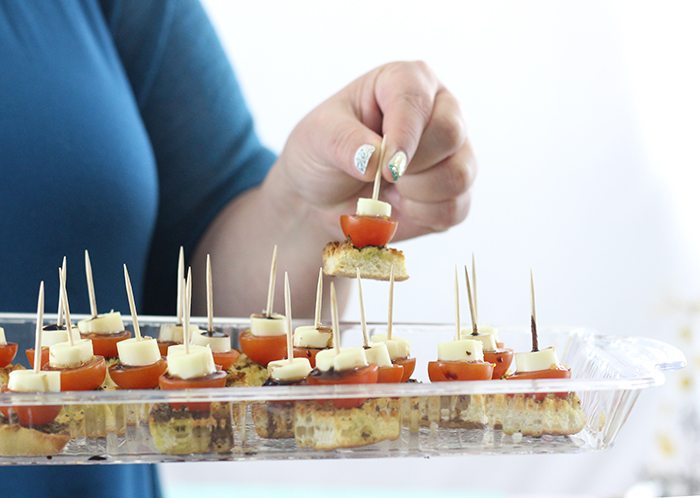 Using Frigo® Cheese Heads® String Cheese is perfect for these bite sized snacks. Not only is it the perfect shape, but it's creamy too.  Have you tried them? They practically melt in your mouth. If you don't want to get all fancy, these make for the perfect grab and go snack to keep on hand too.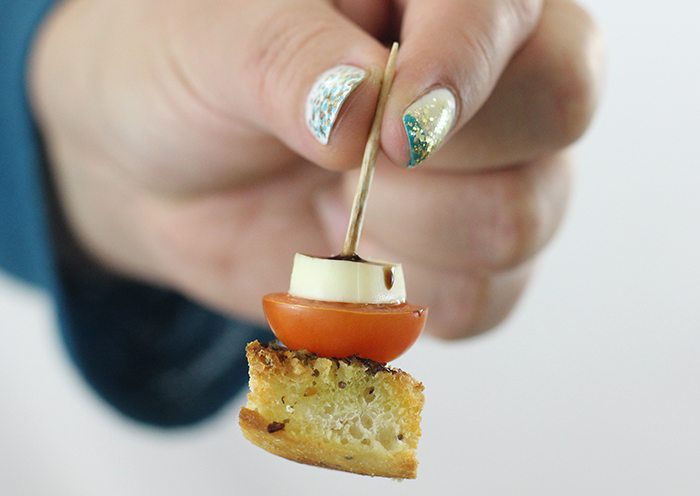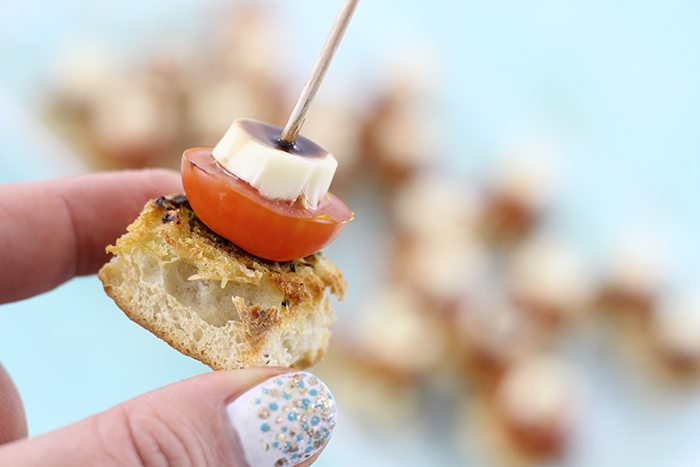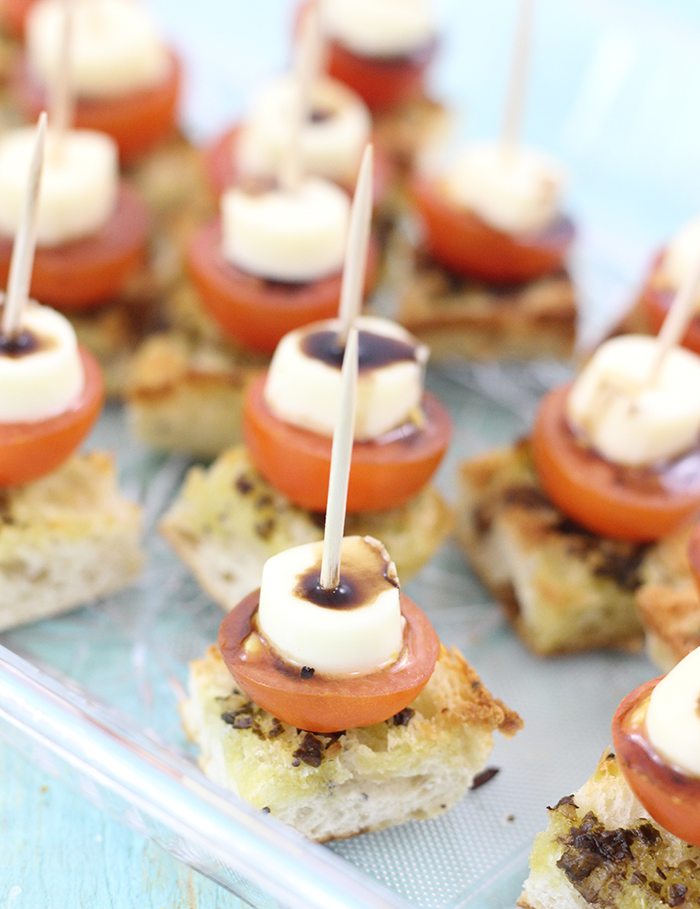 I seriously love peeling the strings of cheese off and eating them one by one. Mmm. Mmm. It's one seamless snack that everyone here loves.
Are you up for finding tasty ways to make game day awesome? Add Frigo® Cheese Heads® String Cheese to your game day shopping list. Find out where to buy Frigo® String Cheese here.
What are your favorite bite-sized appetizers that are perfect to snacking on while watching TV?