Getting back to our everyday menu can seem pretty boring after fancy holiday fare. Don't you agree? Trying something fresh and unique is totally on the menu. Adding fresh veggies to your meals that are actually extra fun to eat is a bonus. With just a little creativity you can put a twist on your favorite recipes in minutes. This recipe for Valentine's Day Vegetable Toasts is exactly that… a twist on an already delicious recipe that I know you're going to love. This is a sponsored post with Mirum Shopper about the Meal Inspirations Food Hub, all opinions are my own.

This fun veggie twist is based on the Hellmann's® Avocado & Sriracha Strangewich recipe that I found though the Meal Inspirations Food Hub on the Walmart website. I've tried many recipes that have become favorites so far and this was another tasty bite. Join me in amping up eating enjoyment in the new year.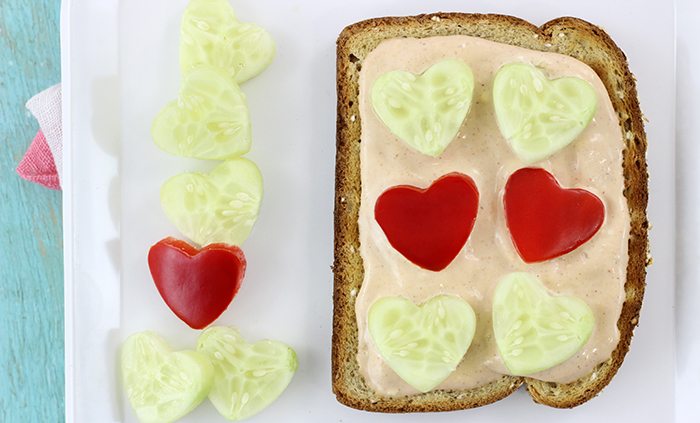 Valentine's Day Vegetable Toasts
These tasty veggie toasts are so easy to make simply using toast and avocado and then amping up the flavor with a blend of Hellmann's® or Best Foods® Real Mayonnaise and Sriracha sauce. To make things more exciting around here, I put this fun Valentine's Day twist on their tasty Strangewich recipe. Who said you can't play with your food?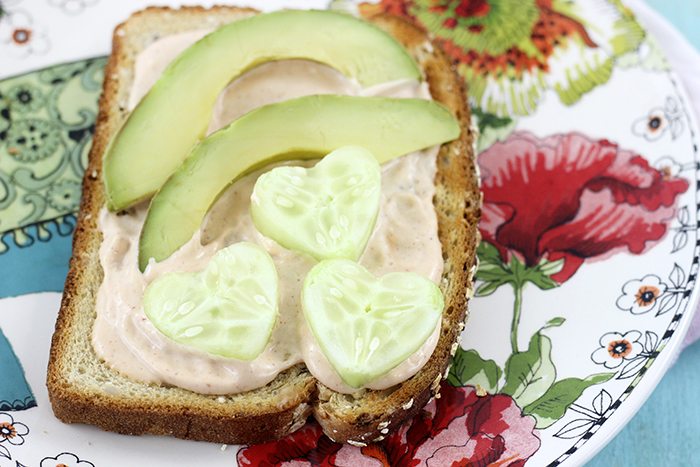 To give these tasty toasts a festive but easy twist, I just used a small heart shaped cookie cutter. To add some variety, I chose veggies like cucumber slices and red pepper for the perfect pop of color and flavor. The red pepper hearts really give this recipe a pretty punch. You can get creative by adding your own favorite fresh veggies in heart shapes. Just like that, you have a really cute lunch that's absolutely delicious.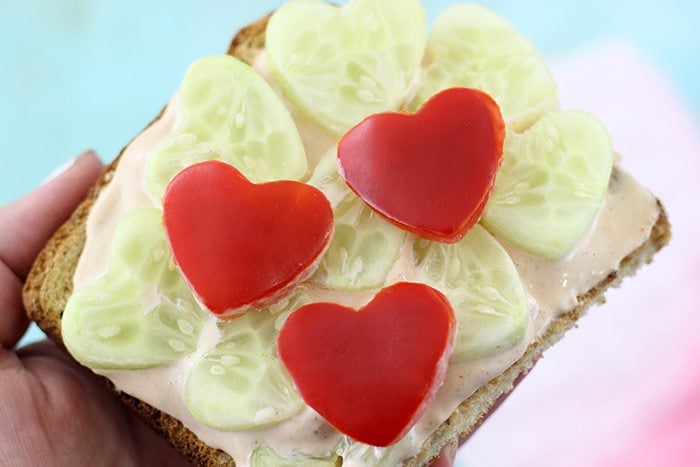 Want more ways to make this basic recipe unique? Swap out Sriracha sauce with your own favorite spicy sauce instead. Change up your garnish by adding your favorite fresh herbs or by sprinkling with your favorite nuts or seeds.
Valentine's Day Vegetable Toasts
Ingredients
1/2 cup Hellmann's?® or Best Foods?® Real Mayonnaise
2 tsp. Sriracha sauce
4 slices whole grain bread or pumpernickel bread, toasted if desired
Choice of vegetables to top toasts: sliced avocado, red peppers, cucumbers.
Instructions
Combine Hellmann's?® or Best Foods?® Real Mayonnaise with Sriracha in small bowl. Spread evenly on bread.
Top evenly with sliced avocado or use a cookie cutter to add heart shaped red peppers and/or cucumbers. Garnish if, desired, with sliced almonds and chopped parsley.
7.6.8
273
https://cutefetti.com/2017/01/valentines-day-vegetables.html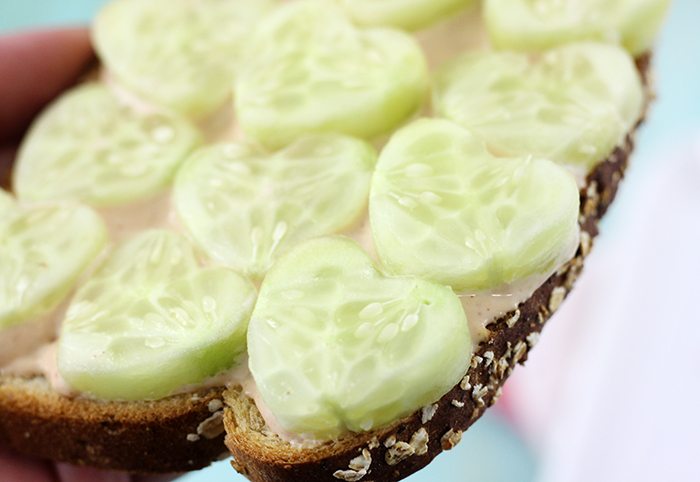 There are so many combinations you can create to make this recipe new each time you make it. That's what I'm talking about. It's time to kick boring eating the curb. Happy munching!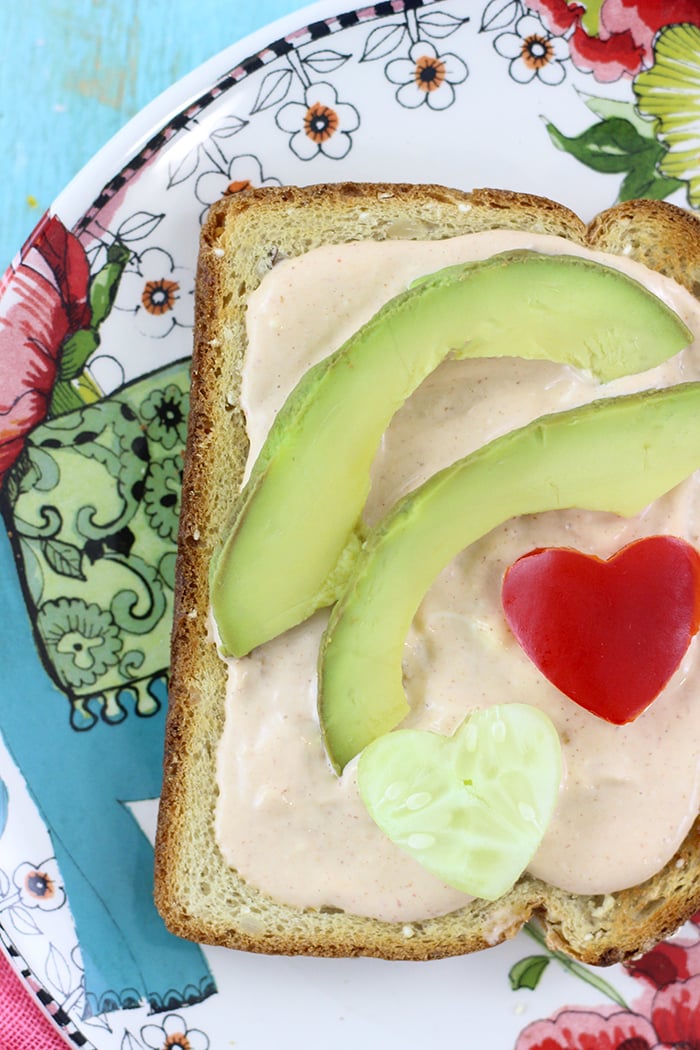 Get more easy to make recipes here like these:
Knorr® Baked Hearty Chili Chicken & Rice
ICBINB Fluffy Scrambled Eggs with Asparagus & Swiss Cheese
Hellmann's Spicy Baja Dip
Knorr® Creamy Guacamole
Country Crock® Lemony Broccoli Chicken Rice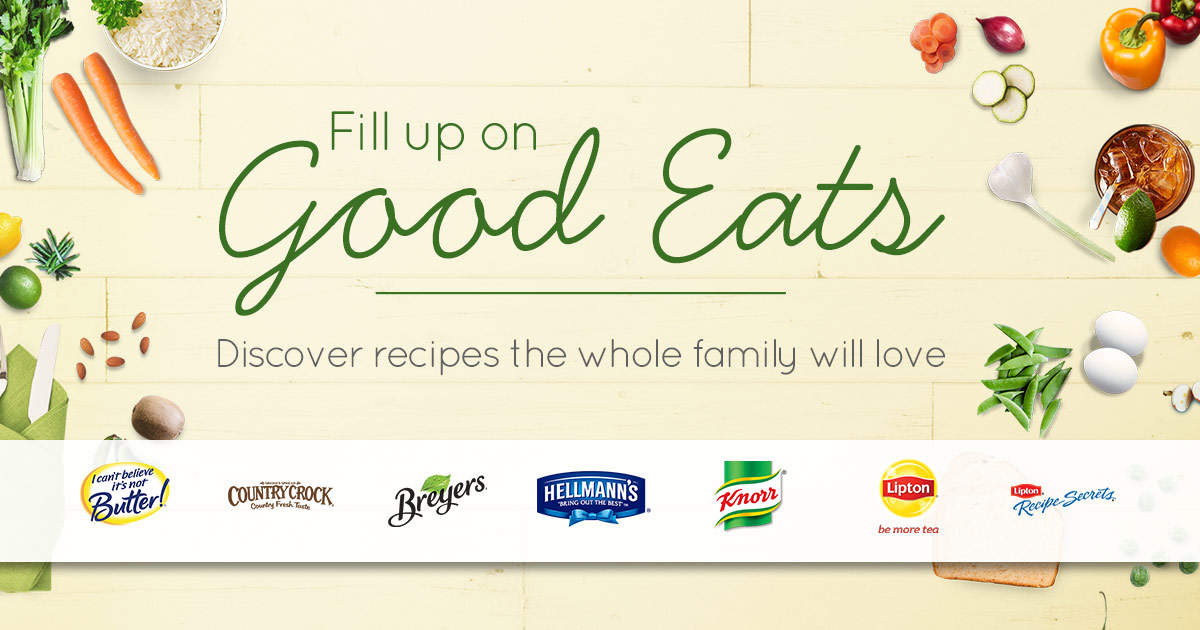 Which of these tasty recipes will you try first?