Do you like to play with your food? Do you like to be a little competitive? Then The OREO Games are for you! Let's show some stacking skills! Let's have some fun! You could win BIG when you share your OREO photos and videos of these challenges. For an added treat, I'm sharing my OREO Stack Sundaes recipe idea too. This is a sponsored post with Mirum Shopper about The OREO Games, all opinions are my own.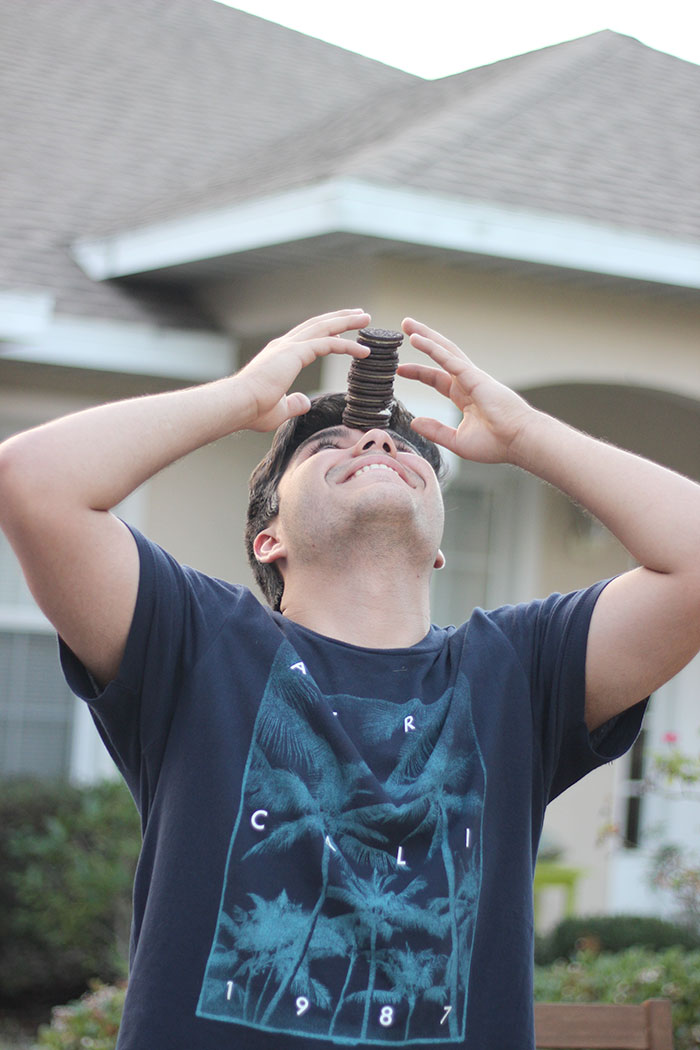 Grab your base pack of OREO cookies at your local Walmart and join us in having some fun for a chance to WIN $100,000!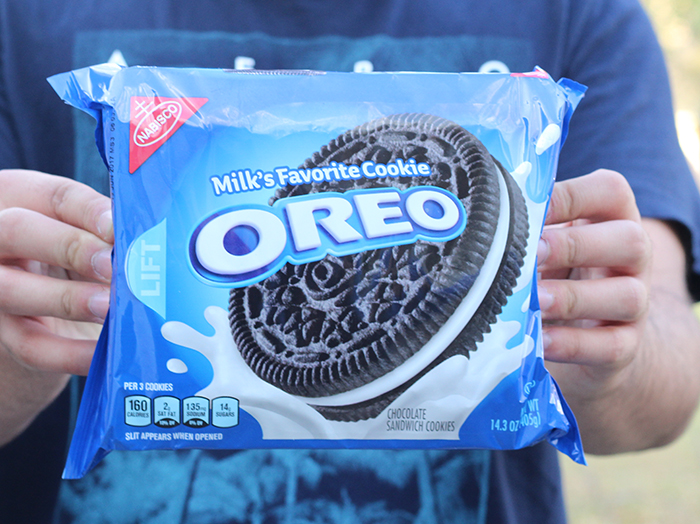 Gear up for 9 weeks of OREO challenges! Starting NOW you can enter the Head Stack Challenge in The OREO Games!
The OREO Games Challenges
Here's how to compete in this fun challenge.
The Head Stack challenge: Remember, for this challenge you will need the base pack of OREO cookies.
How creatively can you stack OREO Cookies on your head without holding them with your hands?
Get creative and stack your OREO cookies on your head, but no hands! Be creative, it's not as easy as it looks! My son was a real sport with this, it was kind of hilarious.
Take a photo or video of you doing the challenge.
Share on Twitter or Instagram.
Use these hashtags:  #OREOGAMES and #CONTEST.
Tag this handle: @oreogames2017
Once you post with these requirements, you will get an auto-reply comment on your tweet or Instagram post containing a registration link. Make sure to fill it out! Voila!
Here is a SAMPLE ENTRY below. Create your OWN creative OREO stack on your head without using your HANDS!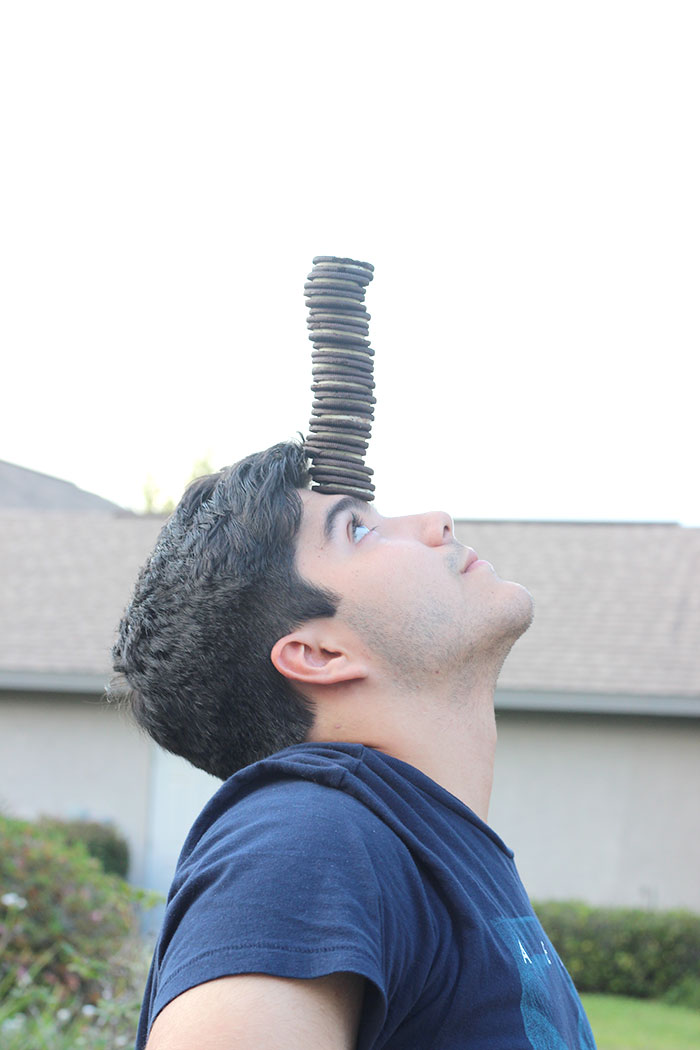 Don't delay, you have to get your Head Stack submissions in between now and 4/20. Then join the other challenges later.
Don't get discouraged if you have some FAILS. Make sure to SAVE your photos and videos because you can enter them in the EPIC OREO FAILS portion later on!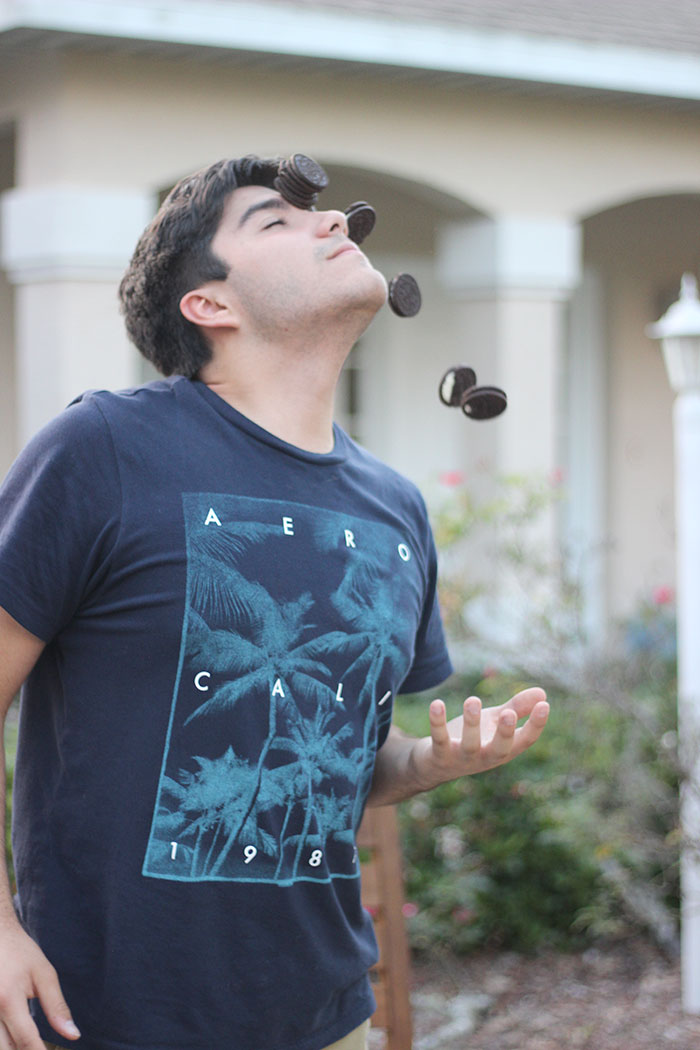 Don't forget to pick up an extra pack of OREO cookies! After all the gut-busting fun you'll have with this challenge, you deserve a little treat.

OREO Stack Sundaes
After you're done playing with your food, how about this rewarding OREO Stack Sundae?
Here's what you need:
OREO cookies
Ice Cream
Whipped Cream
Maraschino Cherries
Sprinkles
Chocolate Sauce
Chopped Nuts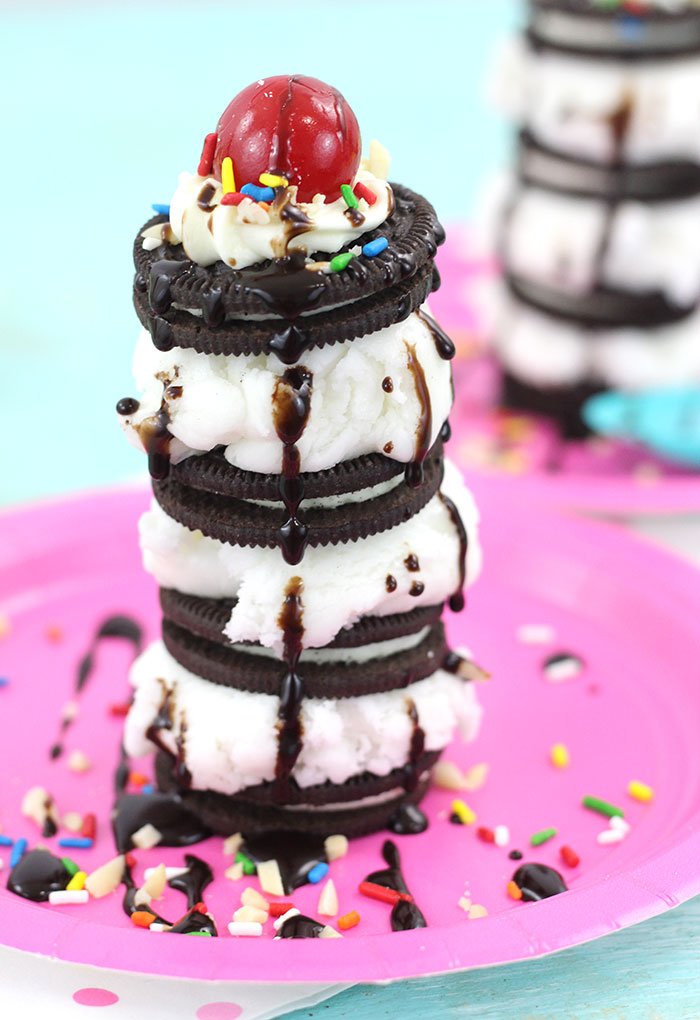 Use a small spoon or tablespoon to spoon mini sized scoops of your favorite ice cream between OREO layers. Add a dash or whipped cream to the top. Add a cherry, chocolate sauce, sprinkles and chopped nuts for the ultimate treat! Hurry and enjoy before they melt, or put them in the freezer until you're ready to serve!
Enjoy!

Remember! Submit your photo to enter to win on Walmart.com. Don't delay, you have to get your Head Stack submissions in between now and 4/21. Then join the other challenges later.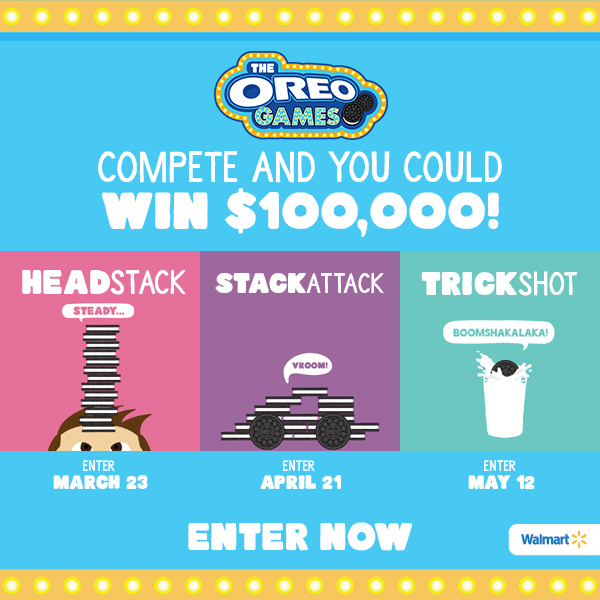 Do you have what it takes to win The OREO Games? Let me know how many cookies you can stack on your head! My son made it to 14!