June is Dairy Month and we're celebrating with a list of surprising desserts you can make with a cup of yogurt. From a delicious dip idea to shakes that will keep you cool for summer, let's explore some tasty ideas. This is a sponsored post as a part of my Cool Food Panel participation with the National Frozen and Refrigerated Foods Association (NFRA), all opinions are my own.


When it comes to favorite dairy foods, yogurt is always on my list. There are so many flavors and varieties to choose from to help prevent snacktime boredom. To take it to the next level, I have some dessert ideas that you might not have thought of yet. Yoplait® Original is a staple for many and with 25 smooth and creamy flavors, you'll be able to create and endless amount of unique dessert combos. The basic recipes that I'm sharing can easily be swapped out with your favorite flavors and even inspire you to try something new. How does Yoplait® Piña Colada yogurt sound?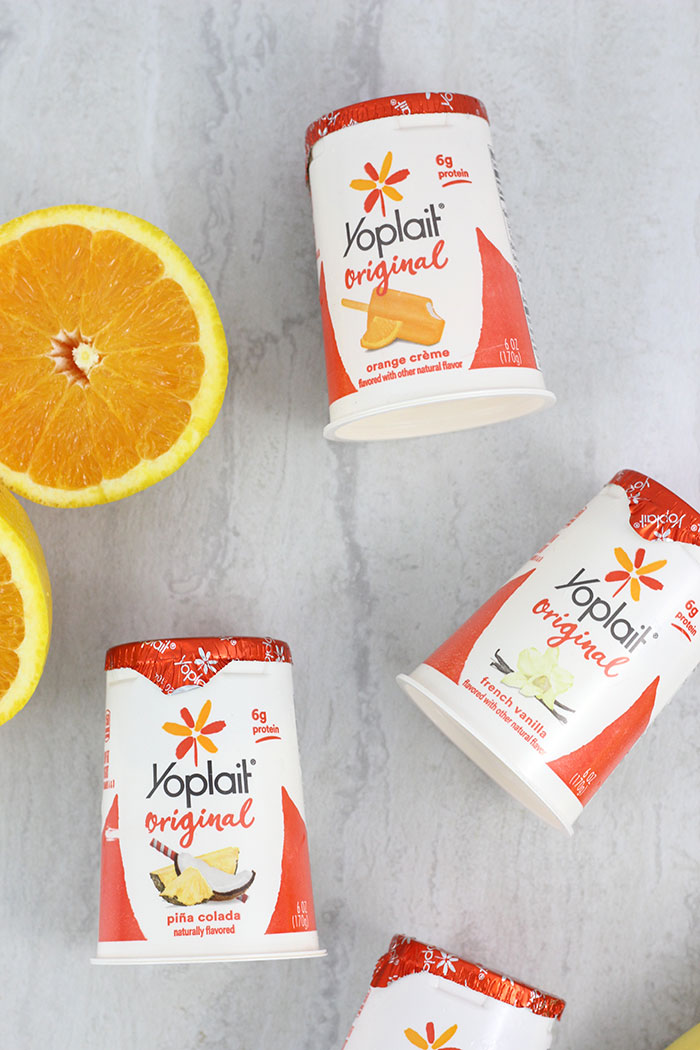 Are you ready to enjoy dessert with protein? Using Yoplait® Original in these recipe ideas means that you're adding 6 grams of protein to your treats. You'll also be happy to know that they even reduced the sugar in Yoplait® Original by 25% in 2015. Let's jump to these recipes to get your ideas flowing, shall we?
Desserts to Make with a Cup of Yogurt
Grab your favorite cup of Yoplait® Original to whip up any of these delicious dessert recipes in minutes.
Yogurt Banana Split
One of my favorite offbeat treats is ice cream inspired yogurt. Using traditional ice cream sundae toppings on a cup of yogurt is absolutely delicious. Today, I'm sharing yogurt banana split ideas.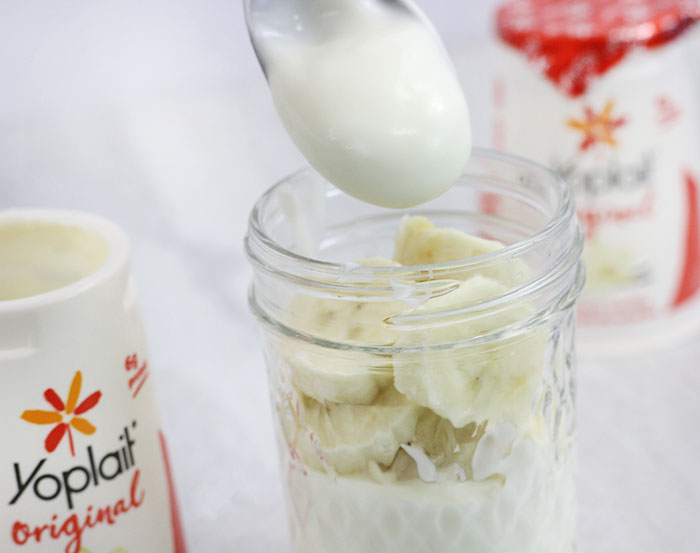 My favorite flavors to use for this: Yoplait® Original Strawberry Banana or Yoplait® Original French Vanilla.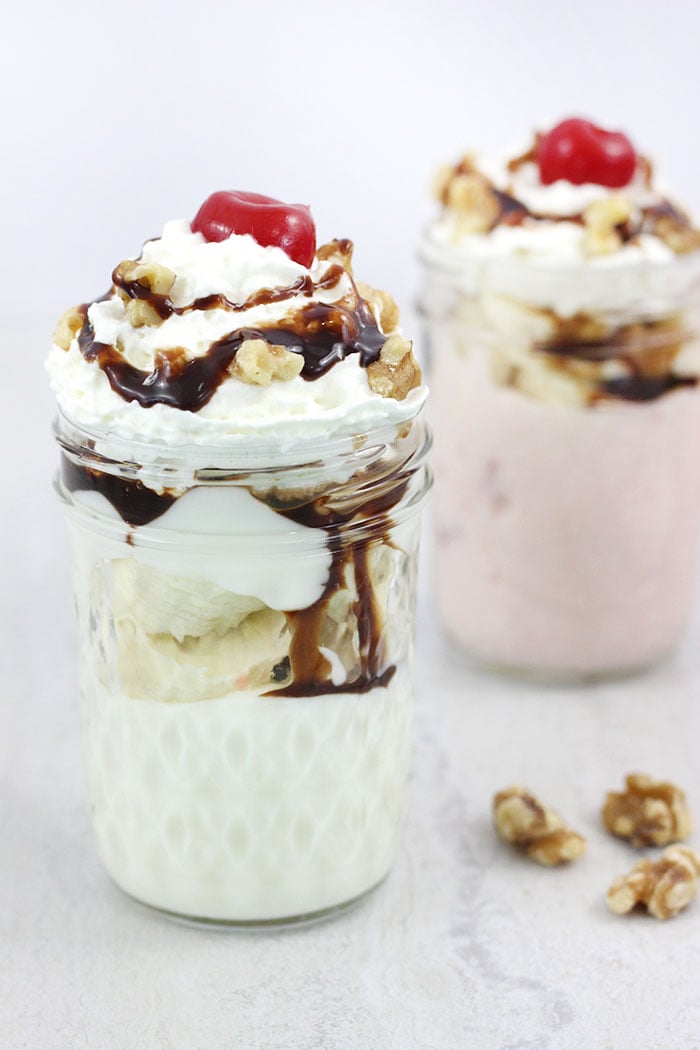 Either add the yogurt to the bottom of your serving cup or make layers. Simply add bananas, walnuts, chocolate syrup and whipped cream with cherry.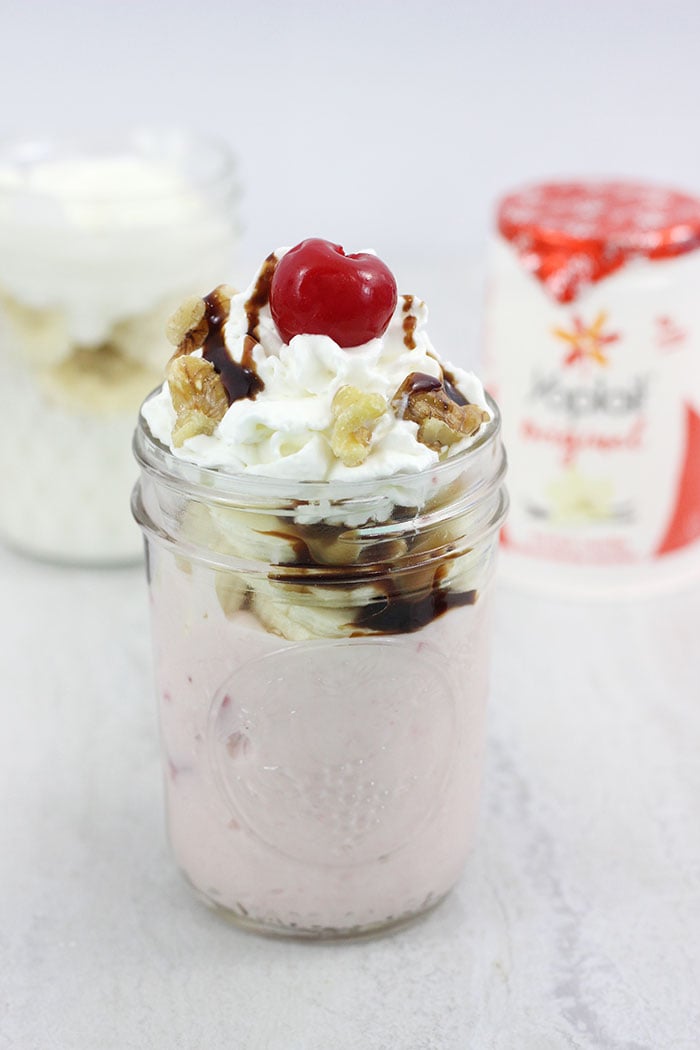 Get creative with your toppings to make something new and exciting each time.
Yogurt Shake Recipe
For this recipe, we're pairing up a cup of Yoplait® Original with sherbet and a splash of juice or milk.
My favorite flavors to use for this: Yoplait® Original Key Lime Pie paired with lime sherbet or Yoplait® Orange Crème paired with orange sherbet.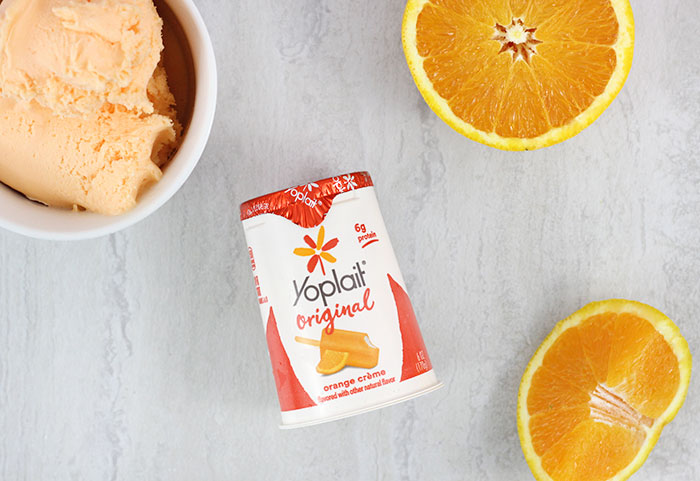 To wake up your next icy cold shake, blend a cup of yogurt with 3 scoops of sherbet and a splash of milk or juice. This makes for a creamy and dreamy ice cold dessert. Add more ice for an even cooler treat.
This recipe is perfect for trying new yogurt flavors. I can't wait to see what you come up with!
Yogurt Dip for One 
My absolute favorite combo for this recipe is Piña Colada using Yoplait® Original Piña Colada, crushed pineapple, whipped topping and toasted coconut.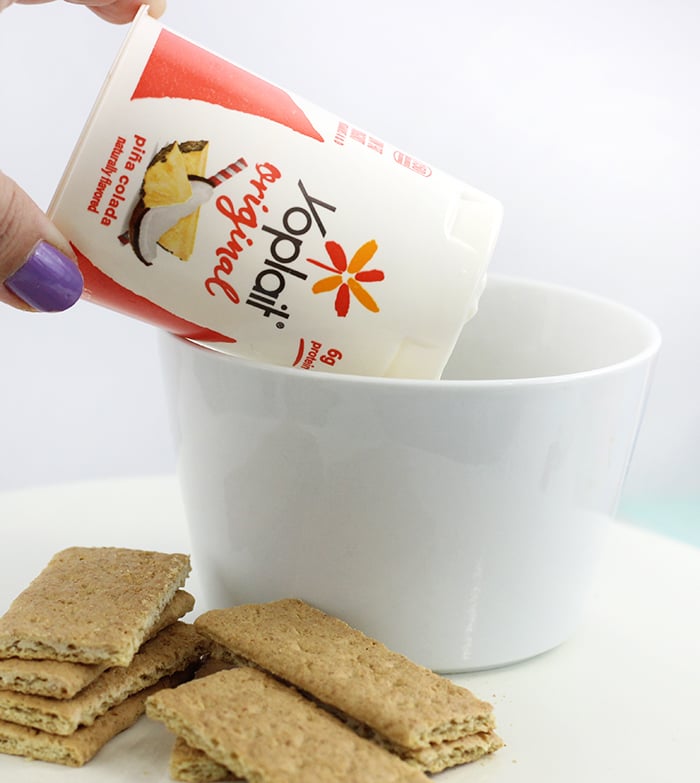 In a small bowl, mix together a container of Yoplait® Original, three tablespoons of crushed pineapple and two tablespoons of whipped topping together. That's it! To take it over the top, add toasted coconut on top along with whipped cream and a cherry.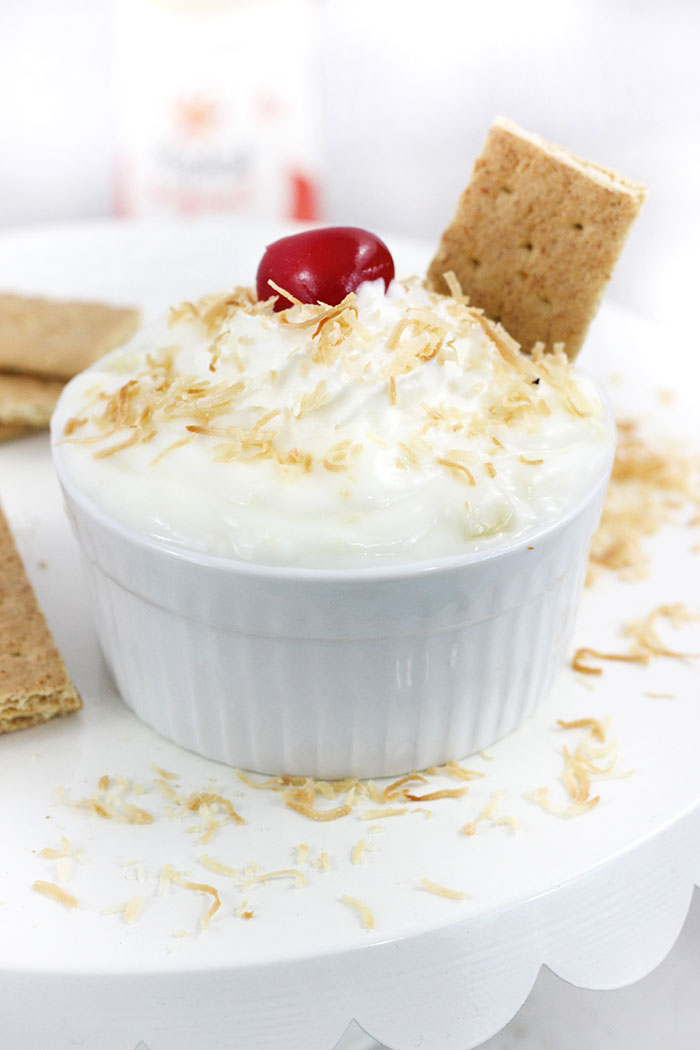 Serve this easy dessert dip with fruit slices or graham crackers. It's SO good!
For more clever flavors, simply mix your choice of yogurt flavor along with canned fruit and whipped topping.
Enjoy yogurt in honor of Dairy Month! For yogurt that is made with no high fructose corn syrup and no artificial colors, try Yoplait® Original.
Have you made a delicious dessert with yogurt? I'd love to hear your ideas.