This is a sponsored post written by me on behalf of Apple Vacations. All opinions are 100% mine.
Riu Dunamar Hotel is ready and waiting to make your first – or next, as the case may be – Cancun trip the most luxurious you've ever experienced. The hotel just opened last December, and it's already proven to be one of the best places to stay on Cancun. Located on the white sand beaches of Costa Mujeres, Riu Dunamar Hotel is all about a posh, relaxing oasis on your Cancun trip, and when you lay eyes on it, you'll see why.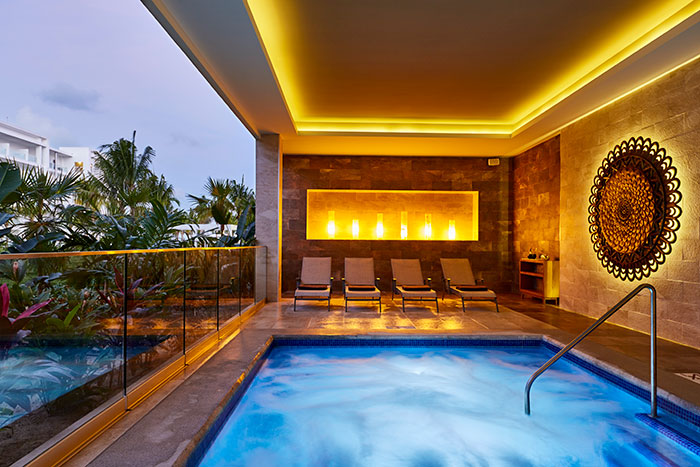 Riu Dunamar Hotel – A Getaway on Your Getaway
With the white beach of Costa Mujeres on one side, and the lush greenery of the island surrounding the other three sides, Riu Dunamar Hotel envelopes you in the beauty of nature as well as its immaculate accommodations from the moment arrive on the grounds. Because it faces Isla Mujeres, Riu Dunamar Hotel also boasts incredible room views. Costa Mujeres is a new, developing resort area about 30 miles north of Cancun's hotel zone. What that means for you is a true oasis. It's far removed from the hustle and bustle you've come to expect from resort areas. It also means you'll only be sharing the area with other guests at the hotel.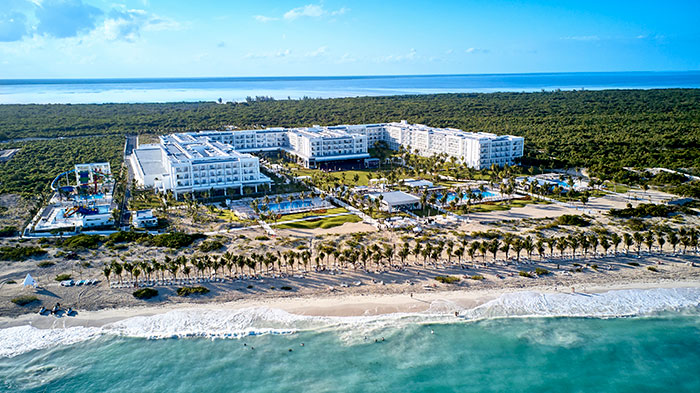 The all-inclusive hotel features amenities for adults and children, alike, making it the perfect romantic getaway or family vacation destination. Everyone can enjoy the beautiful beaches and spectacular views of the island and ocean. Five swimming pools with sun terraces and one with a swim-up bar are also there to be enjoyed by both children and adults – no bar for the kiddos, of course. 😉 The hotel also offers COMPLIMENTARY Wi-Fi throughout the hotel including guest rooms. That is a big, big deal.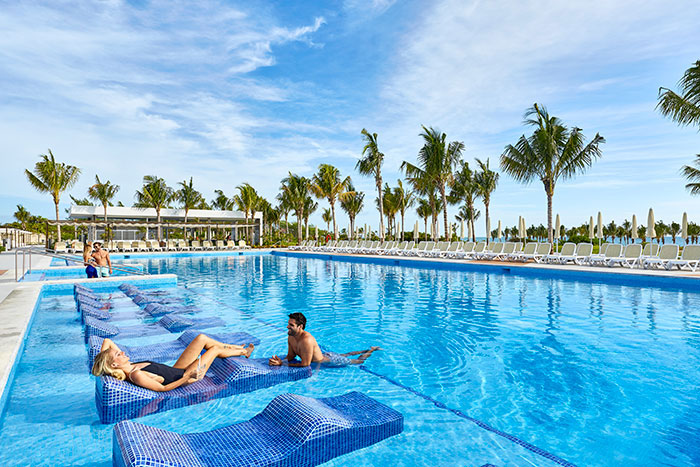 Getaway Fun for the Kids
For the younger kids, the hotel has children's pools, and RiuLan, a kids club and playground for children aged 4 to 12, so they can have their own fun. The hotel also boasts an amazing water park, Splash Water World, that the kids will enjoy.
Getaway Fun for the Adults
Adults can enjoy the regularly stocked mini-bar and in-room liquor dispenser in their rooms. Riu Dunamar Hotel also offers a complimentary gym, steam bath, and whirlpool so guests can continue with their fitness routines. They even offer fitness minded guests RiuFIT Daytime, which features daily fitness programs. The hotel also offers Pacha, a discotheque with included drinks for people who want to get jiggy with it.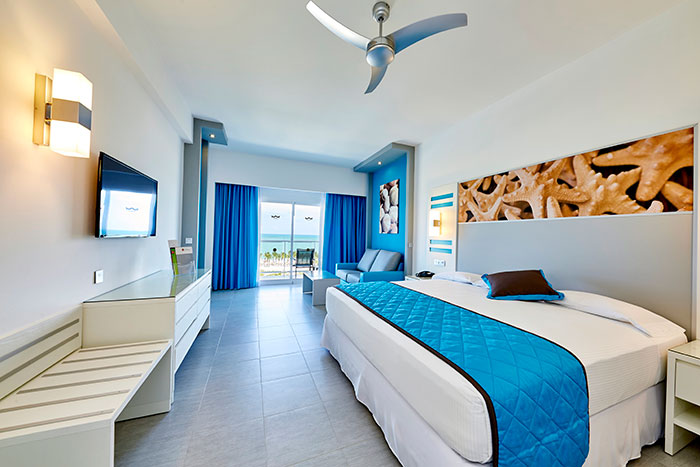 A Giveaway for A Getaway
Right now, you can win a Riu Dunamar Hotel getaway to Cancun courtesy of Apple Vacations. You've probably heard about Apple on television commercials, but if not, here's the scoop. They're awesome. Their all-inclusive vacation plans include round-trip airfare, hotel accommodations, round-trip airport transfers, and even an in-resort Apple Representative to help you with anything you might need. Pretty great right? Well, hold on to your travel bags, because their vacation flights are also among the few or only non-stop options available to your getaway, with convenient morning departure and evening return to get the most out of your vacation.
Thanks to Apple Vacations, you can with a getaway with accommodations at the beautiful Riu Dunamar Hotel. All you have to do is follow this link and enter the Riu Dunamar Hotel contest. Easy peasy.  One lucky winner will receive a 3-night family vacation to the new Riu Dunamar Hotel in Cancun's costa Mujeres. That includes round-trip airfare! Boom! So enter to win and you might end up sunbathing on the beach in Cancun! (Open only to permanent legal residents of the United States or D.C., excluding Alaska, Florida, Hawaii, New York and Rhode Island)
Who could use a Family "Dun" Right vacay like this?? Raise your hands!