Dinner is pretty much my favorite "time" of the day. Not only is a delicious meal in order, but it's also a sign that the work day is close to being over and I can finally relax. The problem is that I'm generally working right up until dinner time leaving me little to no time to actually make dinner. That's a huge dilemma! That's why I'll always be a fan of easy dinner solutions, especially delicious ones! This sausage flatbread made with al fresco Chicken Sausage, sun-dried tomato pesto and colorful veggies to bring it all together totally fits the bill. This is a sponsored post with al fresco all natural chicken sausage, all opinions are my own.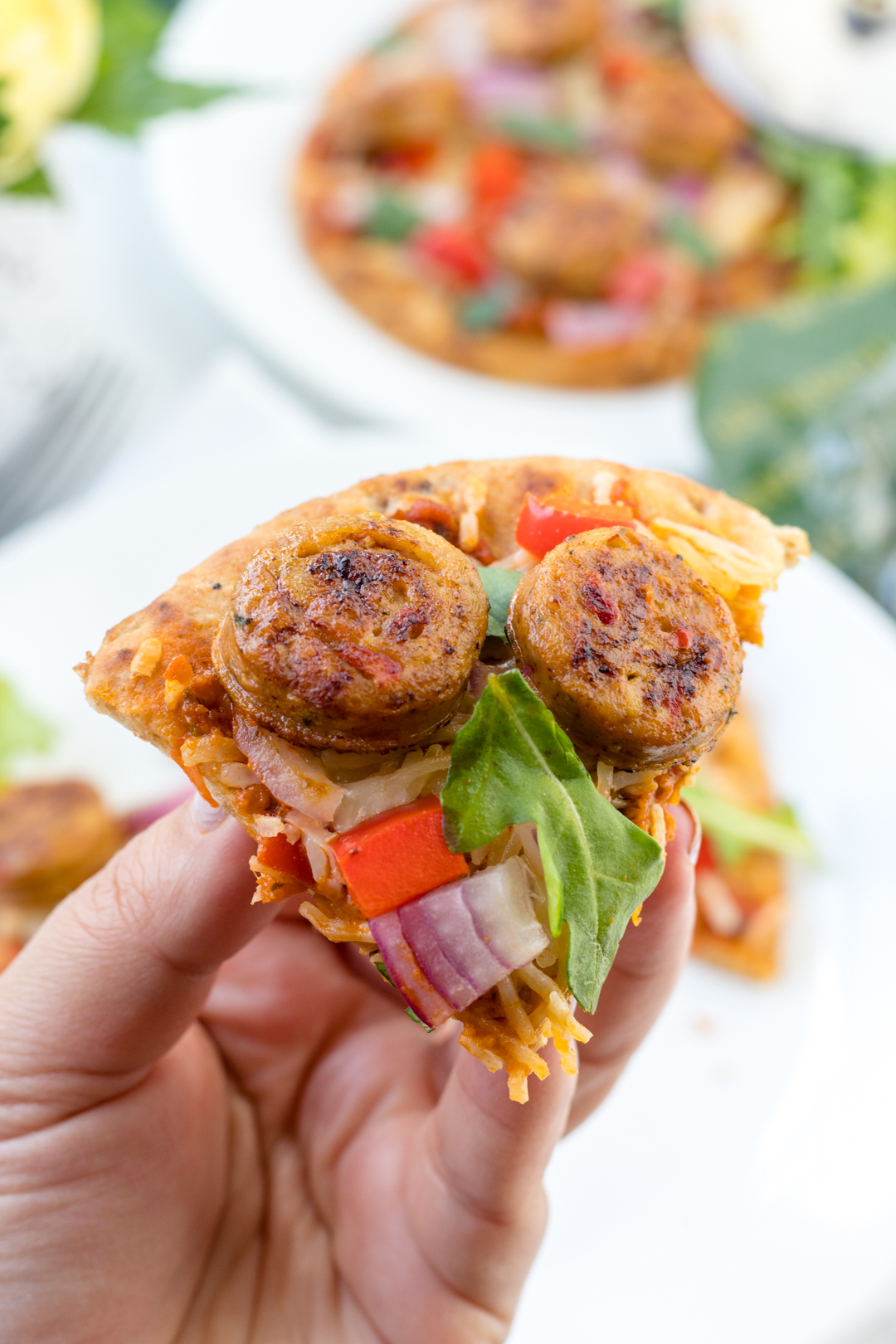 I've been whipping up amazing combinations of flatbreads for one of my go-to fast dinner ideas lately. When I spotted al fresco Roasted Pepper & Asiago Chicken Sausage, I was instantly inspired to try another fresh flavor combo. To compliment this unique sausage flavor, I knew that I wanted to try store bought sun dried tomato pesto, red peppers, red onions and top with a little fresh parsley and arugula.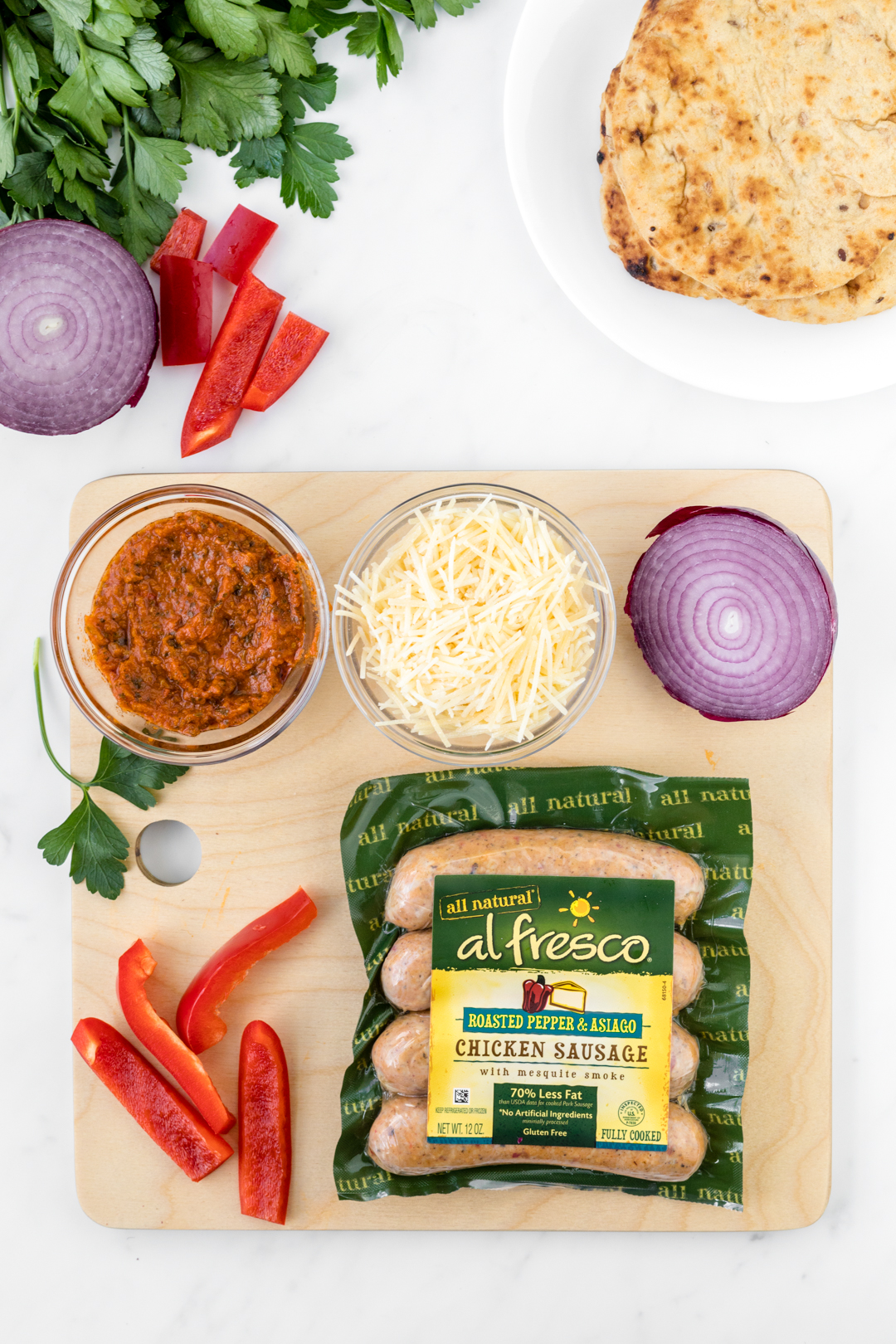 To cut right to the chase, I totally nailed it! Seriously, this is definitely a dinner win that's a galaxy away from being boring. al Fresco Chicken Sausage makes a great meal time solution because it cooks up so fast and is packed with surprising flavor. I can see myself adding this to all types of dishes for a unique pop. Just take a look at this gorgeous pan of sausage: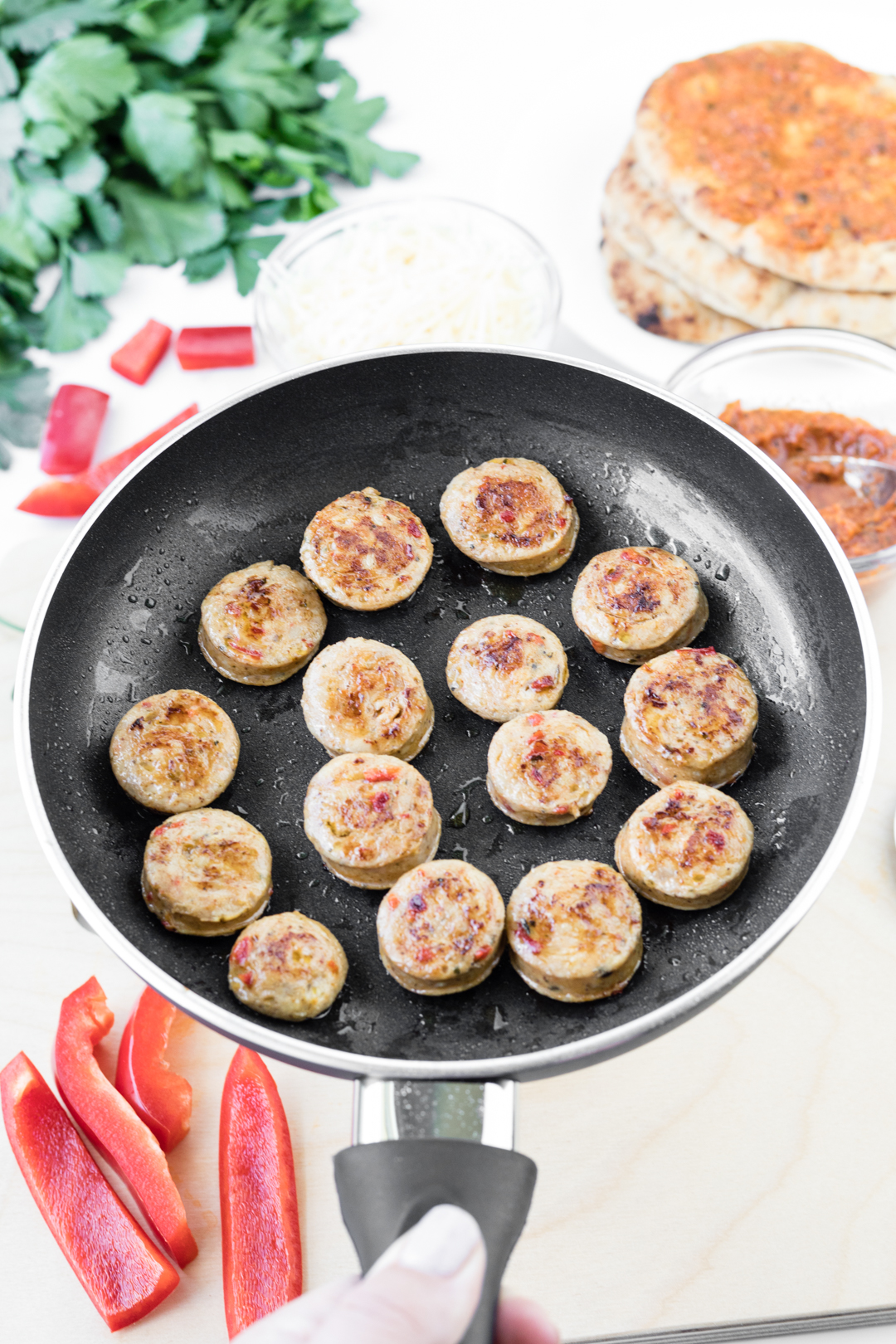 Before you start drooling on your keyboard, let me show you how EASY this recipe is to put together.
Sausage + Sun Dried Tomato Pesto Flatbread
To keep this recipe as easy as can be, all of the ingredients that I selected are ready-to-use so that we can get things ready while the al fresco sausage is cooking.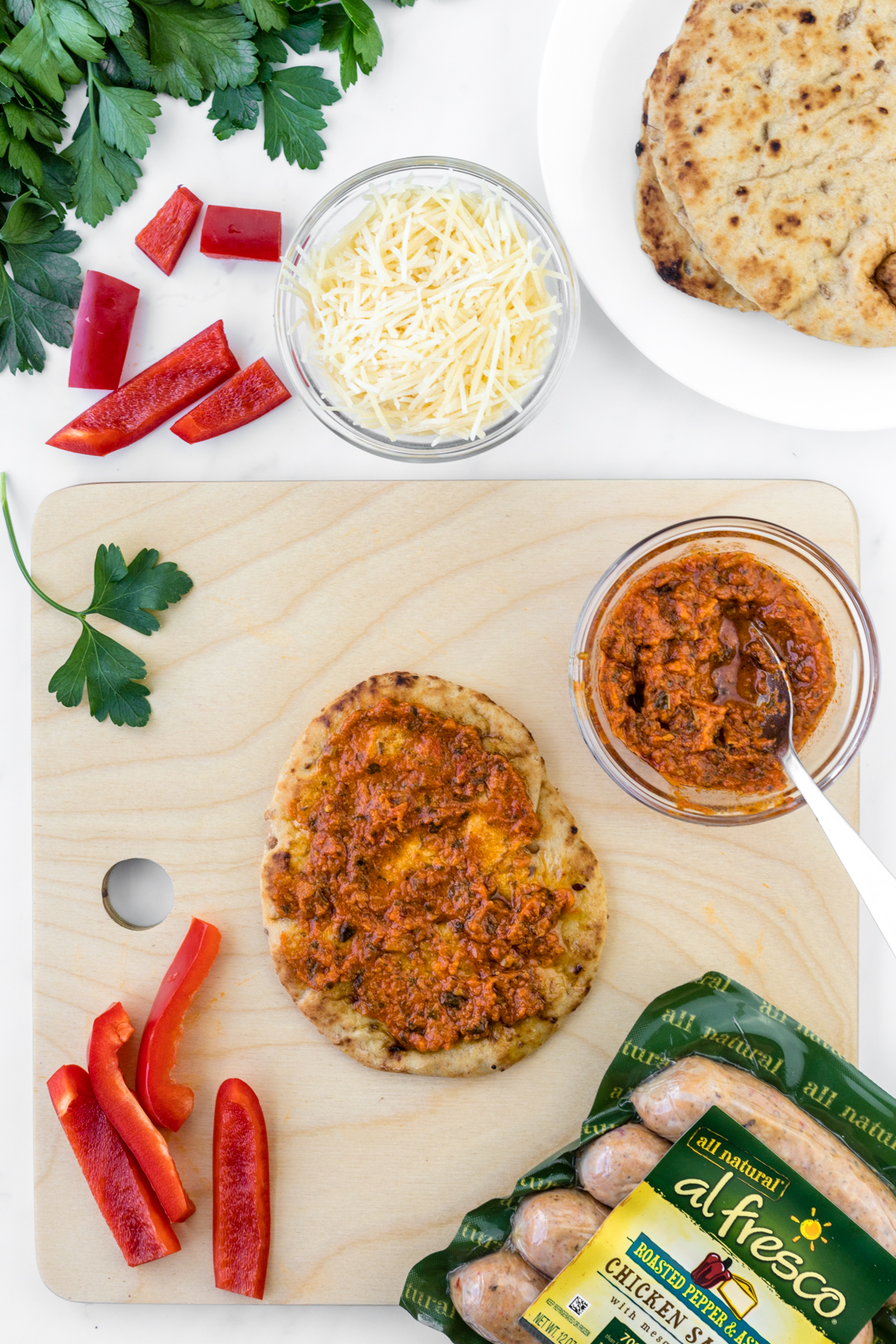 Then, we'll simply melt the cheese and toast up our flatbreads in the broiler as the final step. Don't blink because this entire process is ridiculously simple.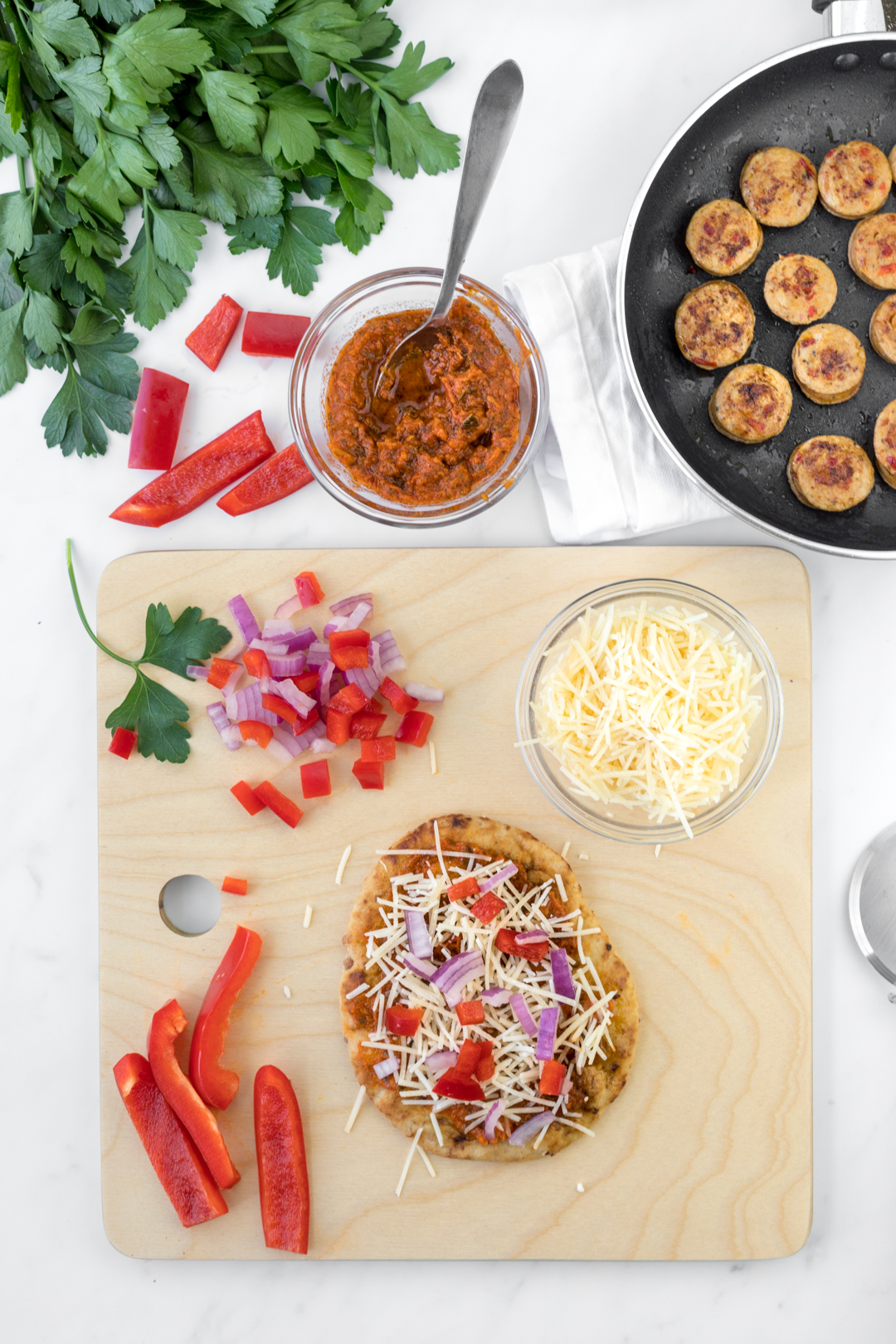 15 Minute Dinner Solution: Sausage Flatbread
Ingredients
4 Mini Flatbreads, toasted
1 Cup Sun Dried Tomato Pesto
1 Cup Shredded Italian Cheese Blend
2 al fresco Roasted Pepper & Asiago Chicken Sausages, cooked according to package directions
1/2 Cup Red Peppers, chopped
1/2 Cup Red Onions, chopped
1 Cup Baby Arugula
Optional: Parsley, chopped
Instructions
Spread the sun dried tomato pesto equally over each flatbread. Divide the cheese among the four flatbreads and repeat for the red peppers and onions. Then, place the cooked sausage equally over the top of the flatbreads. Place on a non-stick pan into the boiler on high for just a couple of minutes until the cheese is brown and bubbly. Remove from heat and cool. Serve by sprinkling arugula over the top and fresh parsley as well, if desired. Enjoy!
7.8.1.2
293
https://cutefetti.com/2018/05/sausage-flatbread.html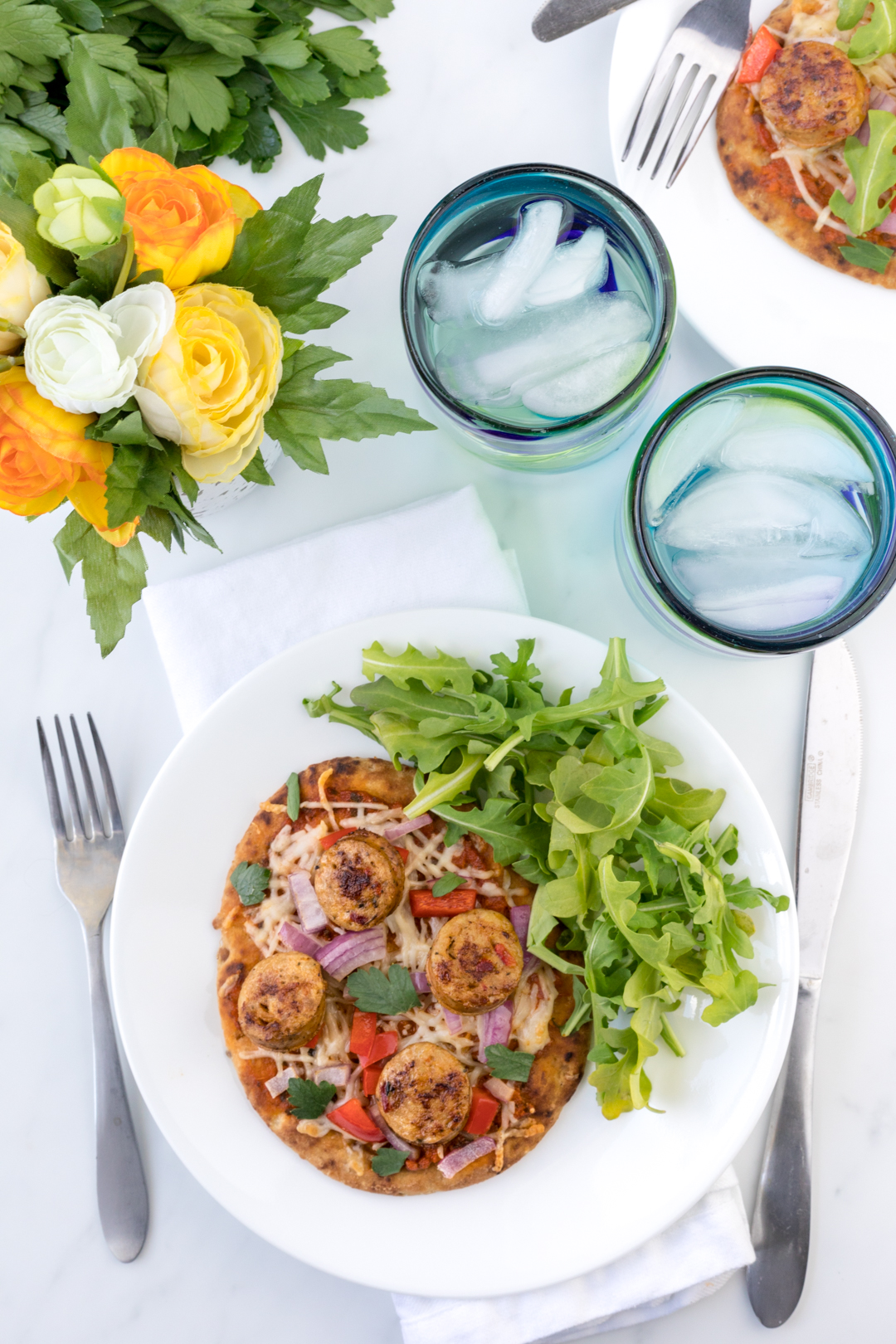 I love serving fresh arugula with this flatbread flavor combo, it's perfect! Some fresh parsley is totally in order, too!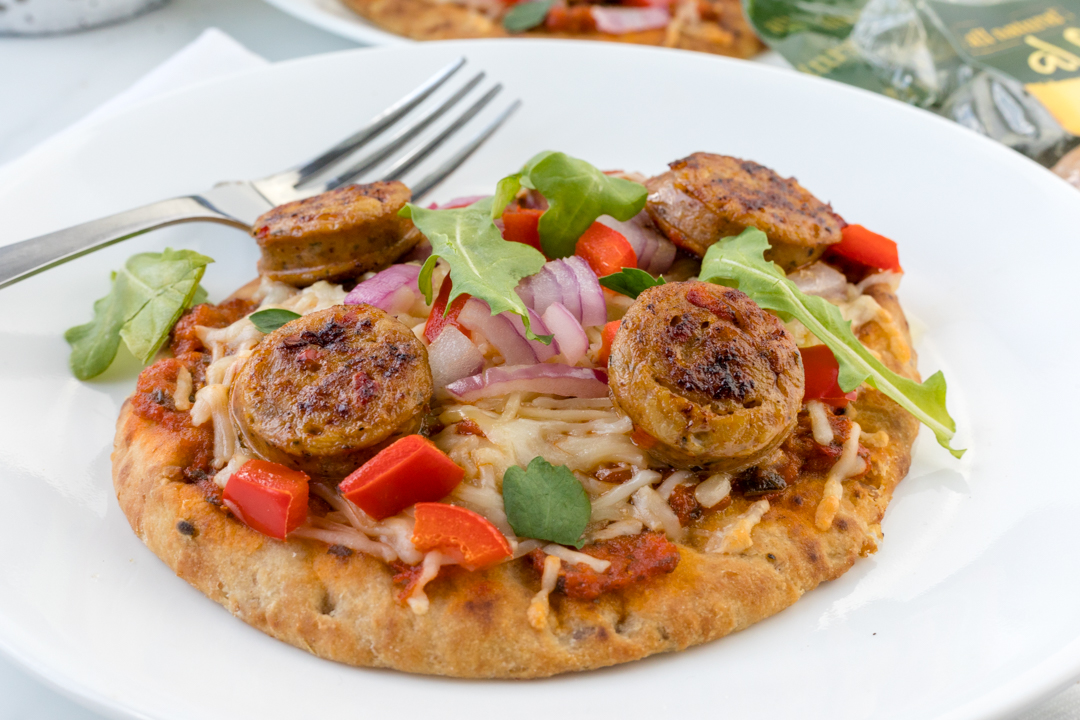 All this in just minutes!? Can you believe it? Visit the al fresco website for more tasty products and dinner inspiration.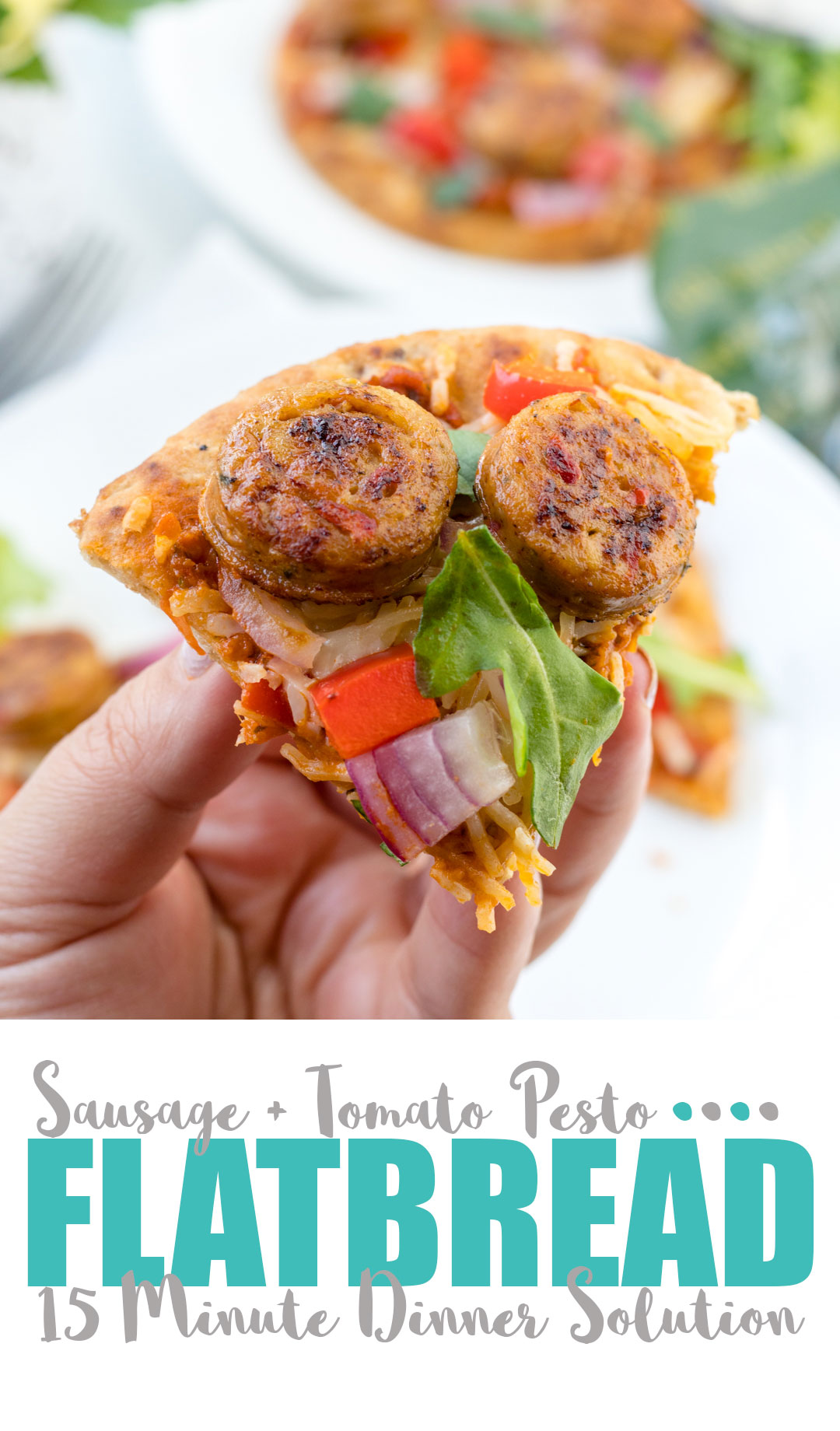 You'll have to tell me what you're inspired to make with a delish pan al fresco chicken sausage!