I am a sucker for Valentine's Day and by default... festive goodies too. Just can't get enough of pink and red this time of the year. I had it in mind to try using Raspberry pie filling with just a cake mix to see how that would taste. Because I've tried using soda and even sweet potato with cake mix and it's been super simple as well as ultra delicious and moist. Well, it's official I baked up a yellow cake mix with only a can of Raspberry Pie filling and it's delish! What I love best is the pretty red color that the raspberry makes the cake. Almost like a red velvet color, which is one of my favorite!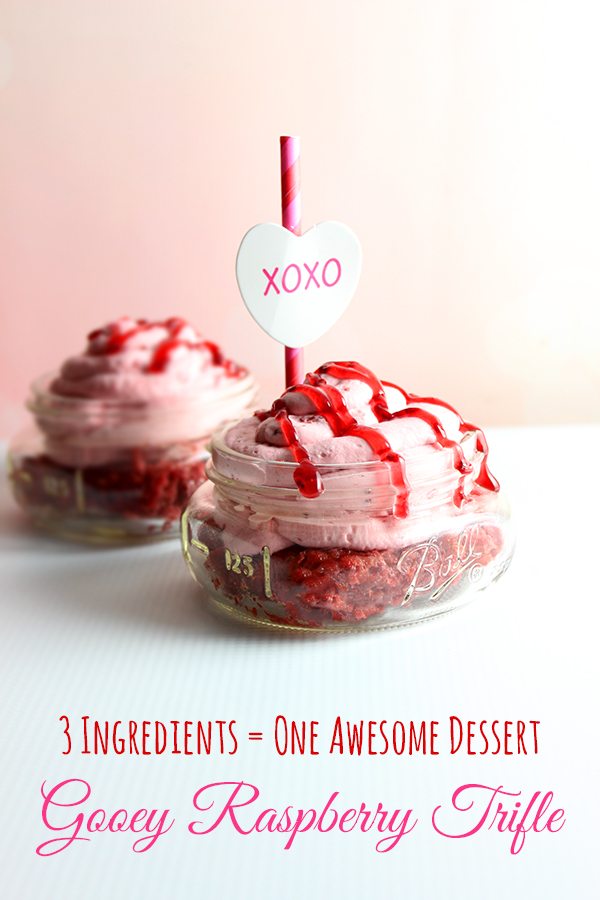 Wanting to keep this V-day treat nice and simple, I decided to use additional filling to make a raspberry whipped topping too. All in all, it's just 3 ingredients to make a scrumptious... and totally gooey trifle for your favorite sweeties this love infused holiday.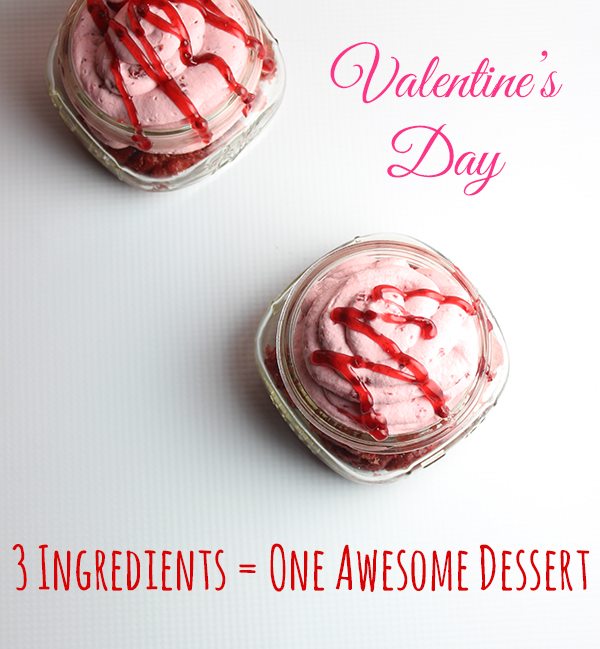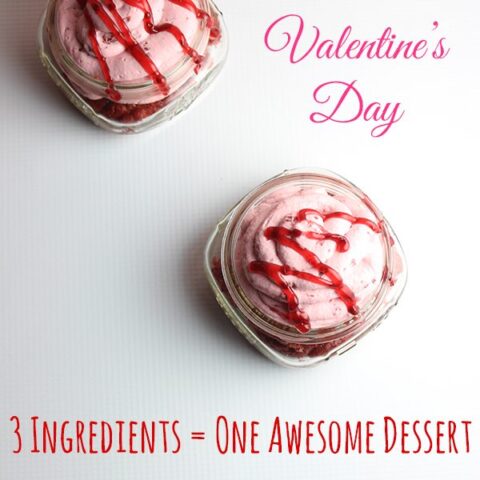 3 Ingredient Gooey Raspberry Trifle Recipe
Ingredients
Classic Yellow Cake Box Mix (approx 16.5 oz)
2 Cans of Raspberry Pie Filling (approx 21 oz ea.)
16 oz Heavy or Whipping Cream
Instructions
Preheat oven according to package directions for the size pan that you are going to bake your cake with. Mix box cake mix with one can of Raspberry Pie filling thoroughly. This will take a little longer than usual to get all the bumps out. Bake according to directions. Meanwhile, whip your heavy cream or whipping cream with a high powered mixer until peaks are formed and it looks like whipped cream. Fold in ¾ of the additional can of Raspberry Pie Filling until blended. Refrigerate. Once cake is done, cool completely. Then, you can layer your cake and raspberry filling in small individual bowls or small mason jars for pretty serving.
Reserve the remaining ¼ of the can of raspberry filling for drizzling on top of the dessert. I simply used a plastic baggie and cut a corner of it to drizzle over the whipped layer. Serving size will vary depending on how you prepare your dessert.
Yum! Want more fun Valentine's Day Ideas? You'll find fun printable gifts, crafts and of course recipes!
What are your favorite Valentine's Day goodies to eat or prepare?