Oh the bathroom. It can easily be the one place with the most germs in any home. Sometimes it feels like you can never keep it clean for more then a few hours, especially if you happen to have teens around. Eek! Today, we're tackling some simple ideas to keep things under control. These habits will help finally keep your bathroom clean…for good. This is a sponsored post feature the Clorox Toilet Wand, all opinions are my own.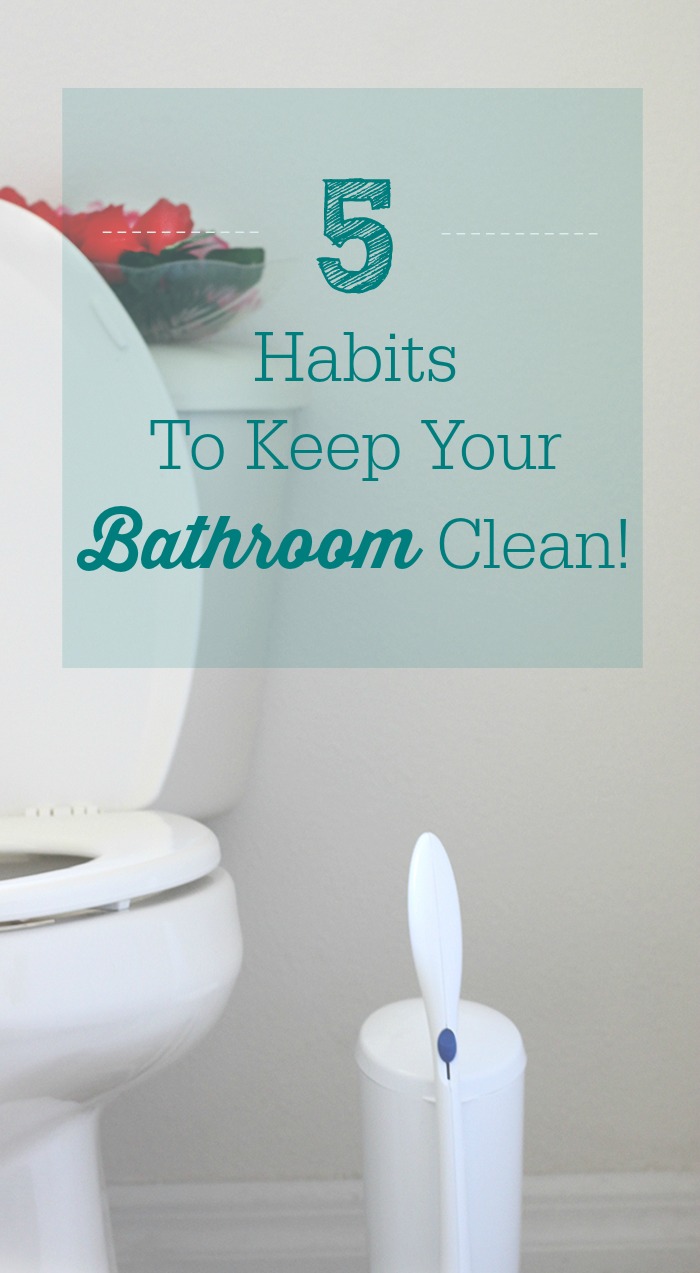 Isn't it slightly ironic that the bathroom is the place we go to "get clean", yet it's one of the places that needs to be cleaned the most? Don't think about it too long though…it's bound to drive you nuts.
Keep Your Bathroom Cleaner With These 5 Tips
Do you know those things that you find annoying and then one day it all makes sense? I'm talking about my Dad and his relentless routines. I've come to learn that the key to keeping an entire home tidy lies in making the habit of taking small actions, every single day. Let's tackle this whole bathroom mess thing once and for all!
Keep cleaning supplies accessible. It's so much quicker to tackle messes when you can grab the products you need easily. Since we're making new habits, we'll be cleaning up more messes as they happen in the moment, so this is important. Keep them in your bathroom closet or under the sink. Speaking of cleaning up messes, the toilet is a complete germ fest. It can easily be the most icky thing in your entire home. Don't you agree?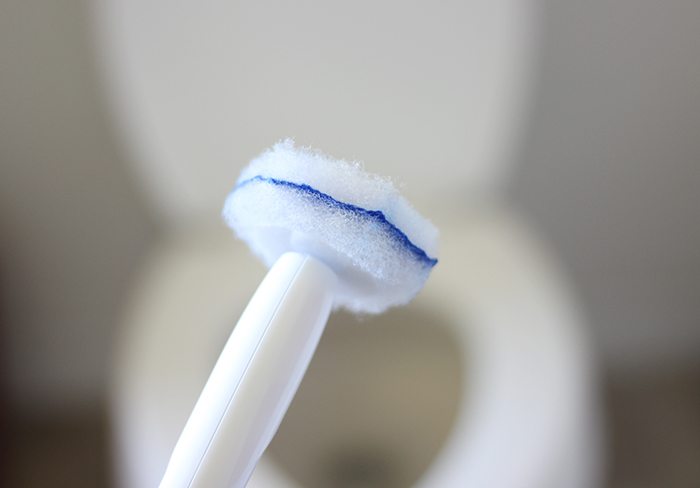 Nowadays it's a breeze to keep a toilet nice and clean and even easier to keep toilet cleaning supplies right at your fingertips. The Clorox Toilet Wand is a true win for bathrooms everywhere.
It's now all about the click, swish and toss. That's my kind of bathroom cleaning hack.
Have a place for everything. This is where organization is totally key. Taking time to create a space for everything that you use daily in your bathroom helps. My husband, who is a genius at keeping things organized, finds great places for all of our things. It's like magic. One example was to take a box that would otherwise be recycled and use it to store some of his extra products. We have a few of these in our bathroom closet. It's kind of simple, but really awesome.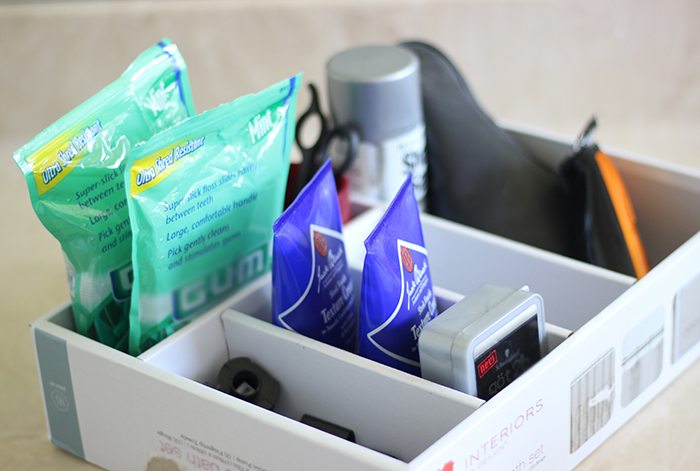 Put things away immediately. Now that you're organized, you have to make a habit of putting the things away where they belong ASAP. Have you noticed that a messy counter only continues to get messier day after day? If you have a place for everything, it's going to be easier to work this in to your daily routine.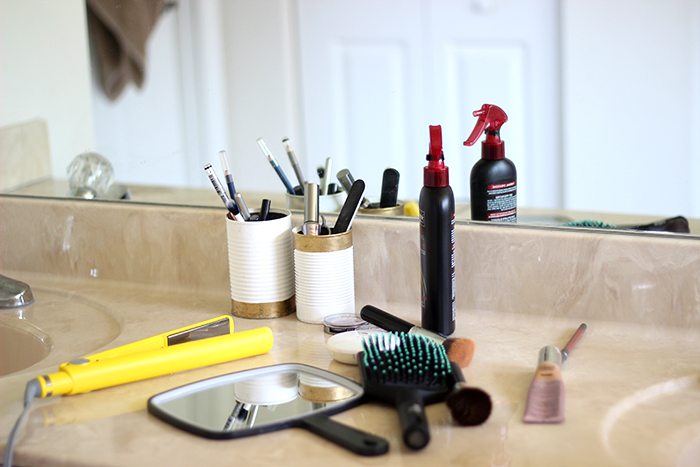 You can even create a neat mess if you want to keep things accessible. I use painted upcycled cans to store all of my daily cosmetics for easy use and clean up. Seriously love it.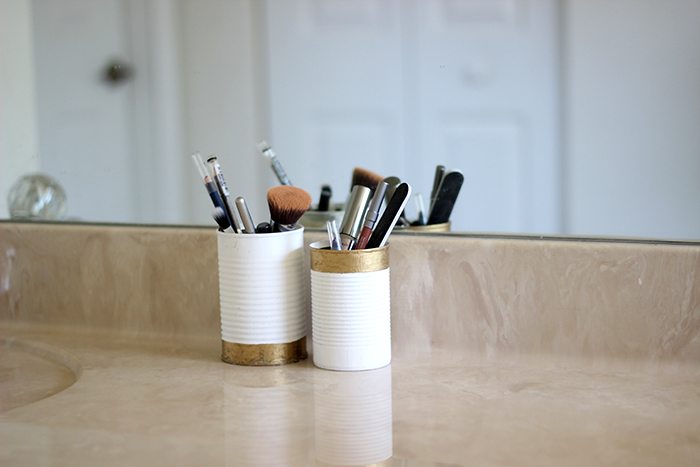 Clean up messes as they happen. Putting off messes until later is always a mistake. If you can make habit of tackling any messes in the moment, you'll really save time in the long run. Now I know that I mentioned that my husband was brilliant at organizing, but I didn't say he excelled at cleaning. There is nothing that less motivating than beard trimmings all over your bathroom. Other examples of messes to make a habit of cleaning right away are splatters on the mirror, toothpaste stuck in the sink or on faucet, spilled product and SO much more.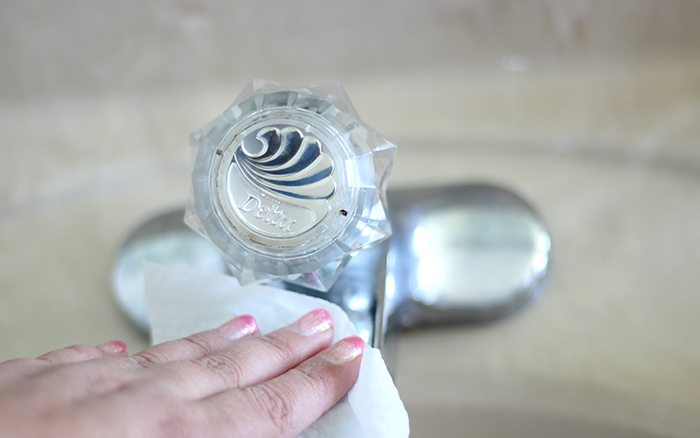 After shower clean up. Since most of us shower daily or something like that, it's time to go the extra mile. Clean up the shower when you're done. It will just take a second. Try these simple things each time. Clean out any hair in the drain and wipe down the shower when you're done. You can do this by using a towel or a squeegee like my dad always has. Getting rid of the moisture is really helpful in keeping the shower clean. This also goes along with remembering to turn your bathroom fan on with every single bath or shower. I'm constantly reminding my son to do this, so make sure your whole family is on board. This will take about a minute and will save you time scrubbing your shower later.
Now, if you want to talk about what's really icky in the bathroom, just think of all of the cooties that are being collected on that old fashioned toilet wand. Yuck, I take it back. I do not want to think about that at all! Keep things fresh by trying the Clorox Toilet Wand instead. The system has convenient disposable cleaning heads that are stored right in the ultra convenient storage caddy.
Making a habit of cleaning your toilet with a convenient Toilet Wand like this is going to keep your bathroom seriously cleaner. Each cleaning head is preloaded with Clorox toilet bowl cleaner that's perfect for killing 99.9% of germs and get rid of those unsightly stains.
Make your spring cleaning checklist and head to Walmart to pick up everything you need.
Which habits help you keep your bathroom clean?
This is a sponsored conversation written by me on behalf of Clorox. The opinions and text are all mine.