Beautiful skin is healthy skin. If you want your skin to be soft, smooth, and beautiful, you've got to treat it right. Not sure about you, but I know it when I'm not doin' it right! If you treat your skin like an old purse, guess what happens? I've also been known to mistreat my purses. An old purse, it's all creased and cracked and just horrible. I don't want old purse face, and I know you don't either. That's why I've put together 5 basic tips for better skin. This is a sponsored post by lunchbox, all opinions are my own.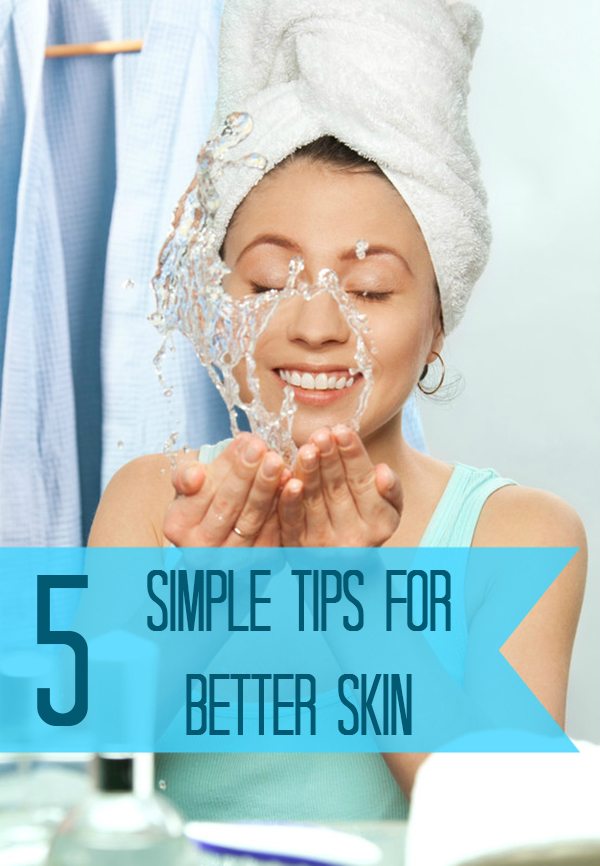 Beautiful Skin – You Can Have it. You Can Keep It.
1. Protect Your Skin: Before you do anything else to your skin, the first thing you have to do is protect it. Just one sunburn can double your risk of skin cancer. Double! Repeated sunburns not only increase your risk for cancer, they also leave your skin with that lovely beef jerky look and feel. So use the strongest sunscreen that you can find. Make sure it protects from UVA an UVB rays and DON'T SKIMP!
2. Exfoliate: Exfoliation. It's not just for your face. Exfoliating scrubs are great for your entire body. Scrubs remove old, dead skin, allowing the healthy skin underneath to really shine through. Just be careful that you don't go from exfoliating to sanding. Exfoliating your skin is good. Sanding it is bad.
3. Use Body Bars: When you shower, use a body bar instead of soap. Regular soap can be hard on your skin. Soap dries out your skin and leaves a soapy film on it. Instead of soap, use a body bar. They clean just as well as soap, and they don't leave a gross film on your skin. If you can, find a body bar with aloe and vitamin e. Both of these are great for promoting healthy, beautiful skin.
4. Easy on the Makeup: While makeup on it's own isn't bad for your skin. Going to heavy on the makeup and leaving it on for too long can but a severe damper on your quest for beautiful skin. Wear just enough to get the job done and wash it off when the night is over.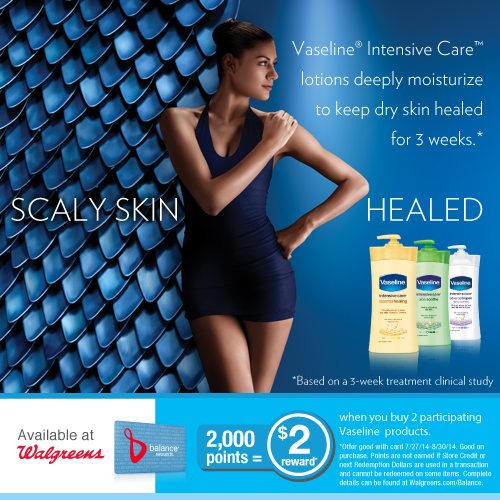 5. Moisturize: No matter how careful we are with our skin, we're going to do things that are unhealthy for it. That's why it's so important to moisturize with a quality lotion. Choose one that hydrates deeply, so you can get that goodness deep down into your skin. One of my favorite moisturizing lotions is Vaseline® Intensive Care™ . It moisturizes deeply, and it's not greasy. Their formula is made to heal skin, which is a great step towards radiant skin!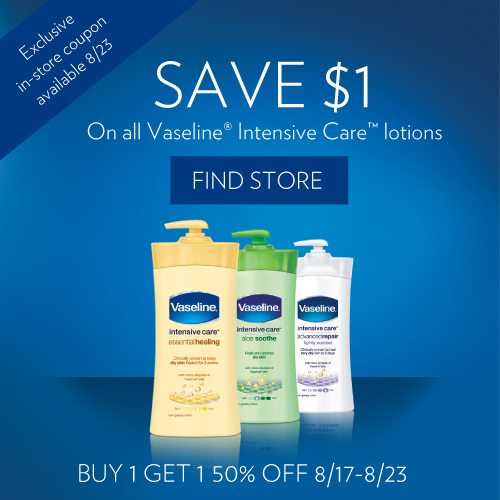 This month Walgreens has great deals on Vaseline® Intensive Care™ products!
When you buy any 2 Vaseline® Intensive Care™ lotions during August, you'll get 2,000 Balance Rewards points. And when you buy one, you get the second one at 50% off. Plus, if you visit Walgreens on August 23rd from 10am-5pm, you can pick up an exclusive in-store $1 off coupon and get expert advice from a Beauty Advisor.
Walgreens always has Vaseline® Intensive Care™ at an everyday value of $7.49 per bottle, but by combining these great deals on 8/23, you can basically get two bottles for under $9. So get to Walgreens and get your beautiful skin!
Just make sure to get there early – they only have a limited number of coupons at each store, and you don't want to miss out.
WIN IT!
RULES:
-Giveaway is open to US Residents, 18+
-Giveaway ends on 9/1/2014 at 11:59 EST
-Entries are only valid through the Giveaway Tools Form
-Comments do not count as entries
Do you have any skin care tips? What works for you?