I love when my wife does reviews on electronic items because she always generously lets me in on the fun. It's like my birthday =) These headphones couldn't have come at a better time too. Recently, I moved my home office upstairs so that I can work at peace without the cats jumping on my desk messing up my work equipment. But since I've been up here it's not the cats that ruin the peace.. now it's my son with his video games. The noise goes right through my ear buds when I'm listening to my design programs. The sad part is that his TV is not even that loud. I never knew how important it would be for me to actually use headphones to block the noise.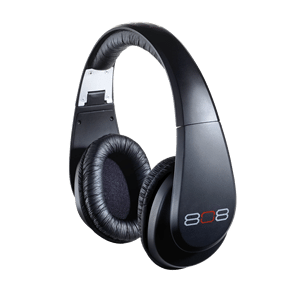 That's where the 808 Headphones with Studio Quality Sound comes into play. I had a chance to check out the over the ear headphones in Gloss Black. Never mind the sound, as soon as you put the headphones on it's like you literally went under water. You will laugh when you put them on and you might even come back to this post to tell me how right I am. They feel incredible even before you even put your sound on.
However, it absolutely has quality sound. All week I have been listening to my programs with these headphones while I'm designing. I felt like my instructor was right in the room with me. The audio is just that good. I like how comfortable it is around the ears too.  Very nice! The features are on point. The creators definitely knew what they were doing to make it comfortable and convenient! With the folding ear pads and case to put it inside of for traveling  just gives it that one extra thing that makes electronic items fun and easy to carry around.
I'm no dj but it even comes with a dj-style heavy cable.. I mean really! Like the item is not cool enough. It should be studio quality sound with swagger.. ha!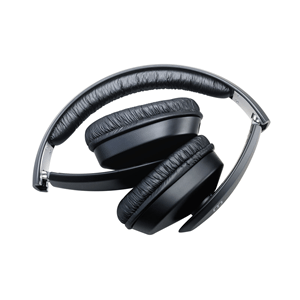 Features
foldable design
seamless acrylic molding
noise-isolating,over-the-ear design
soft form fitting padding
doutone flat cable with mic
dj-style heavy cable
6.3mm stereo adapter
durable carrying case
It's even compatible with the iPod, iPhone and iPad
Yeah that's cool! My son only reminded me about 100 times this week so I have to make sure I mention that. Imagine hooking this up to your iphone. It would be like having a full fledged stereo with you.
These headphones come with two cords as well, which is neat. The flat cord provides inline push to talk and play/pause control for select mobile phones and other electronics. Certain devices may not support this cable but you can use the other cord if you had any problems with any of your devices. So far I can say both cords work great on my laptop and iPad.  I use the flat cord because the pausing feature on there is very convenient especially when I'm multitasking. And that's pretty much all day, every day! =)
Get Connected:
Get more info or shop online at www.808headphones.com!
Join the fun on their Facebook page!
 Disclosure: A free sample was provided, no other compensation has been received. All opinions are my own.