I've been drinking protein shakes on and off to help boost my nutrient levels. I love how delicious shakes and smoothies can be even when you're using the healthiest of ingredients. Blender clean up? Well, that's a different story. I've done some experimenting with different flavors lately. It all started with this delicious french toast smoothie I tried. Addicting and packed with good ingredients. I wanted to try something similar but change up the flavor and ingredients a bit. Enter the Apple Spice Cake Protein Smoothie. This post contains affiliate links, which means I receive earnings if you make a purchase using these links.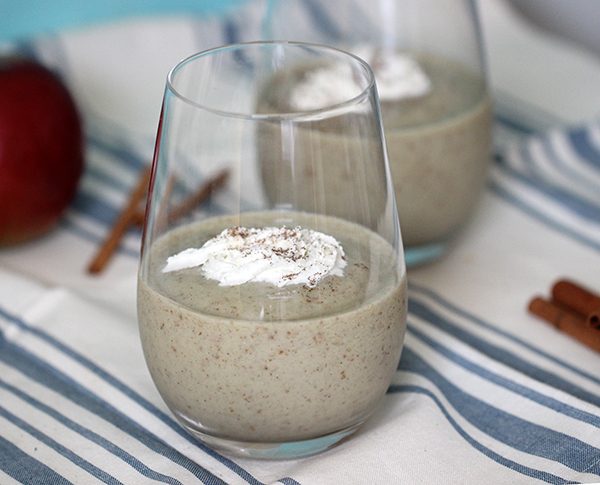 Getting a good texture and flavor with this smoothie requires finding a good vanilla protein shake that you really enjoy. So far, my favorite is the Plant Fusion's Phood Shake. When it comes to chocolate, I prefer the Vega One Brand though. I've also tried RAW which I absolutely hated. Eek. So do some experimenting to find the one that you enjoy most. The Phood shakes have a lot of the things I'm looking for in a quick fix supplement. The protein is just a small part of it, I really like the whole food vitamins, probiotics and just the general ingredients they use.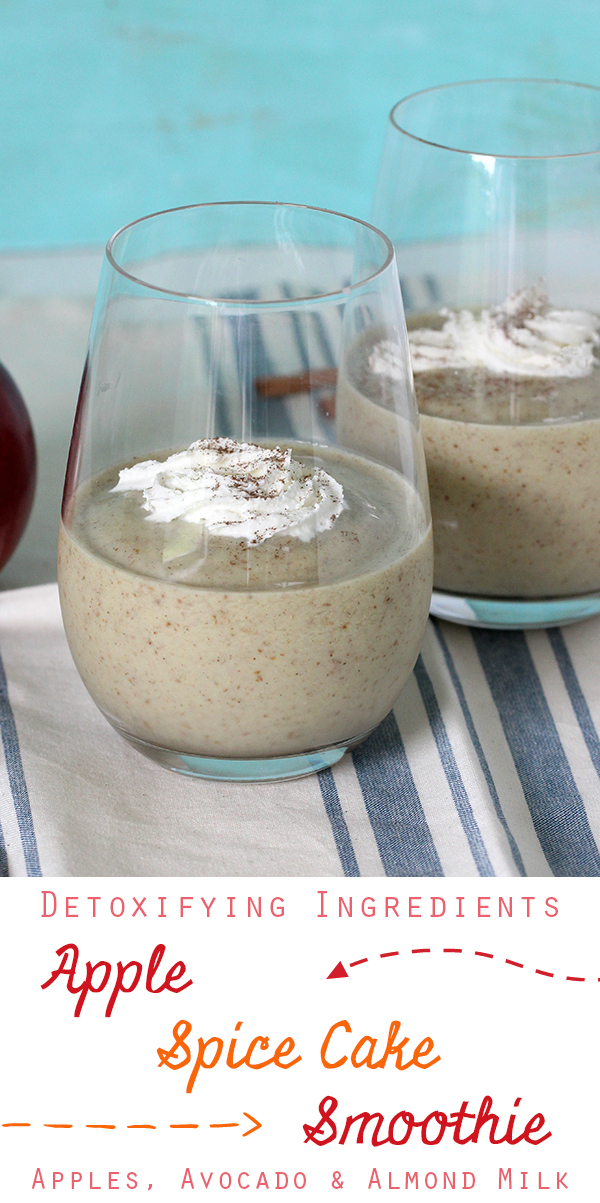 After Easter, I was "Google-ing" up ingredients that are detoxifying. I thought after eating a bunch of delicious garbage that my body deserved to be catered to a little. That's why I wanted to play around with adding these key ingredients for detox:
Apples
Avocados
Almonds by way of Almond Milk in this recipe.
Just so happens that it sounded like the perfect smoothie in the making! I'm coining them the AAA detox ingredients or how about "triple threat"? Well, whatever you call them, hopefully you'll enjoy this unique smoothie idea!
Quick Fix: Apple Spice Cake Protein Smoothie
Ingredients
1 cup almond milk
1 medium apple
1/2 medium avocado
1 scoop of vanilla protein shake
1/2 Teaspoon Pure Vanilla Extract
1 Tablespoon maple syrup
1/4 tsp. all spice
1/2 tsp. cinnamon
1 cup ice as desired/needed
Optional 1-2 tbsp flax meal
Instructions
Using a powerful blender to add all of the ingredients (except ice) mix. Add your ice starting with about 1 cup and adding more if needed. Blend until smooth. Enjoy immediately. Makes 2 servings.
7.8.1.2
150
https://cutefetti.com/apple-spice-cake-protein-smoothie/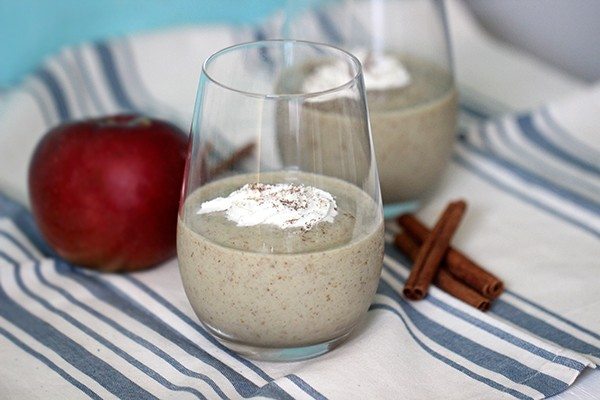 What are your favorite ingredients to add to smoothies? Do you intentionally try to eat foods that are detoxifying?