Are you looking for some new recipes for the new year? Maybe you're looking for the perfect low-carb snack to keep your taste buds satisfied? This yummy and super simple recipe idea is oh-so-easy to make in 20 minutes or less! Just my style, especially as we're getting into a new groove in 2019. Let's get our snack on, shall we? This is a sponsored post about Frigo® Cheese Heads®. All opinions are my own.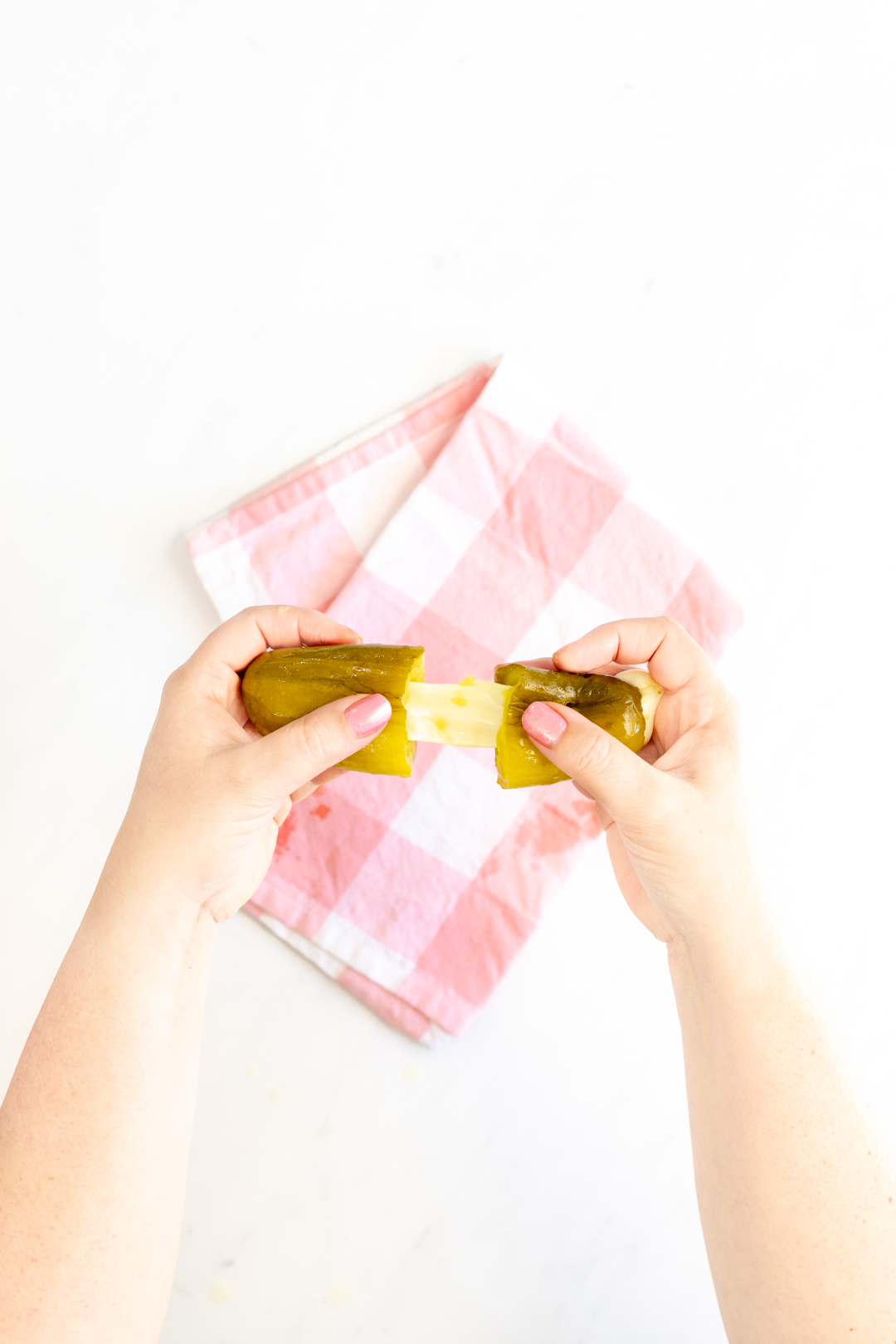 One of my very favorite sandwich ingredients is a good pickle or three. Lately, I've been reaching for them along with whichever Frigo® Cheese Heads® I have on hand for a really yummy snack combo. When trying to think of a creative serving idea, I thought... Hey. Cheese-stuffed whole pickles. Seemed like a bit of a challenge. But.. guess what? It's not! The magic tool you will need and hopefully already have on hand is simply an apple corer. That is the key to this delish recipe because the ingredients totally speak for themselves. Am I right?
Stuffed Pickles Recipe
With easy cheesy filling, thanks to Frigo® Cheese Heads® Original String pack, this simple recipe idea comes together in just a few minutes. You can use other varieties of their cheese snacks as long as they are circular in shape.
We're going to need some good sized whole pickles to make this happen. I used Dill Pickles for this.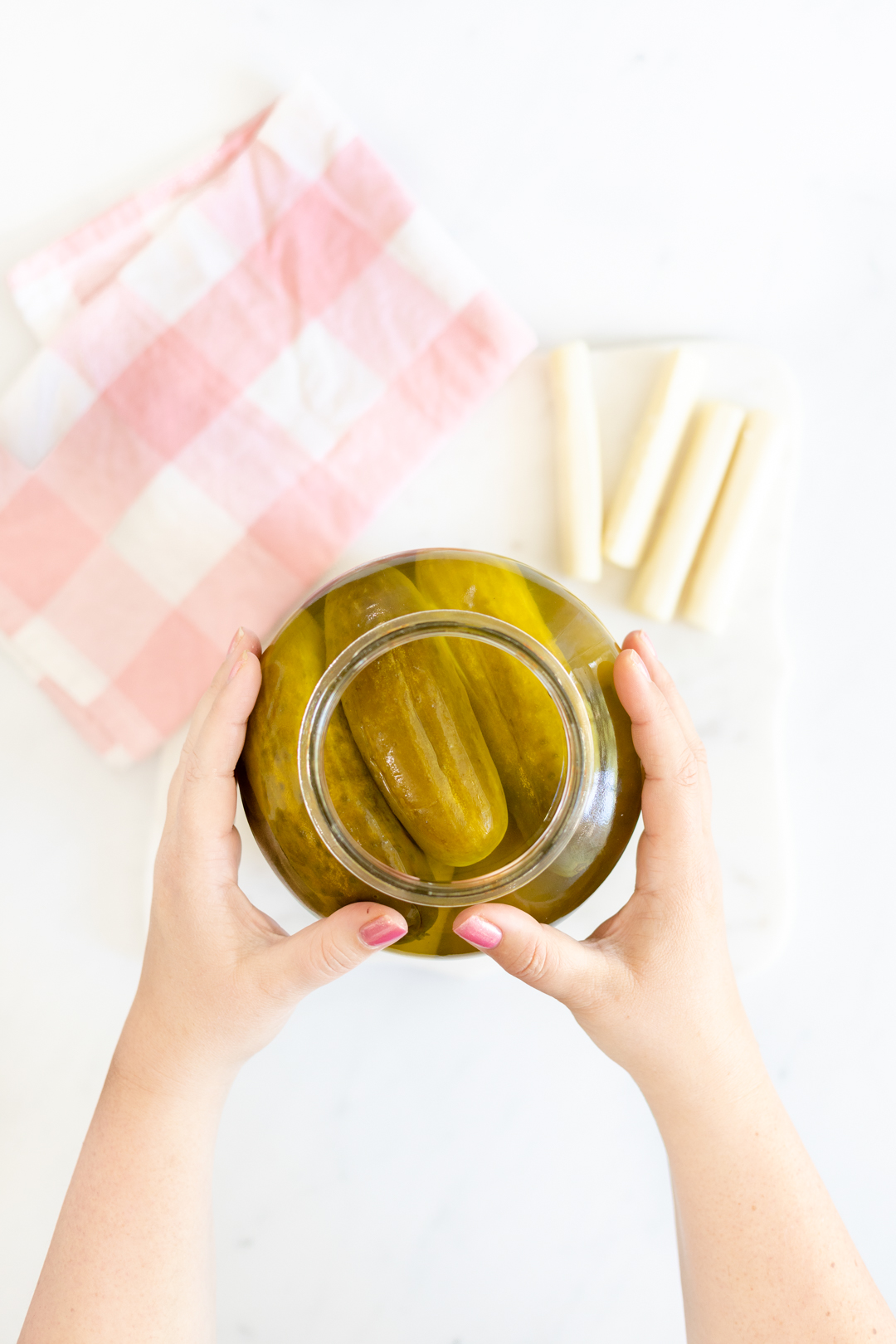 We're ready for the first step! Remove four Frigo® Cheese Heads® snacks from the packaging. We need to run them through the apple corer to make sure they will fit perfectly later. They are about the exact size we need, but you may need to shave off a tiny amount with the corer.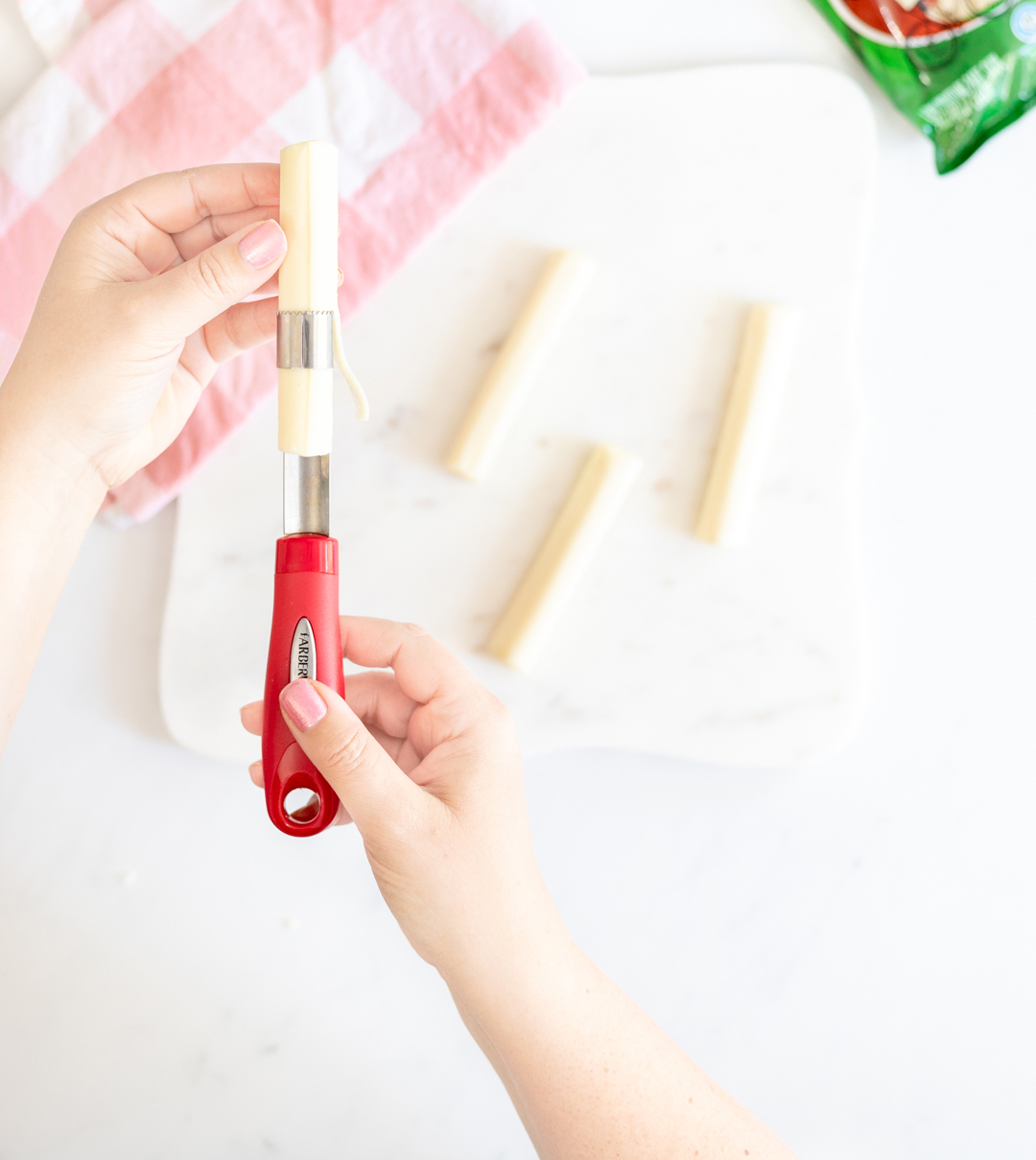 Next, pat your pickles dry and very carefully and firmly press the apple corer through the center of each pickle, making sure it's straight and comes out at the end where it needs to.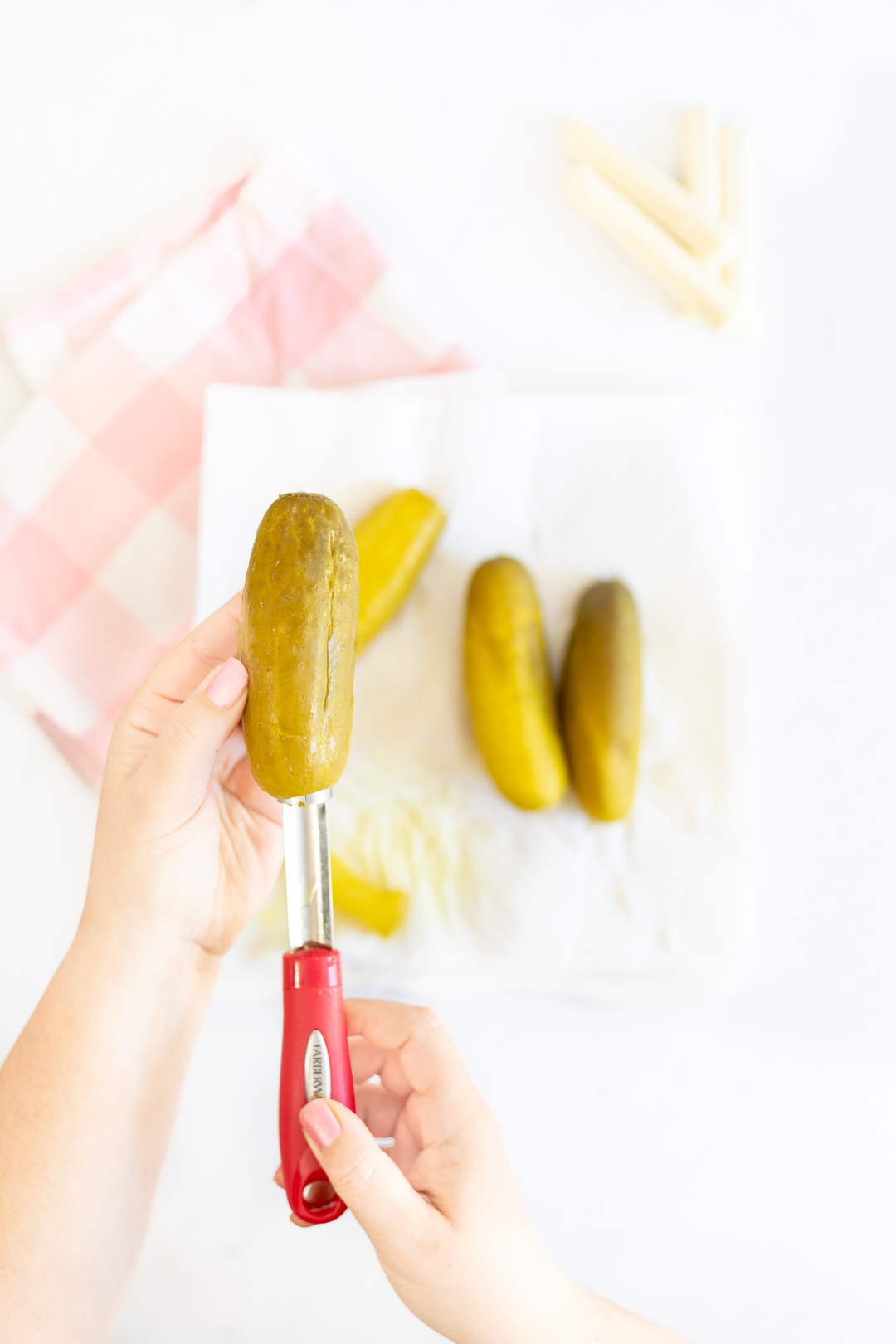 Don't fret if the corer is headed off in the wrong direction; just pull it out and start over. Whole pickles are surprisingly forgiving.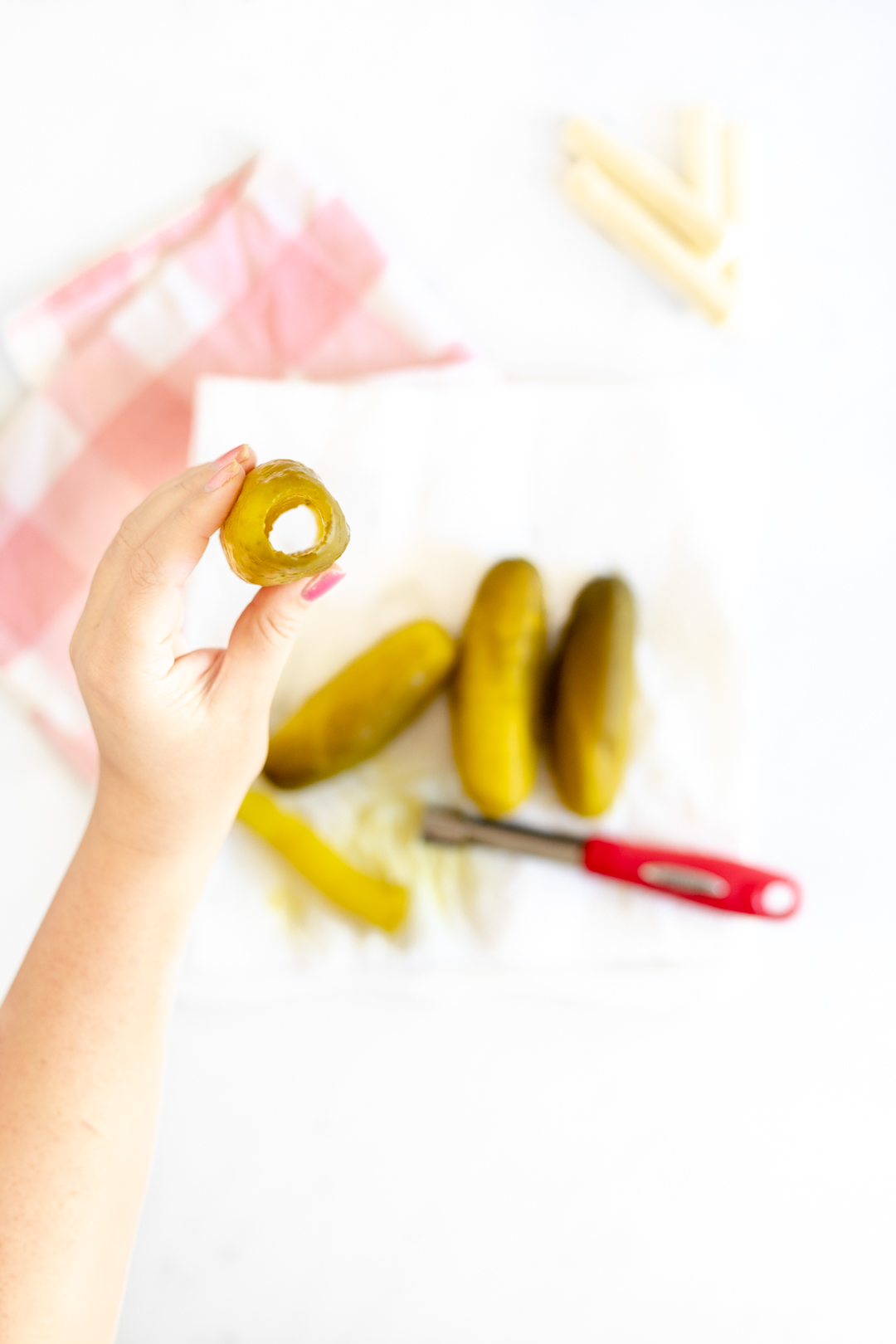 Now it's time to slide your cheese sticks into the center of the pickles and lay them out on a baking sheet.

Now, off to the oven for 18−20 minutes or until the cheese is melty and gooey. Mmm, mmm, mmm.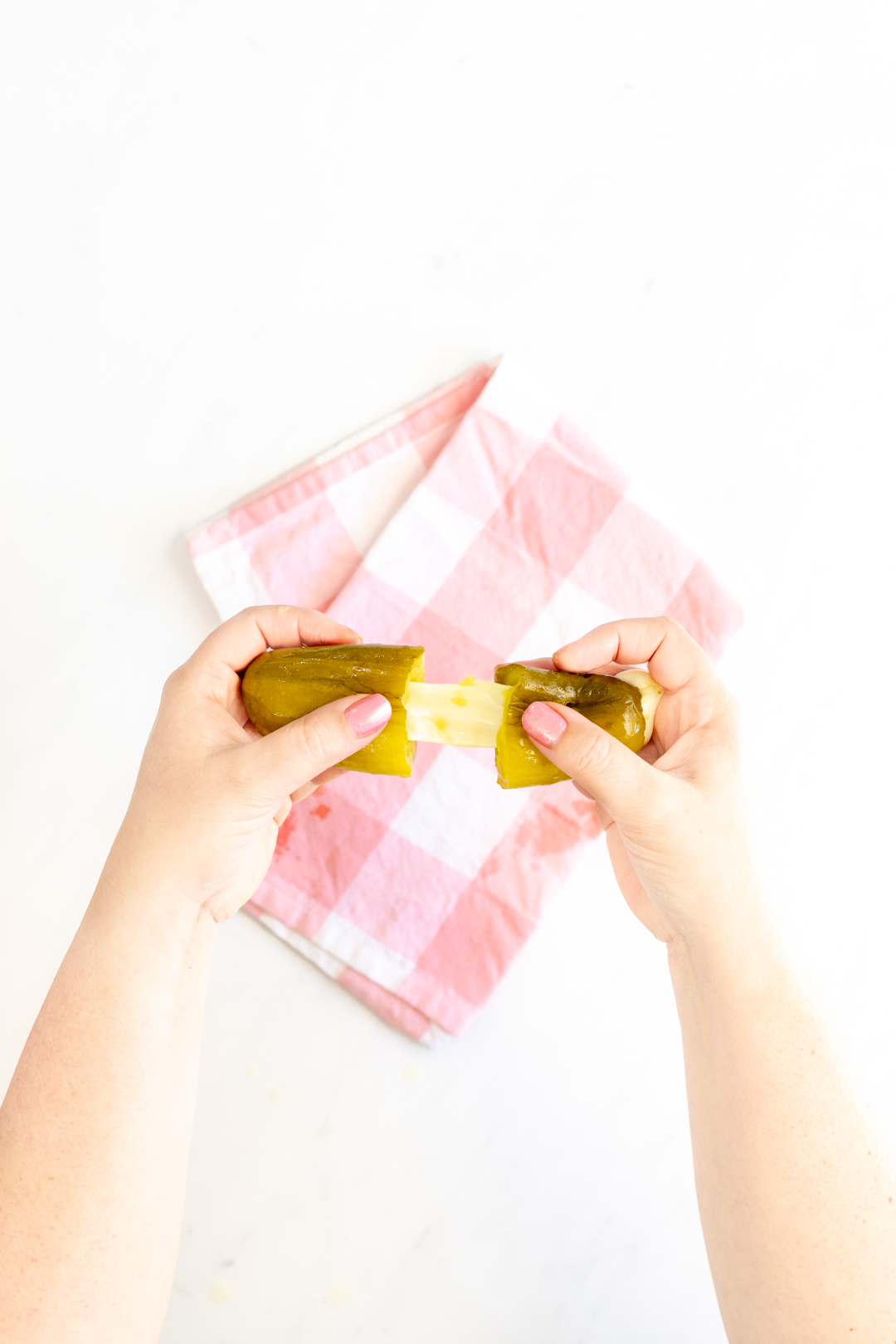 Ingredients
4 Whole Pickles, Medium
4 Frigo Cheese Heads
Extra pickle juice for drizzling
Instructions
Preheat your oven to 350°F. With paper towel, lightly pat your pickles down to remove any dripping liquid. Carefully use an apple corer to remove the entire center of each pickle going slowly to ensure the line is straight. Set pickles aside. Remove Frigo Cheese from packaging and run each cheese stick through the apple corer to remove the tiny amount of excess cheese. This will ensure they fit perfectly into the center of the pickles. Place a cheese stick inside each one and lay them on a non stick baking sheet. Bake for 18-20 minutes until cheese is melted through. Remove from oven and let cool. Pour extra pickle juice over the pickles before serving to give an extra dose of pickle glow if desired. Enjoy.
Nutrition Information
Serving Size

1
Amount Per Serving
Calories

12
Total Fat

1g
Cholesterol

3mg
Sodium

27mg
Protein

1g
Hope you love these fun and yummy low-carb snacks! They are totally our new favorite!
Learn more about Frigo® Cheese Heads® products over here.