Feeling warm yet? Last week, the cravings kicked in. I needed some fruity freezer treats. Heck, it's been in the 80's here in Florida. It only seemed right. It had been a while since I had any frozen desserts, so I was in the mood to try something new and refreshing. Enter Chocolate Covered Strawberry Freezer Pops. Before you run off to buy these, stop! We're going to make these in just one easy step. Enter Fruttare Strawberry! Your ultimate shortcut to this scrumptious "snack hack". This is a sponsored post about #MoreTreats by Lunchbox, all opinions are my own.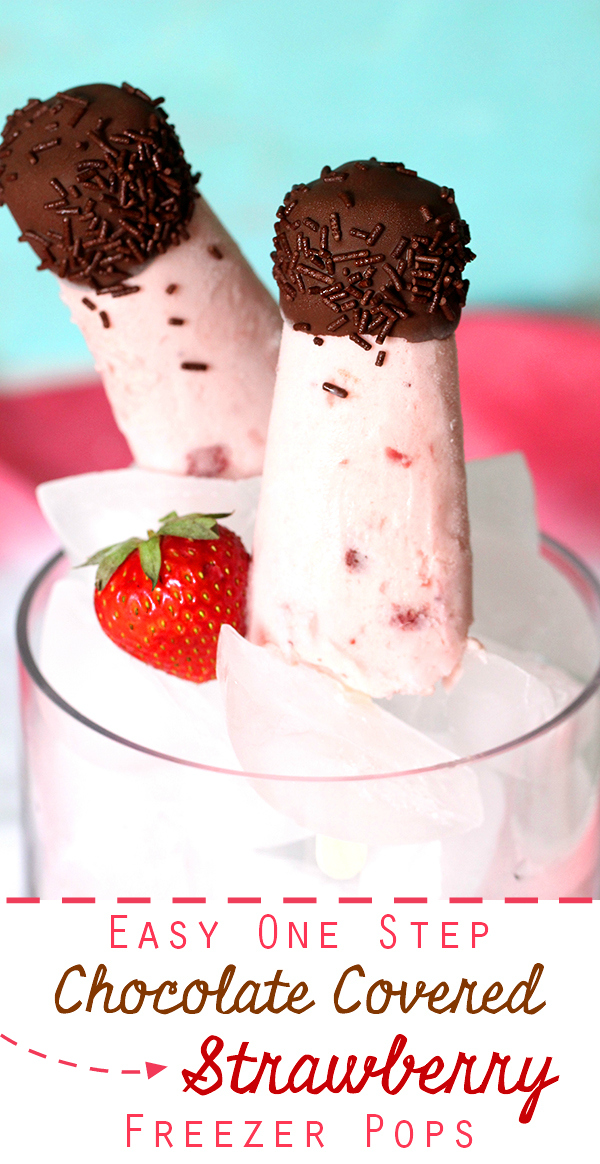 Ice cream, freezer treats, freezer pops or in other words delicious and convenient handheld goodness straight from your freezer. If this sounds good to you, you're going to be totally thrilled at the Unilever
treat savings
you can snag at Target*. You know I don't like to keep good news to myself, so just hang tight and I'll spill the awesome-ness in just a minute.
Easy Chocolate Covered Strawberry Frozen Treats
Want to make a tasty and inspiring frozen treat? You just have to try these! It all starts with a trip to Target to stock up on Fruttare Strawberry. Don't forget the second ingredient. You also need to pick up some "chocolate shell" or "magic shell". Basically any quick drying chocolate ice cream topping. If you want to make it extra fun, pick up some sprinkles too. I used chocolate.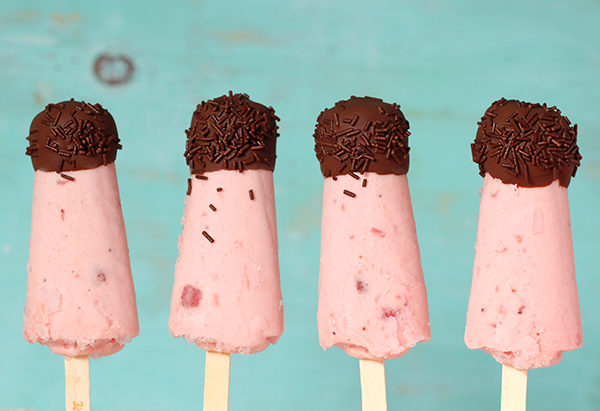 To make these Chocolate Covered Strawberry, pour some of your chocolate shell into a small container. Fill it as high as you would like your chocolate. I did about an inch and a half for mine. Then, immediately sprinkle your... sprinkles over top. Do it really quickly before the shell dries.
That's it. That is all. I am not going to lie, these are stupid good.
The creamy dreamy Fruttare Strawberry meets the perfect chocolate bite. Mmm mmm. It was my first time trying these bars and they were even better than I thought they would be. I was expecting fruity goodness, but the creamy factor was really over the top. I am excited to try more flavors. On my to-do list!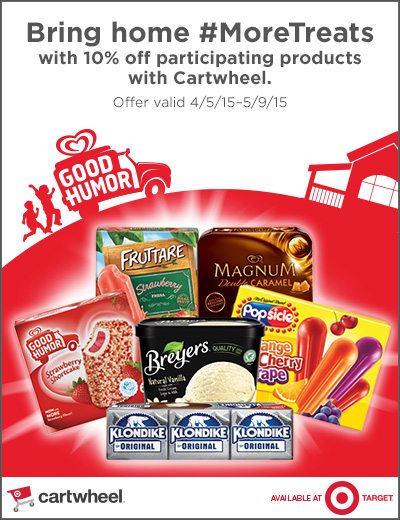 Now, as I promised, it's time to share the savings! From now through 5/9/15 you can save on all ice cream treats from Unilever when you shop at Target. Here's the scoop:
They are Buy 3, Get 1 free. I'm talking Popsicle (orange, cherry and grape), Fruttare Strawberry, Good Humor Strawberry Shortcake, Magnum Double Caramel and Klondike Original. It's an ice cream party you won't want to miss.
But wait! The party continues. Bring home #MoreTreats with Cartwheel. Head to Target to grab your favorites and get 10% off through 5/9/15 too!

Get your Cartwheel Savings here:
Yum, right?
Now for an extra little treat! How about a $50 Target Gift Card Giveaway?
Win It!
PRIZE: One winner will receive a $50 Target Gift Card
RULES:
-Giveaway is open to US Residents
18+ -Giveaway ends on 4/27/2015 at midnight EST
-Entries are only valid through the Giveaway Tools Form
-Comments do not count as entries
*The Bullseye Design, Target and Target GiftCard are registered trademarks of Target Brands, Inc. Terms and conditions are applied to gift cards. Target is not a participating partner in or sponsor of this offer.
What products will you be picking up with this deal?
Tweet me your answer using #MoreTreats!