I love sprucing up with some light decor for each holiday and occasionally the season, particularly fall and winter. Now, dying pasta is one of the fun things that I love to do. Usually for crafts with my son. I thought, why not create some fall decor with dyed pasta? Then, I got so far as my kitchen pantry when I spotted a few boxes of Ronzoni Garden Delight Penne Rigate. Lo and behold, they are already veggie colored so we have a yellow, orange and a green. Other brands have very similar products too!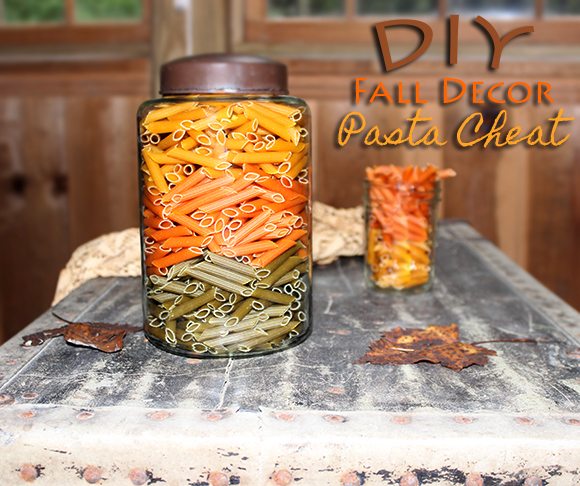 The beautiful part? I had stocked up on these when they were under $1 each! Talk about whoo hoo! But no worries if you don't have a sale, these should go for somewhere around $2 a box regularly. Plus, if you keep them in an airtight jar, you could totally eat the pasta later on! That is what I call smart and savvy multifunctional decor… not to mention edible unlike after actually using rubbing alcohol to dye your penne like I did in this pasta craft. It just cuts some time and extra steps out of the equation and makes it unbelievably simple and affordable to add some fall color to your home!
❝ Check your grocery store for colored pasta such as Ronzoni or Barilla brands to use for decorating for fall on the cheap! ❞

To create a cute display piece like I did, here is all that you'll need:
– Colored Pasta
– Clear glass container (empty pickle jars would be perfect!)
First, you can simply just divide your pasta by color. Lastly, just layer your pasta by color gently into your desired container! So easy! Right? The possibilities are as endless as your creative imagination! Check around to see what types of clear glass containers your can recycle or upcycle to save!
Just looking at it makes me smile! Knowing it took 5 minutes to put together = priceless!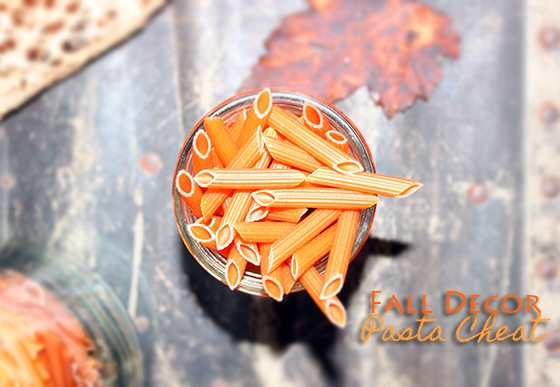 So, what about you?
Do you like to decorate your home for special occasions, holidays or seasons?
Any tips on how to do it on a budget?