This is a sponsored post written by me on behalf of Campbell's Slow Cooker Sauces. All opinions are 100% mine.
You know how much I love simple meals and ideas. I always look to my slow cooker to help me with quick dinner solutions. Taking that a step further, what if your slow cooker meals kind of planned themselves? Last week, I discovered the true beauty of Campbell's Slow Cooker Sauces. It only takes 5 minutes of prep time to get dinner planned! Enter the Easiest Slow Cooker Pork Hawaiian Bowls!

Let's face it. Life is busy. We're getting pulled in so many directions, but what we WANT to be doing is spending time with our family. Am I right? This easy solution can truly help with everyday meals! For one, the planning is easy and secondly they practically cook themselves. In other words, you're free to spend time with family, help with homework or just goof around with the kiddos.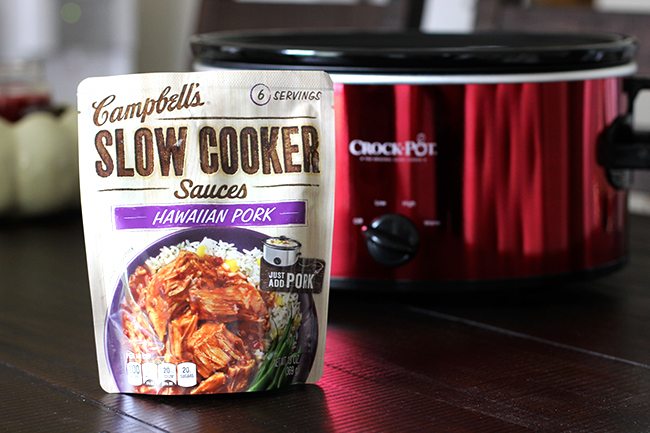 To try a little something fresh and new for my own family, I decided on creating a meal using the Hawaiian Pork Slow Cooker Sauce. Here's the magic, you just add pork and the sauce. That's it. Really. The outcome is amazingly flavorful.
I love that it easily makes 6 servings of meat with little to no effort really. Then, with the delicious and tender meat, you can put together dinner in no time! That's where these simple "bowls" come in to play or think tacos, burritos, etc.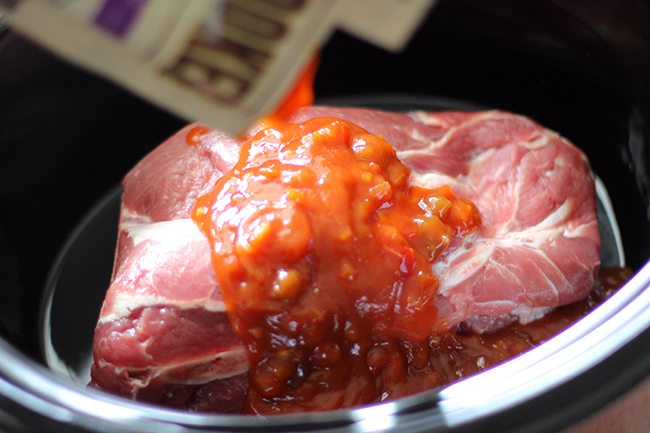 Slow Cooker Pork Hawaiian Bowls
To throw together these "bowls" along with the Slow Cooked Pork with Campbell's Hawaiian Pork Slow Cooker Sauce, I used these ingredients:
Broiled Pineapple Slices
Cooked Brown Rice (can use any type)
Cole Slaw Mix "as is"
Chopped Chives as a Garnish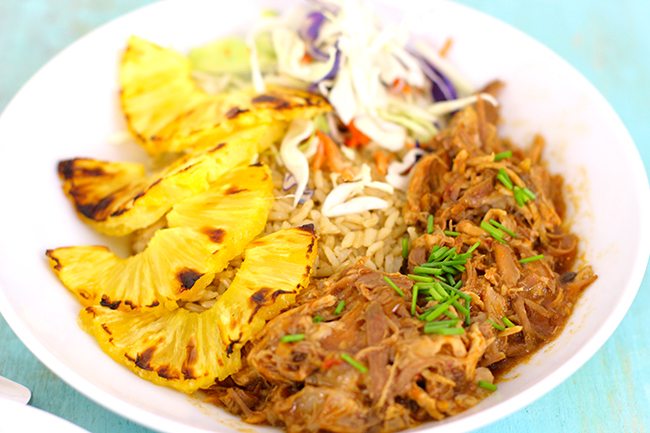 Campbell's - "Made for Real, Real Life". Are you ready to try for yourself?
Campbell's Sauces also come in these yummy options:
Tavern Style Pot Roast
Apple Bourbon Pulled Pork
Beef Stew
Southern BBQ
Sweet Korean BBQ
Make dinner fabulous or have a game plan for game day! Print out a Buy One, Get One Coupon for Campbell's Slow Cooker Sauces NOW and Take the Game Day Great, Every Day Easy Challenge!
Which sauce will inspire your next quick & easy dinner?