I can never gather enough quick and easy meal recipes.  It really surprises me that you can make a delicious homemade meal in 25 minutes. So often I forget the possibilities, especially when you use time saving shortcuts and simple recipes like this Creamy Bruschetta Chicken recipe. This is a sponsored post by Lunchbox about Knorr Sides at Kroger. All opinions are my own.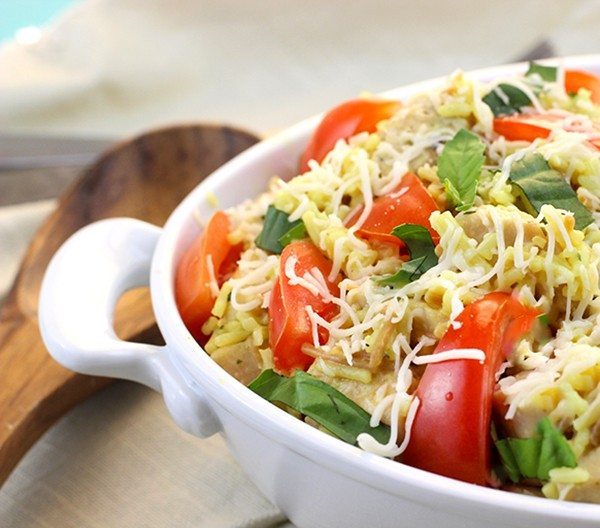 Knorr Sides are always great for a quick side dish. One of our go-to favorites has always been the Spanish or Mexican rice.  It's so quick to make and packed with flavor already, you don't have to do much to prepare it any day of the week.  You might be surprised at how many easy to make recipes you'll find on their website too.  Now we're not just talking quick side dishes, we're talking about the whole meal. Those are the kinds of shortcuts that I love.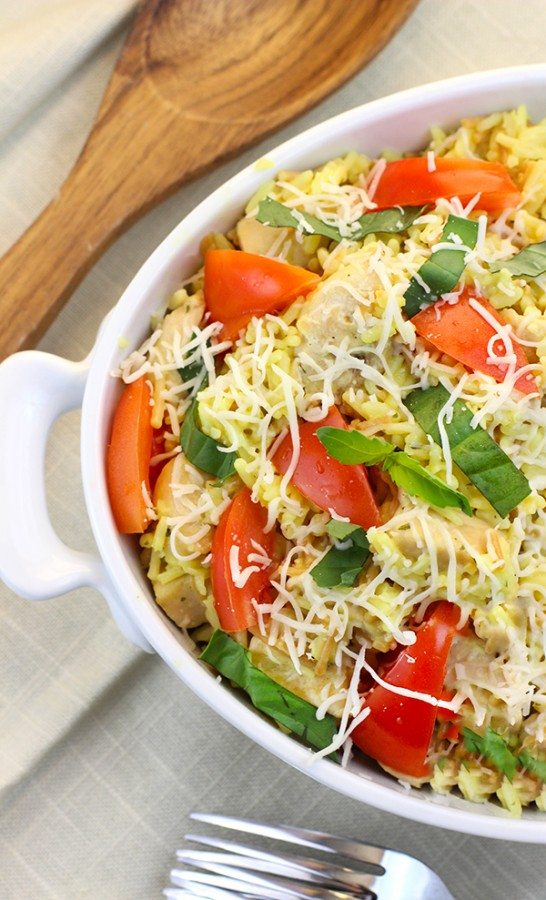 Now that the holidays are over, I'm back to keeping up with quick dinnertime solutions.  And, this recipe that we tried is definitely a keeper.  The best part is that there are so many more recipes to check out too. Knorr's "What's for Dinner" helps provide you with flavorful, simple meal inspiration with Knorr Sides.
Try bringing something new to the table by combining Knorr Creamy Chicken Rice with chicken, tomatoes, basil and mozzarella for this delicious Bruschetta Chicken main dish.  It was an instant hit in my home and it's so easy that I'll definitely be making this one as a part of our routine. Only 25 minutes between prep time and cooking time. Those are some winning stats in my book!
Save Big!
Knorr Sides are a part of the 10 for $10 promotion at Kroger Stores starting today though 1/25/2015. This is a great time to get stocked up!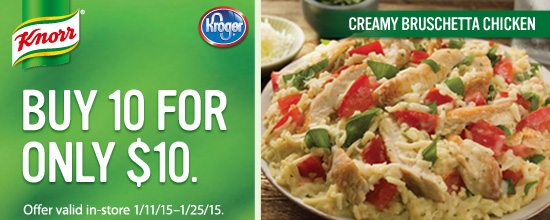 Then on January 25th, a coupon will be available at Kroger.com, which will allow you to buy 2 Knorr Sides at Kroger and get $.50 off.
Creamy Bruschetta Chicken Recipe
Print the original Knorr Recipe here. Serves 4. Prep Time 10 min. Cook Time 15 min.
INGREDIENTS
1 Tbsp. olive oil
1 lb. boneless, skinless chicken breasts, sliced
1 clove garlic, chopped
1 package Knorr® Rice Sides™ – Creamy Chicken flavor
2 large tomatoes, seeded and chopped (about 2 cups)
1/2 cup shredded mozzarella Cheese
2 Tbsp. chopped fresh basil leaves
DIRECTIONS
HEAT oil in large nonstick skillet over medium-high heat and cook chicken, stirring frequently, until chicken is thoroughly cooked, about 4 minutes, adding garlic during the last 30 seconds of cook time. Remove and set aside.
PREPARE Knorr® Rice Sides™ – Creamy Chicken flavor in same skillet according to package directions.
STIR in chicken and tomatoes. Sprinkle with mozzarella and basil.
Don't miss out, find your local Kroger store today and bookmark these delicious main dish recipes at Knorr.
WIN IT
PRIZE: $50 Kroger Gift Card
RULES:
-Giveaway is open to US Residents 18+
-Giveaway ends on 1/22/2015 at midnight EST
-Entries are only valid through the Giveaway Tools Form
-Comments do not count as entries
Tell me what would you serve along with your Knorr Sides? Which of these Knorr recipes would your family love?